Aerosmith and Steven Tyler Started Hating Kiss After Their Roadies Got Into a Knife Fight on Tour
Aerosmith and Kiss have been locked in a bitter feud for decades, and it all started after their roadies got into a knife fight on tour in the late 1970s.
Two of classic rock's heavy hitters are Aerosmith and Kiss, but that's all each of the bands would say they have in common. For decades, the two groups have been locked in a bitter feud with each other. It all started when their roadies got into a knife fight on tour in 1976.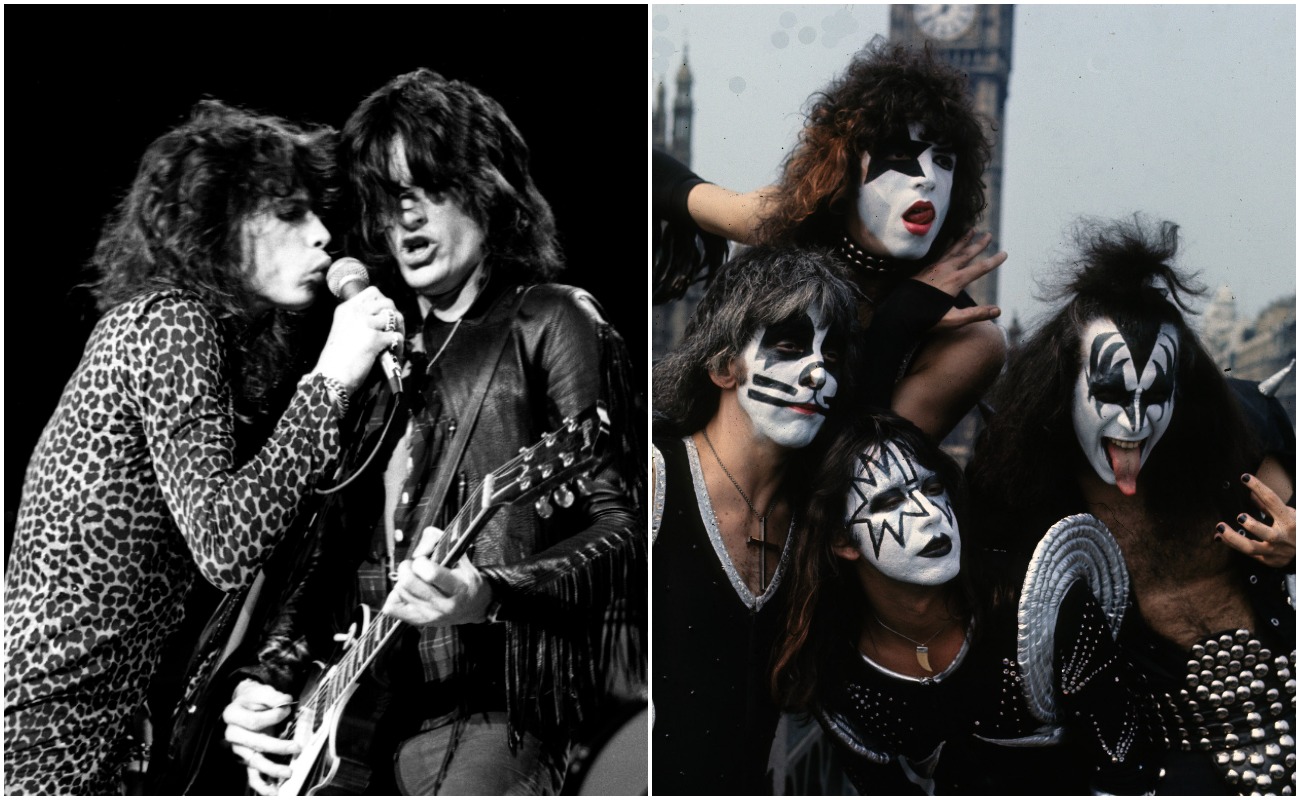 A feud began between Aerosmith and Kiss after their roadies had a knife fight on tour in 1976
Fans will know that Aerosmith and Kiss have never liked each other. Over the many decades, they've constantly thrown shade at each other. However, according to Aerosmith's frontman, Steven Tyler, the feud between the two bands all started after their roadies had a knife fight on tour in 1976.
"I remember when we went out with Kiss in '76 or something," he told The Cowhead Show on WHPT Tampa. "One of our roadies got into a knife fight with their guys, so I hated them ever since."
The bands have constantly been at each other's throats ever since. In fact, Tyler's comments on The Cowhead Show in 2012 sparked yet another battle of slights.
Tyler called Kiss a 'comic book rock band [with] spackled faces [and] a couple of hits'
Through all the name-calling, Tyler does think that Kiss' guitarist, Paul Stanley, and its bassist, Gene Simmons are "beautiful people." However, his opinion about Kiss' music has remained consistent.
Tyler called Kiss a "comic book rock band [with] spackled faces [and] a couple of hits."
"A Kiss lick and a Joe Perry lick — two different worlds," Tyler continued to tell The Cowhead Show. "And I, sometimes, depending on the time of day, get offended. I hear that and go, 'It's all right, but do they really mean it?' And, 'What's this all about?' And that's why I think Aerosmith has been around forever. We really do take ourselves seriously."
Perry added, "It's two different animals. [Kiss] went the theatrical way and used rock 'n' roll kind of as their soundtrack, and for Aerosmith, the music is our show."
Tyler interjected that Aerosmith was "always a band that had something to prove. We always wanted to blow off whatever band it was."
Stanley had a swift rebuttal to all of these comments, and it wasn't pretty.
Stanley enjoyed watching people walk out on Aerosmith during their 2003 co-headlining tour
In his book Face the Music: A Life Exposed, Stanley didn't have nice words for Aerosmith. He said that Aerosmith was "a rock band" and Kiss was "so much more."
"In some quarters there was more credibility in being a rock band, but the impact of being an all-encompassing phenomenon was more widespread and diverse," he said. "It made us more interesting to newspapers and magazines, little kids, and preachers."
So, you can imagine what Stanley thought when he heard Tyler's comments. Rockline's host Bob Coburn brought up Tyler's comments to Stanely, who had this to say: "Look, I love Steven and Joe, and Aerosmith is a great band. Maybe Steven's feeling a bit full of himself because he's got an album coming out.
"The reality is, in 2003, we did a co-headlining tour and everything was 50-50, but Steven wanted very much and insisted that they close the show. I really don't care, because as far as I am concerned, one way or another you're going to have to come up on the stage, so you can go on before us or after us.
"And that being said, he certainly had a chip on his shoulder back then. There is some sort of — ambivalence or looking down his nose a bit towards Kiss. So I have to say that seeing him go on after us, to play to an underwhelmed audience and see people walking out didn't feel too bad to me.
"Make no mistake. I have been doing this as long as he has — and I take myself every bit as seriously as he does. At the end of the day, I think that the tale got told."
Despite all this bad blood, fans of both bands are still hoping for peace between them.