After a Lifetime of Being Estranged, Here's How 'Real Housewives of Atlanta' Star Kenya Moore's Mother Reached Out To Her
'Real Housewives of Atlanta' star Kenya Moore has yearned for a relationship with her mother. She announced that her mom finally reached out to her.
Real Housewives of Atlanta star, Kenya Moore, has been open with fans about the non-existent relationship she's had with her birth mother. The Miss USA winner was raised by her father and paternal grandmother and credits the love of her grandmother for making her into the strong woman she is today. With the absence of her mother, Kenya struggled in the love department and had a lifelong desire to become a mom herself.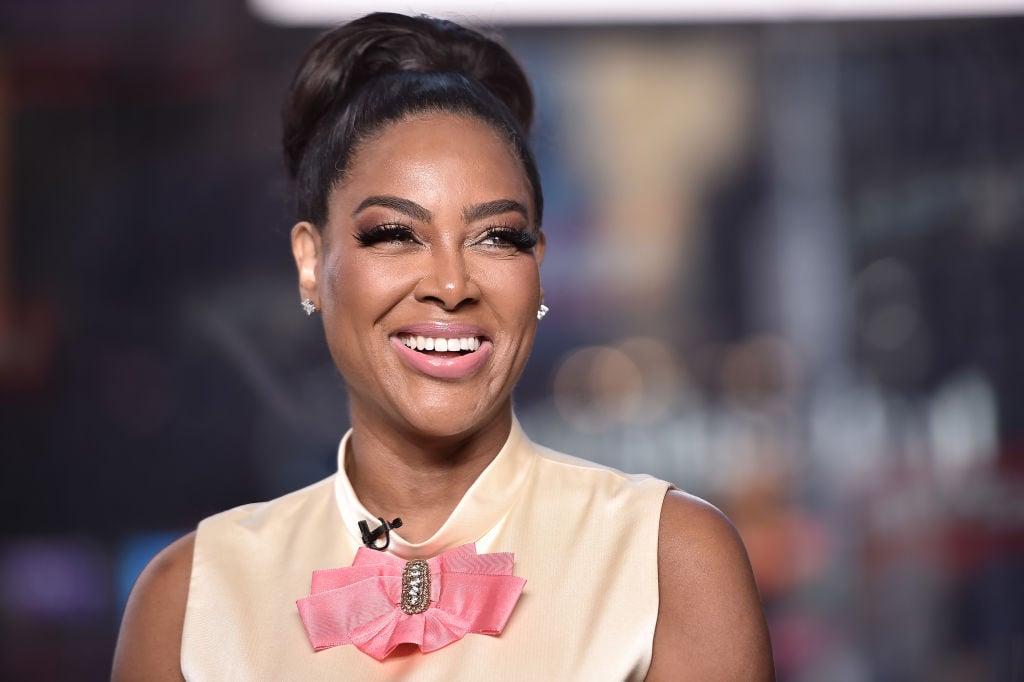 She received her wish when she finally married and welcomed her first child. Despite her mother's constant rejection of her, Kenya recently revealed that her mother has finally taken the first step in potentially forming a relationship.
Kenya Moore and her mother have been estranged since her birth 
When Moore was just 3 days old, her mother gave her to her father and paternal grandmother to raise her. Moore's mother, Patricia, was just 16-years-old when she gave birth and couldn't bear the shame of getting pregnant out of wedlock, nor raising a child as a teenager.
The relationship between the mother and daughter has always been non-existent, despite Kenya's desire to bond with her and her numerous attempts to contact Patricia. RHOA viewers have watched Kenya's heartbreaking journey to connect with her mother and the pain the void of being motherless has caused in her life.
Kenya has spoken openly about Patricia's denial of her. She's admitted that her mother has never acknowledged her, nor spoken to her, even when they've been in the same room. Patricia's sister, Lori, has been a surrogate mother to Kenya, but it was never enough for Kenya despite the love she has for Lori.
In one episode of RHOA, Kenya traveled to her hometown of Detroit, Michigan for a family reunion and visited her mother's home. She was devastated when Patricia refused to open the door. After decades of rejection, Kenya's dream was to become a mother to give her child the life she missed out on. 
Kenya Moore shares that her mother sent her daughter a birthday gift 
Kenya spent years dealing with tumultuous relationships. After years of being unlucky in love, she married Brooklyn restaurant owner, Marc Daly, in 2017. They welcomed their daughter, Brooklyn Doris Daly, in 2018 with the help of IVF.
Despite Kenya's happiness as a new wife and mother, she's expressed disappointment that even after giving birth, her mother failed to reach out to her. She also said that she believed that her mother has watched her on RHOA and opted to continue ignoring her. Kenya revealed that Patricia never congratulated her on having Brooklyn, or has tried to meet her to establish a grandparent relationship. As a result, she finally gave up hopes of having a relationship with her mother.
Just when Kenya made the decision to stop all communication attempts to Patricia, she received the olive branch she's been praying for. Kenya took to Instagram to share the news with fans that Patricia sent Brooklyn a birthday gift in honor of her 1st birthday.
"My prayer has always been to have a family. We had a late celebration for @thebrooklyndaly for her birthday and got a surprise of a lifetime. My mother sent her a gift for her. I had stopped praying about our relationship but God sent a message through my child. This is life. And despite challenges God is always on time. Happy Holidays," she wrote in an emotional post.
Kenya shared photos and videos of the clothing that Patricia sent, along with a card that was sent for Brooklyn. 
The gift comes at the right time as Kenya has been having a hard time dealing with the fallout of her marriage to Daly. Hopefully, the mother and daughter are able to build the relationship they never had.