After Drew Barrymore Flashed David Letterman, She Called it 'The End of an Era'
Once upon a time, Drew Barrymore had a rebellious streak that brought drugs, alcohol, and Studio 54 nights into her life. It started before age 10 and continued into her teen years, and she often wound up in the celebrity headlines for her antics.
Friend/mentor Steven Spielberg tried to get her to chill out after she posed for Playboy, but his counsel didn't settle in right away. And then Barrymore flashed David Letterman on his TV show, sending the public into a tizzy. When she reflected on the moment, she found it was sort of like a swan song.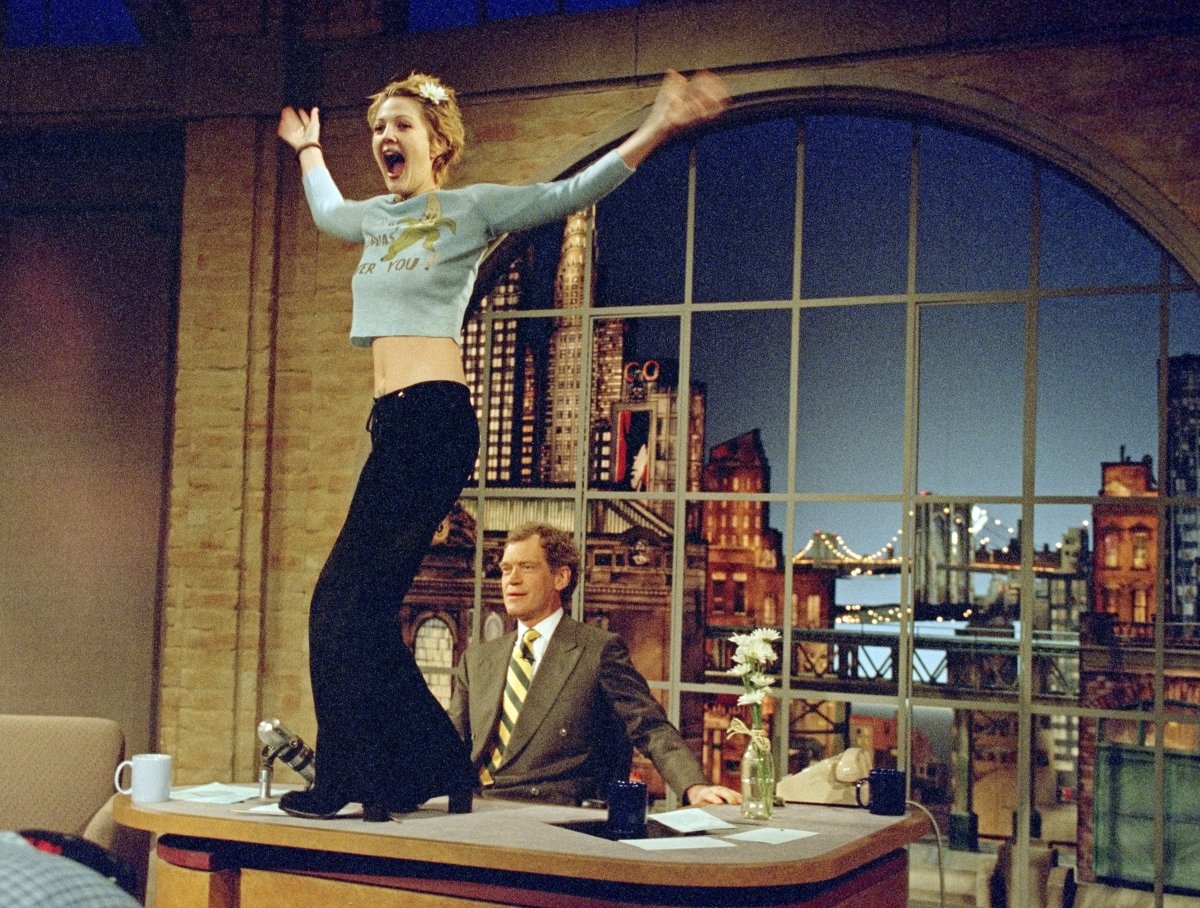 Drew Barrymore was 'in character' for her David Letterman appearance
The year was 1995 when Drew Barrymore and a friend decided to hit up the Blue Angel club in New York. Known for its live entertainment that ranged from burlesque shows to amateur stand-up, it attracted all walks of life through its doors. In her memoir Wildflower, Barrymore wrote about hanging out with her friend who went on stage to do a comedy act.
He used an alias, and she created a persona for herself too. "I spontaneously decided to join him during his set, which was as amateur as anything you can picture. I gave myself the name Lolita and jumped on to the stage. As the bit went on, I was inspired to dance around like an old '60s-movie go-go dancer in slow motion, and take off my clothes, piece by piece, behind him," Barrymore wrote.
They left the stage quickly, and it was over. Barrymore, who had an upcoming appearance on Late Night with David Letterman, wasn't aware that word traveled back to his team. One of his producers brought it up during her pre-interview and asked if she could discuss Lolita and their performance on Letterman.
She agreed, and her Lolita character showed up in spirit.
Drew Barrymore flashed David Letterman
For anyone wondering what was going through Barrymore's head when she flashed Letterman, blame it on Lolita. It was after Playboy, and she remembered she was in a free-spirited period of her life where she wanted to let go of everything "appropriate." She was a guest on Letterman's birthday show, and the energy was lighthearted and fun.
Barrymore recalled laughing with the late night host as they chatted and said she felt safe. They talked about her Blue Angel bit, and then she had a lightbulb moment. "… I suddenly out of nowhere got the idea in my head to start acting it out. And before I could even think, I was up on his desk," she wrote, adding that it was not pre-planned.
Rather, Barrymore described it as a moment of "uncalculated silliness" that left her trying to create a finish. "I lifted my top in a flash, only for David, where no one else could see," she wrote. In those seconds, she worried about what the audience thought, and then planted a kiss on Letterman's check.
Then she worried about his reaction. "Thank God, he threw his head back and laughed," said Barrymore. "This was a true moment of freedom. And it got to be something fun rather than something wrong. Thank you for that, Dave." Barrymore, now a talk show host herself, revisited the event when Letterman appeared on her show.
The flashing incident was Barrymore's last 'hurrah'
Going into the Letterman taping, Barrymore realized she might have one last gag in her bag. The flashing incident was impromptu, but it marked a change for her. She said she met with friends to watch the show that night but warned them that she did something crazy. As they watched, she noticed they were stunned and thrilled at the same time. "As I watched myself and my friends laughing from an objective perspective, I realized right then and there that this was the end of an era for me," wrote Barrymore.
She added that set her on the path to clean up her image, and she sought out projects without any sex scenes or nudity. Her next film following Letterman turned out to be Ever After, and Barrymore loved the fresh, empowering take on Cinderella.
RELATED: 'Steel Magnolias' Star Once Bickered With David Letterman on His Show: 'He's a Jerk'