After Initially Keeping Quiet, Cardi B Weighs in on Megan Thee Stallion's Shooting Incident
It seems like everyone has something to say about Megan Thee Stallion's shooting incident with Tory Lanez. In the weeks since it went down, everyone from T.I. to Marvel star Michael B. Jordan has spoken out to share their thoughts on the situation.
Cardi B is among the latest to weigh in on the drama involving her "WAP" collaborator, offering supportive words to Megan Thee Stallion in a recent Instagram Live segment. Ahead, learn more about their relationship and what the "Bodak Yellow" crooner said about the ordeal.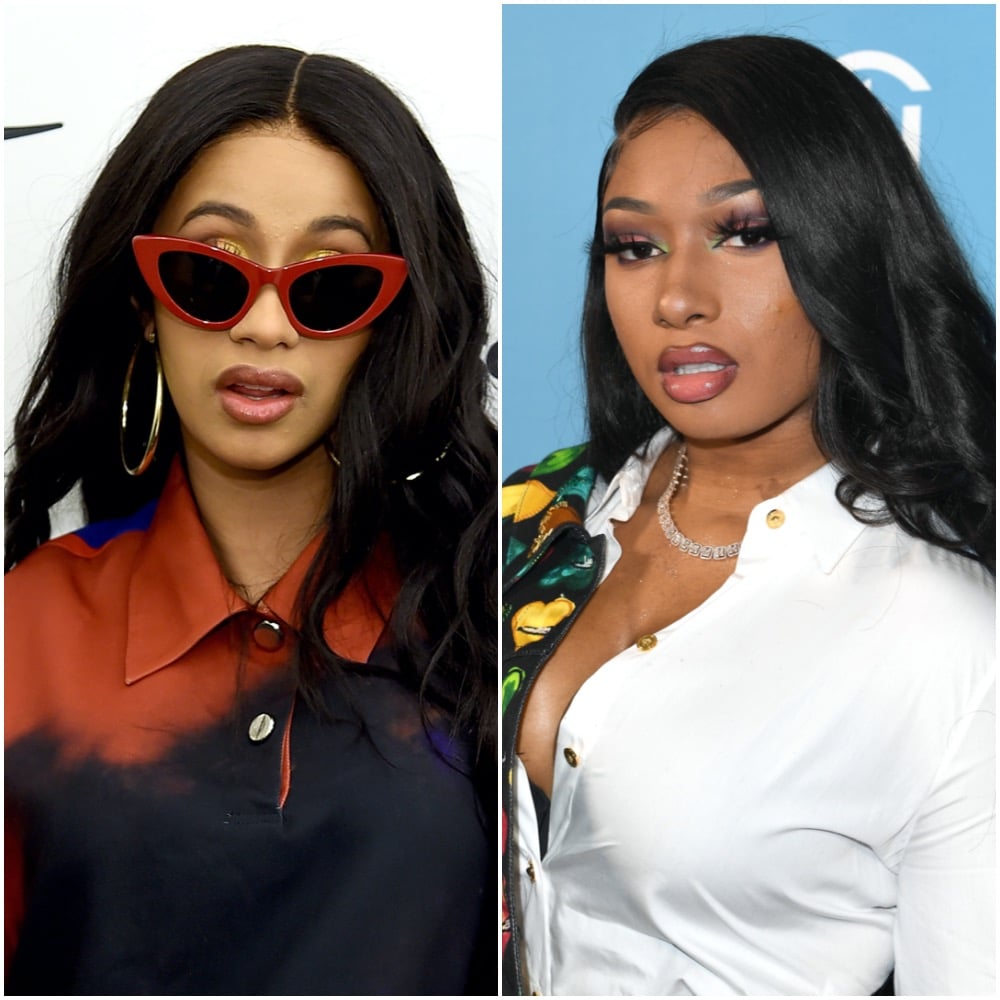 Cardi B developed a relationship with Megan Thee Stallion around the time of the incident
Cardi B and Megan Thee Stallion had been fans of one another for a while, but it wasn't until some time in 2019 that they actually met. Cardi B said in a recent interview on SiriusXM that they were introduced through their stylists and later met up at a hotel.
"We were cracking mad jokes. Like, it was just mad funny," Cardi B shared, reflecting on their hangout. "Like, she's mad funny, she's so bubbly, she's quirky like me, she smiles a lot like me, and I had a good time. I was like, 'Oh my gosh. I wish I would have met her sooner.' … She was just so fun."
RELATED: Nicki Minaj Shares Her Thoughts on Megan Thee Stallion Amid Her Collaboration With Nemesis Cardi
Cardi B eventually tapped Megan Thee Stallion for a song that would become their No. 1 hit, "WAP." Rumors that they were collaborating emerged on July 8 — just days before the shooting incident.
Megan Thee Stallion claims she was allegedly shot by Tory Lanez on July 12
Megan Thee Stallion, Tory Lanez, and others had been leaving a party that stretched into the wee hours of July 12 when they allegedly got into an argument.
Police officers who were responding to a disturbance call found a gun in their car and noticed Megan Thee Stallion had injuries to her foot. The "Say It" rapper was reportedly arrested on gun charges while Megan Thee Stallion was treated for what was initially reported as a cut from broken glass, per TMZ.
However, she later admitted she had allegedly been shot by Tory Lanez. Sources told Page Six that she had been trying not to name her shooter but had decided to go public due to "lies that were being spread," including that she had faked her injuries.
RELATED: Megan Thee Stallion Appeared Irritated With Tory Lanez in Video Before Her Allegedly Shot Her
Cardi B spoke on Megan Thee Stallion's shooting incident after she named Tory Lanez as the alleged assailant
At some point during the week of Aug. 16, Cardi B went on Instagram Live and broke her silence on the drama between Megan Thee Stallion and Tory Lanez.
Disappointed with the ongoing reports surrounding her "WAP" collaborator, Cardi B said, "This week should have been a happy a** week. happy a** week." She did not elaborate, but she seemed to be referencing "WAP" spending another week atop the Billboard Hot 100.
"Mind you, she don't have a mom. She don't have a dad. She don't got nobody to cry to," Cardi B said of Megan Thee Stallion. "This should be the happiest week and instead people are f*cking harassing her and calling her a liar."
RELATED: Who Were Megan Thee Stallion's Parents?
She continued: "Why would somebody lie about getting shot. Why? Why? You think a helicopter would be coming out at 1 a.m., whatever the f*ck time it was in [Los Angeles]? First of all, in L.A., n****s aint coming out if they was just arguing in a car. They will come out if they hear some gunshots. You think a helicopter would come out? That sh*t is sad bro. They f*cking harassed her until she had to speak."
Although it's undoubtedly a tough time for Megan Thee Stallion, Cardi B lifted her spirits in mid-August when she sent the "Savage Remix" rapper a personalized Birkin bag in honor of their song hitting No. 1. Megan Thee Stallion gushed over the moment on Instagram, saying: "not the birkinnnnnnnn 😭😭😭 thank you frennn omg I can't believe you 🧡🧡🧡🧡🧡"