What Is the Age Difference Between 'WandaVision' Co-Stars Elizabeth Olsen and Paul Bettany?
They're an unusual couple in more ways than one. Besides Vision not being a human, both he and his partner, Wanda Maximoff have superpowers. When it comes to the actors portraying these characters in the Disney+ series, WandaVision, there's also a pretty big age gap.
Here's what we know about Marvel Cinematic Universe alumni, Elizabeth Olsen and Paul Bettany.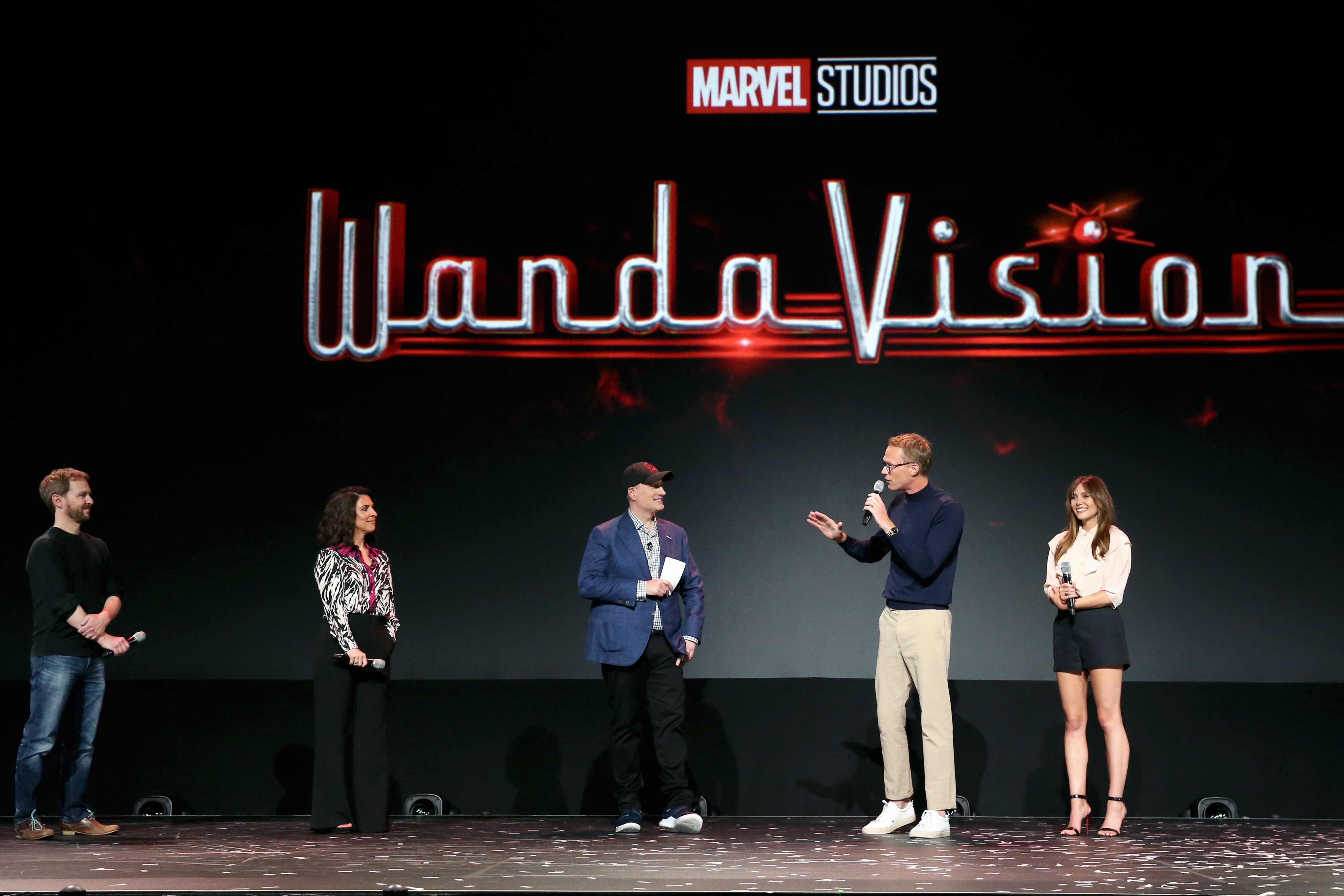 Elizabeth Olsen and Paul Bettany portray Wanda Maximoff and Vision respectively
There are a few iconic relationships in Marvel movies. There's Tony Stark and Pepper, Steve Rogers and Peggy Carter, and, recently, Wanda and Vision. Thanks to a new series coming to Disney's streaming platform, these two superheroes have a chance to change their reality. 
WandaVision is a Disney+ original featuring the characters Wanda Maxioff and Vision as they travel through some of the most iconic sitcoms in television history. This "unusual couple" is portrayed by the same actors from the MCU — Olsen acts as Scarlett Witch while Bettany appears as her partner, Vision. 
How many years apart are Elizabeth Olsen and Paul Bettany?
They're the stars of the upcoming Disney+ series, but just how many years separate these two Marvel actors? Olsen was born on February 16, 1989. Born on May 27, 1971, Bettany is about 18 years older than his co-star. 
When it comes to their characters, though, their ages are a bit more confusing. Because Vision is an android created in part by Tony Stark and Bruce Banner, he technically doesn't have an age and can transform his appearance from human-esque to his natural red state. 
Even when they're asked about their lives in the WandaVision trailer, these two don't really have the answers regarding their relationship. Where did they move from? How long have they been married? Why don't they have any children? They are an unusual couple, though, with a pretty surprising life before settling down in these time periods. 
These actors appear in the upcoming Disney+ original series, 'WandaVision'
In Avengers: Infinity War, fans saw that Wanda and Vision were sneaking moments together, discovering that their relationship works. That is, until Thanos gets his hands on the power and space stones and goes after Vision's Mind Stone next. 
He eventually gets the stone, crushing Vision's head in the process, but that doesn't mean it's the end of Wanda and Vision's relationship. WandaVision, reportedly, takes place after the events of Avengers: Endgame.
"I think it's going to make you think about the MCU in a whole brand new way but I do think that it's absolutely a part of that universe," Bettany said during an interview with Collider of the upcoming series.
WandaVision premieres on Disney's streaming platform on Jan. 15, 2021.