An 'AGT' Producer Found Kieran Rhodes and Asked Him to Audition for Season 17
It's rare to see newcomers like Kieran Rhodes to America's Got Talent (AGT) Season 17 stage when so many acts have already competed in a reality TV talent show. However, the 20-year-old singer and songwriter from Burnt Hills, New York, was relatively unknown until an AGT producer discovered him.
Fellow contestant and pole dancer Kristy Sellars already won Australia's Got Talent, and Kristen Cruz has over 2.2 million followers on TikTok. But, Rhodes doesn't have any of those accomplishments under his belt, except for his 10 original songs on Spotify, with very few monthly listeners. He's hoping competing in AGT Season 17 on NBC will change that.
An 'AGT' producer saw Kieran Rhodes play and asked him audition
It wasn't Kieran Rhodes' idea to audition for AGT Season 17. In a recent interview, he admitted that a producer on the show approached him.
"Frankly, America's Got Talent wasn't even a thought in my mind at all," Rhodes told the Times Union. "She saw me play and came to me and said 'I need to have you on the show.' She pitched me to her executives and they OK'ed me. And they pulled me right on. It was crazy and I'm super, super grateful."
The article also detailed Rhodes' life in baseball tournaments 12 months out of the year. He continued playing varsity baseball throughout high school despite his yearning to play music. "It was interesting," Rhodes explained about switching from baseball to music.
"During that whole crossover period, I would run from baseball practice to music rehearsals. My friends poked fun of me because I wasn't a 100 percent jock anymore. It was a complete change, but my coaches were very, very supportive of my decision to do music. I'm very grateful."
'AGT' Season 17: Kieran Rhodes performed an original song, 'Disengage'
Kieran Rhodes began his performance in AGT Season 17 by singing "She's Got a Way," by Billy Joel. However, a few seconds into the song, judge Simon Cowell asked Rhodes to stop and begin again with an original piece. Rhodes began playing piano and singing his song, "Disengage," which can be found on Spotify.
RELATED: 'America's Got Talent': Ellen Degeneres Discovered the Cline Twins Before 'AGT' Season 17
"I loved it," Sofia Vergara began. "I could see you sing and play for hours. You're so talented. You have youth, talent, you have it all."
The other judges agreed that it was an outstanding performance and loved his original song.
"It was amazing and spectacular," Howie Mandel added. "I could feel the emotion."
Rhodes has 10 original songs available for streaming on Spotify
According to Kieran Rhodes' Spotify account, he began writing music in 2019 and produced eight original singles on his EP, "On the Corner of Somewhere Street." He has 10 original songs available for streaming currently. "Leavin' All the Lights On" has a catchy, fun vibe that viewers hope to see Kieran Rhodes perform on AGT Season 17.
Other songs include "Take It All," "What Got Into You," and his brand new song, "Getaway Car."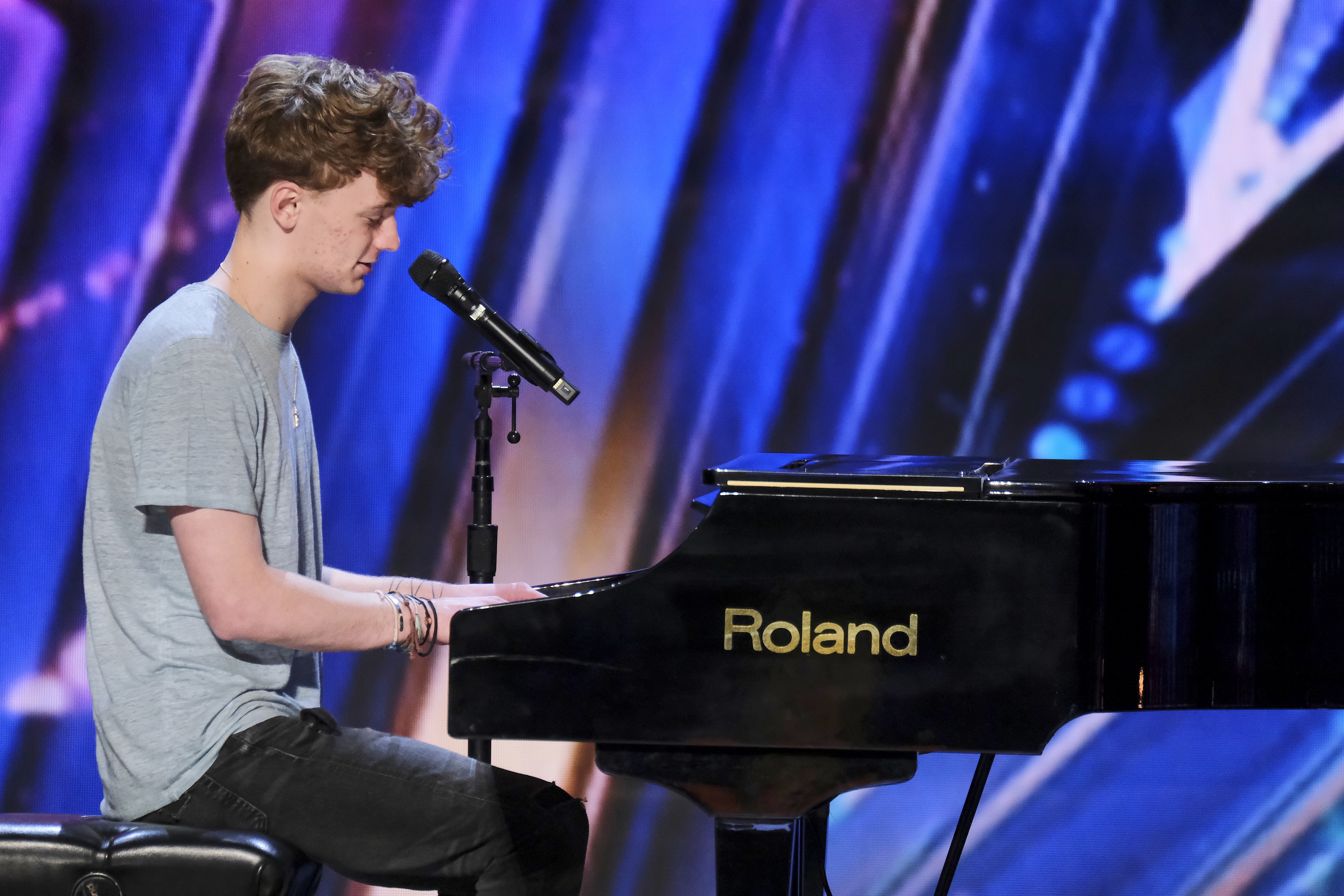 "Storyteller and former Varsity baseball player, Kieran Rhodes, is an alternative singer-songwriter," his bio on Spotify reads. "After preparing for a baseball career his entire life, Kieran discovered his overwhelming passion for music in the middle of high school. He spent the next couple of years fully engulfed in honing his craft by first learning to play piano, sing, and later writing songs in 2019."
He cites Billy Joel, Randy Newman, and James Taylor as his musical inspirations. Rhodes is currently in his sophomore year at Berklee College of Music in Boston, Massachusetts.
Watch AGT Season 17 on NBC Tuesdays at 8 p.m. ET.
RELATED: 'America's Got Talent' Season 17: Simon Cowell Judged Mayyas Dance Crew Already in a Different 'Got Talent' Series