Alanis Morissette Predicted Taylor Hawkins Leaving Her Band for Foo Fighters
Alanis Morissette knew Taylor Hawkins would leave her band to join Foo Fighters after Hawkins became friends with Dave Grohl.
Alanis Morissette is one of the reasons why Taylor Hawkins was a drummer. He said he would have been delivering pizzas if it wasn't for her. She was the first person who gave him a break in the music world.
Hawkins was loyal to Morissette. However, he couldn't help feeling the pull to join Foo Fighters, especially once he met Dave Grohl. It was inevitable, and Morissette knew it too. She predicted Hawkins joining the band before Grohl even asked Hawkins.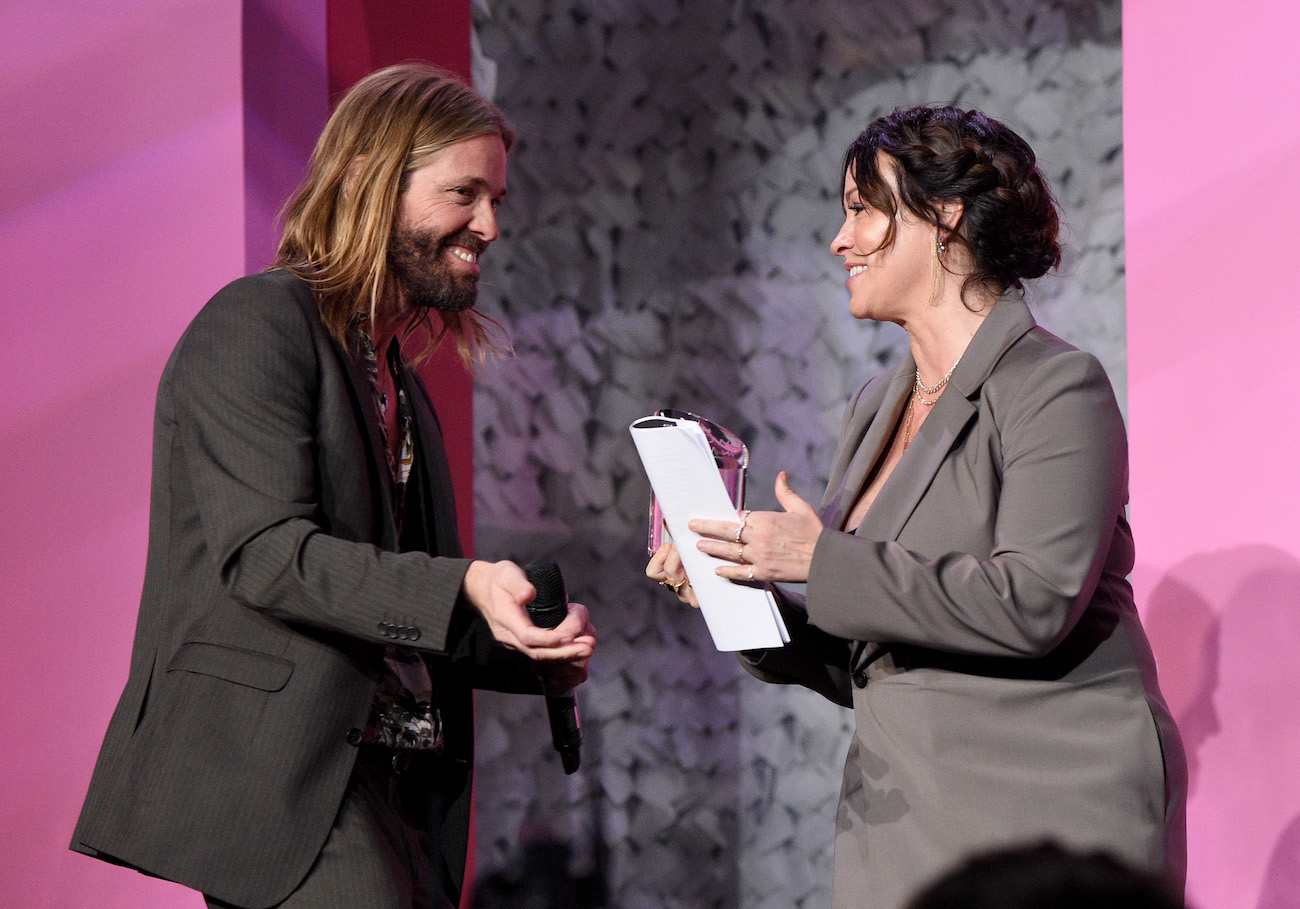 Alanis Morissette asked Taylor Hawkins to be her drummer in 1995, but he couldn't remember her name
In 1995, Hawkins auditioned to be Morissette's drummer. He'd met the singer's manager, who told him to come to meet Morissette. When Hawkins went to the audition, he couldn't remember Morissette's name.
"I had Atlantis," Hawkins explained in an interview. "Alanis, I've never even heard that word. I don't know anyone else named Alanis, so I couldn't remember the name."
Hawkins must have done something right in his audition, though. He got a cassette in the mail with all of Morissette's Jagged Little Pill hits, including "You Oughta Know."
"That's all you needed to hear," Hawkins continued. "That's going to be f***ing huge."
Then, the next thing Hawkins knew, he was drumming for Morissette on her Can't Not tour supporting Jagged Little Pill, which had become one of the most played albums on the radio. The tour lasted 18 months.
"It was so much fun," Hawkins told Kerrang. "I joined Alanis' band and the single [You Oughta Know] came out and it just went f***ing nuclear. Next thing you know, I'm in a video that's on MTV every hour. That tour was very special, and I owe her a lot of gratitude.
"She gave me a lot of space to do what I wanted. It was probably the biggest album of the year, and there was a lot of pressure on her. She was having to learn to be this leader on the job, which isn't easy. But it was really one of the most fun times of my life."
However, Hawkins' life changed again when he met Grohl.
Morissette knew Hawkins was going to leave her band to join Foo Fighters
When Hawkins met Grohl, a switch somewhere inside of him flipped on. Both musicians felt a connection between them. It was almost as if they were long-lost brothers.
They didn't hide the fact that it was love at first sight. So it was pretty obvious to Morissette that she was going to lose her drummer at some point.
"I'd met Dave at this [US radio station] K-Rock Christmas show because Foo Fighters were on their way up and Alanis Morrissette was through the f***ing stratosphere at that point," Hawkins told NME. "Me and Dave just looked like long lost brothers in a weird way.
"We had a similar vibe and I don't know why. I remember my friend playing with the Foo Fighters before I met Dave and watching them goof around backstage. He said to me, 'That guy could be like your brother.'
"And sure enough, when we met, we just thought, 'We're brothers from another mother!' It was instantaneous – so much so that Alanis Morrisette just said 'What are you going to do when Dave asks you to be the drummer in the Foo Fighters?'"
Hawkins was shocked by her estimation. He knew Foo Fighters had a drummer. Hawkins told Morissette he'd never leave her. However, that didn't last long. Shortly after, Foo Fighters' drummer William Goldsmith left the band.
Hawkins agreed to join Foo Fighters because Morissette was going in another direction
Suddenly in 1997, Hawkins heard that Foo Fighters' drummer had left. Then, he faced a dilemma. Stay with Morissette, who helped kick start his career, or go be Foo Fighters' drummer and truly melt some faces like he always wanted. We know what Hawkins chose, and it was nothing against Morissette.
"I was driving with my girlfriend at the time, and we were listening to [Los Angeles radio station] KROQ," Hawkins continued to Kerrang. "I heard William had departed and they were looking for a new drummer."
Hawkins immediately called Grohl. "I said, 'I heard you guys are looking for a drummer,' and he said, 'Well, do you know any?' I thought Alanis wanted to go in a more laid-back direction, and it seemed like the right time to jump. Alanis didn't need me! I basically said to Dave, 'I'll play drums for you,' and we jammed a couple of times.
"I remember I was at home watching [1995 erotic drama] Showgirls with my girlfriend, and Dave called to ask if I wanted to join."
Initially, Grohl never thought Hawkins would leave Morissette; that's why he asked Hawkins if he knew of any good drummers. When Hawkins agreed to join, all Grohl cared about was that he was getting a friend, not a great drummer.
Grohl told Entertainment Weekly, "I sent Taylor a tape of one of the new songs. It was 'Monkey Wrench.' I went over to his little house in Topanga Canyon, he sat down and played for three seconds, and the first time he hit a snare drum, I knew it."
Grohl knew Hawkins was the guy. "I swear to God, I was like, 'That's all I need to f***ing hear. I love you as a person. You've just given me hearing damage for the rest of my life in three seconds. You have to be in the band."
Later, Grohl said Hawkins came into his life like an F5 tornado. "When he joined the band, his drumming was the least important factor – I just thought I want to travel the world with this guy, I want to jump on stage and drink beers with this person. That was my biggest concern," Grohl told NME.
Morissette didn't take Hawkins leaving personally. They remained friends over the years. So far, Morissette hasn't commented about Hawkins' death on March 25. She's likely mourning her friend, though, like the many other people who experienced the Hawkins tornado.