Alec Baldwin Handled Weapons In These Movies Prior To The Deadly 'Rust' Shooting
Baldwin handled several different prop firearms in each of some of his films.
Alec Baldwin was by no means inexperienced with on-set guns before the deadly Rust shooting. In fact, he's handled weapons in both movies and television shows. Over a four-decade career, Baldwin has been seen wearing, handling, and shooting guns of various types. Here are the Alec Baldwin films you may have seen him with a weapon in. 
The actor's career started in 1980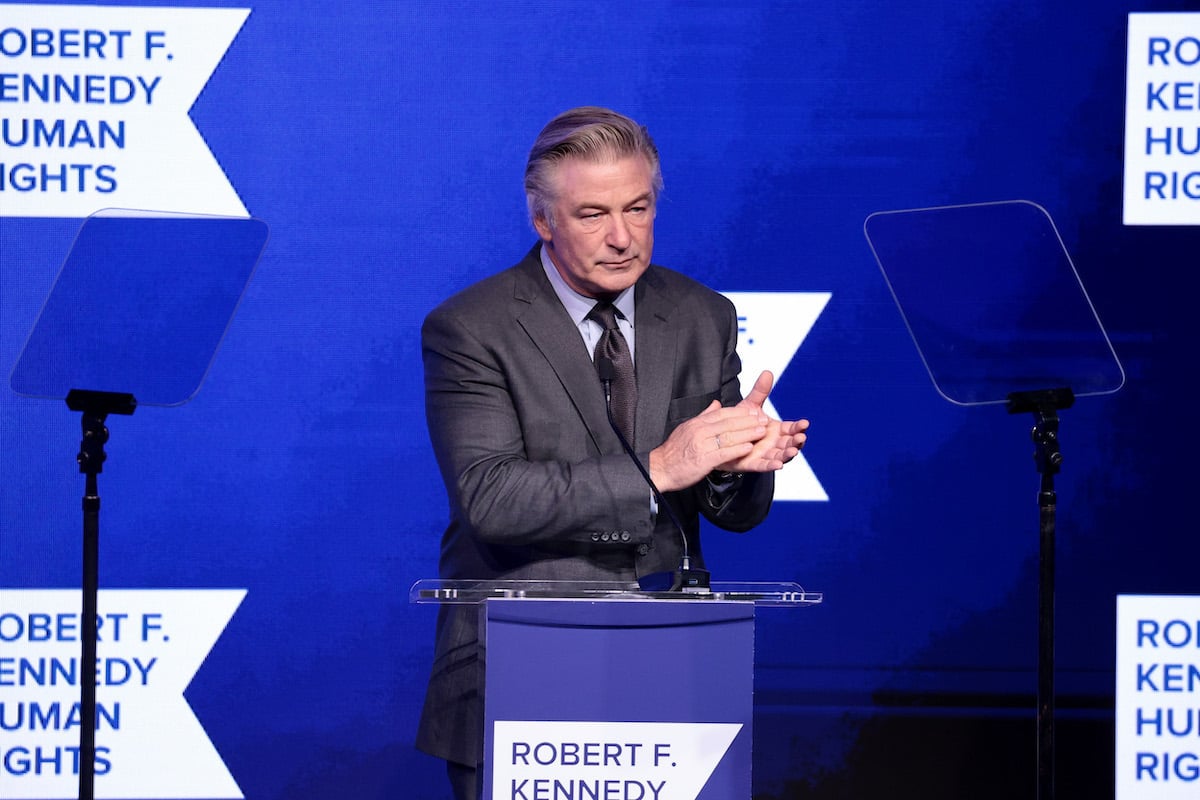 Baldwin is a veteran actor whose big break came in 1980 on the soap opera The Doctors. He subsequently appeared in primetime series Knots Landing. However, film is where he would ultimately make his mark. Baldwin debuted on the big screen in 1986's Forever Lulu. 
The prolific actor's career only got bigger from there. He appeared in Beetlejuice,Working Girl, and She's Having a Baby, all in 1988. Furthermore, the 1990's brought a slew of more serious roles in action films, including Malice (1993), The Hunt For Red October and Miami Blues (1990), Heaven's Prisoners (1996), Mercury Rising (1998), The Juror (1996), The Getaway (1994), and The Edge (1997). 
As Baldwin's career matured, he began to show up in movies with landmark directors. He appeared in Martin Scorsese's The Departed (2006) and The Aviator (2004). He notably scored an Oscar nomination for his role in 2003's The Cooler. 
However, as Baldwin's roles diversified, so did his experience as an actor. With the action movies came prominent gun-carrying roles. Those roles are notable especially in the aftermath of the fatal on-set shooting that killed one person and injured another. 
Alec Baldwin was rehearsing a scene for 'Rust' when he accidentally killed the movie's cinematographer
The Rust star and producer was in a church on the Bonanza Creek Ranch set in Santa Fe, New Mexico, when he accidentally shot and killed cinematographer Halyna Hutchins with a prop gun. He additionally wounded director Joel Souza. An investigation into the incident is ongoing. 
But in the weeks and months following the shooting, many are asking how it could have happened. 
Baldwin, it turns out, has plenty of experience packing heat onscreen. His character, CIA analyst Jack Ryan appears with a gun in The Hunt For Red October. He handles two separate firearms as Frederick Franger, Jr. in Miami Blues. Similarly, he uses two firearms in The Getaway as Carter "Doc" McCoy. 
In scene after scene of 1994's The Shadow, Baldwin carries a gun, appearing as both the title character and his superhero alter-ego Lamont Cranston. 
The actor carries two firearms as homicide detective Dave Robicheaux in Heaven's Prisoners. He carries four different guns as 'Teacher' in The Juror. He also carries a weapon as photographer Bob Green in survival movie The Edge; as well as Col Kudrow in Mercury Rising; Macklin in Thick as Thieves; as Jack McCallister in Fun With Dick and Jane; and finally, as 
Alan Hunley in Mission Impossible: Fallout. 
If all that weren't enough, Baldwin appears with several different firearms as Jack Donaghy in NBC comedy series 30 Rock. And then there were the roles like Captain Ellerby, in which Baldwin has a gun on his hip, but doesn't necessarily fire it. 
So whether a survivalist, spy, CIA analyst, detective, cop, or superhero, Baldwin seems to have done it all when it comes to firearms on set. Unfortunately, his attempt to use one on the set of a Western didn't go well. 
Alec Baldwin says he'll likely never do another movie with a firearm after the gun accident
In any case, Baldwin denies any wrongdoing when it comes to the Rust accident. And with the amount of firearms he's handled in movies, it's difficult to imagine such a dangerous misfire. 
According to a recent interview that aired on ABC, Baldwin likewise admitted that he couldn't imagine being in another film with a gun. Furthermore, he said his career may be over.  
"I can't imagine I'd ever do a movie that had a gun in it again," he told George Stephanopoulos in the special Alec Baldwin: Unscripted. "I can't."