Alec Baldwin Now Claims He Didn't Pull The Trigger in Fatal 'Rust' Shooting Accident
In a stunning new interview, Alec Baldwin now claims he never pulled the trigger in the shooting that left a cinematographer dead and director wounded. In his first formal interview since the October incident, Baldwin was visibly emotional. Here's what the veteran movie actor told George Stephanopoulos about his involvement in the shooting that rocked the entertainment industry. 
The Alec Baldwin shooting is still under investigation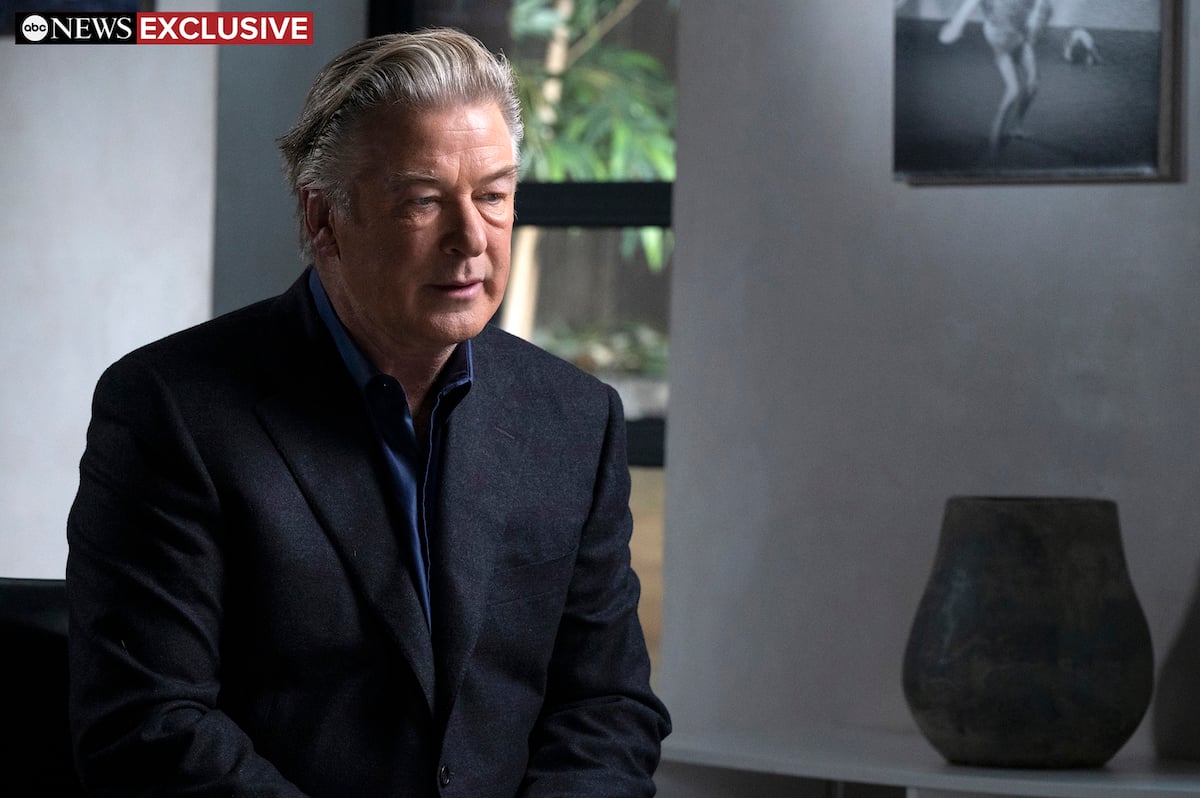 In short, the October 21, 2021 accidental shooting on the Santa Fe, New Mexico set of Western Rust left cinematographer Halyna Hutchins dead. It also left director Joel Souza injured. Alec Baldwin was holding the firearm, which he allegedly pointed at Hutchins before she collapsed. The accident is still under ongoing investigation. However, prosecutors have not filed any charges at the time of this writing. 
In promos for his first formal interview since the incident, Baldwin now claims that he didn't even pull the trigger 
"The trigger wasn't pulled," he tells ABC News in the clip, per CNN. "I didn't pull the trigger." 
"I would never point a gun at anyone and then pull the trigger, never," Baldwin adds. 
Furthermore, Baldwin claims that the bullet that killed Hutchins shouldn't have been on the Bonanza Creek Ranch set. "Someone put a live bullet in the gun, a bullet that wasn't even supposed to be on the property," he says. 
The actor mourns both Halyna Hutchins and the accident 
A visibly distraught and emotional Baldwin also shared his feelings about Hutchins and the accident in the on-camera interview. "She was someone who was loved by everyone who worked with her, liked by everyone who worked with her — and admired," Baldwin said. "It doesn't seem real to me."
Halyna Hutchins' friends and family finally laid her to rest in mid-November of 2021. But Baldwin expressed deep regret much sooner, speaking out on Twitter the day after the accident. 
"There are no words to convey my shock and sadness regarding the tragic accident that took the life of Halyna Hutchins, a wife, mother and deeply admired colleague of ours," wrote Baldwin on October 22. "I'm fully cooperating with the police investigation to address how this tragedy occurred and I am in touch with her husband, offering my support to him and his family. My heart is broken for her husband, their son, and all who knew and loved Halyna." 
Baldwin similarly mourned Hutchins in an impromptu roadside interview in October 2021. "It's an active investigation in terms of a woman died, she was my friend," he said, per Fox News. At the time, he called it a "one in a trillion" event.  
The incident has prompted an outcry among actors and industry insiders, who say changes are critical for safety's sake. 
Alec Baldwin says the accident is the worst thing that's ever happened to him 
When asked by Stephanapoulos if the shooting was the worst thing that has ever happened to him, Baldwin replied quickly "Yes." 
"Yeah," he repeated. "Yeah. Because I think back, and I think of what could I have done?" A glut of new lawsuits similarly asks the same question. Script supervisor Mamie Mitchell filed court papers in mid-November, saying that Baldwin played "Russian roulette" with the lives of the Rust cast and crew. Mitchell is suing Baldwin and the film's producers. 
Likewise, gaffer Serge Svetnoy filed a suit in mid-November. He claims general negligence and names Baldwin, assistant director Dave Halls, and set armorer Hannah Gutierrez Reed as defendants. He also revealed that the script never called for Baldwin to pull the trigger. 
To sum up, the Alec Baldwin Rust tragedy continues to generate interest and controversy. Alec Baldwin: Unscripted airs on ABC on December 2, 2021 at 8/7c.