Alec Baldwin Returns to Work for the First Time After 'Rust' Accident – 'It's Strange to Go Back to Work'
Alec Baldwin shared that he had returned to work for the first time since the tragic shooting on the film 'Rust.'
Alec Baldwin revealed that he returned to work for the first time following the accidental fatal shooting of cinematographer Halyna Hutchins on the set of Rust.
Baldwin was given a prop gun to use in a scene, but it fired a bullet, hitting and killing Hutchens on the Rust set. An investigation is currently ongoing, but Baldwin had not returned to work until recently. In a video he shared on Instagram, Baldwin expressed being in a strange space, still clearly haunted by what occurred on the Rust set.
Alec Baldwin said it is 'strange' to return to work after the tragedy
Baldwin filmed the video after a day on the set. He's in bed and shared his thoughts while resting on a pillow. "I don't work as much as I used to," he mused. "And I've said this before, maybe, but you go to work and you forget what you're supposed to do. I just was like, 'Oh God what do you do?' What is acting or any of this nonsense that I've ended up doing."
"It's strange to go back to work," he continued. "I haven't worked since October 21st of last year. And this horrible thing happened on the set of this film [Rust]. The accidental death of our cinematographer Halyna Hutchens. I still find that hard to say. I went back to work today for the first time in three and a half months. You know, movies are nearly always the same, you know?"
He's working on a new indie film
Baldwin said he's working on an independent film, likely a new project. "Everybody's young," Baldwin said about the actors and crew on set. "Compared to me, everyone's young. Especially in independent film, where there are good people, there are very good people. But everybody's chasing all the good people and a lot of the best ones get gobbled up by projects that have more money."
He continued, "You know when you have a very limited budget, you're filling positions with people who are good. But they're probably early in their career and young. And they work hard. The crew of movies or TV sets are hardworking people. On their feet all day. In an unheated building, I might add. The building had no heat. It was a tricky day to try to get everything done. Many independent films now can be very tricky in terms of getting them done. The amount of work you have in the time you have, definitely."
Baldwin seemingly dreaded his return to work. Days earlier he expressed some anxiety about getting on a plane and traveling alone. "Settling into my least favorite place…an airport. Getting ready to do my least favorite thing…travel alone," he captioned a video. "I have only one purpose in this life. And I count the minutes until I get back to it."
'Rust' is paused while investigations continue
The Rust production team issued a statement after the fatal shooting that they've "made the decision to wrap the set at least until investigations are complete," Deadline reports. According to the Santa Fe Sheriff's Office, an assistant director handed Baldwin one of the three prop guns on set. He yelled, "cold gun," meaning the gun did not contain gun powder or could be used as a weapon.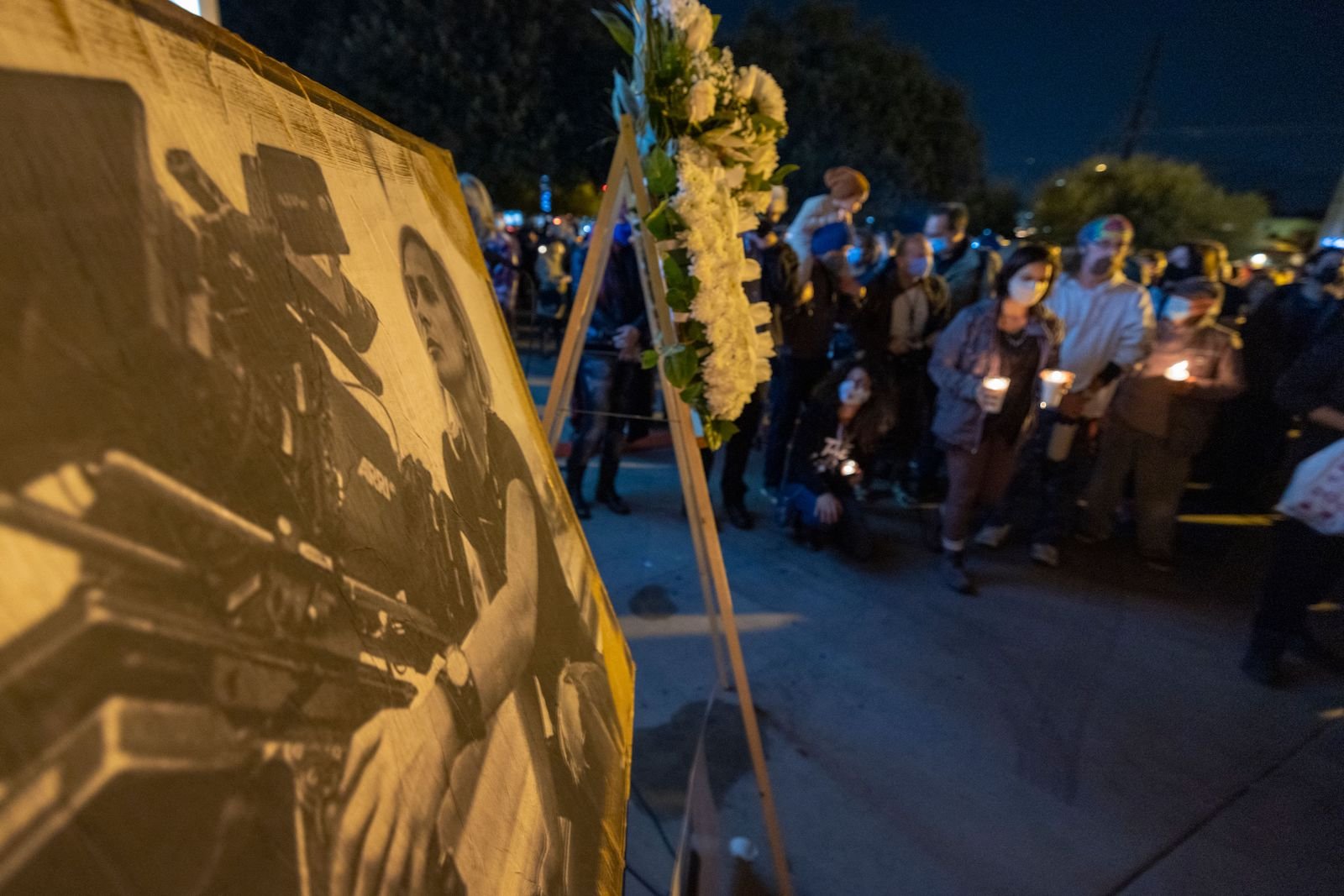 Baldwin recently turned over his phone to authorities to assist with the ongoing investigation (via NPR).