Alec Benjamin and Jimin from BTS Might Collaborate on a Song
Fans are hopeful Alec Benjamin and Jimin will collaborate on a song. Benjamin is currently working on writing songs before his tour resumes later in October. Earlier this year, the singer toured in Seoul and Jimin from BTS attended his show while BTS was on hiatus. In an interview, Benjamin seemingly confirmed the two plan to collaborate on a song.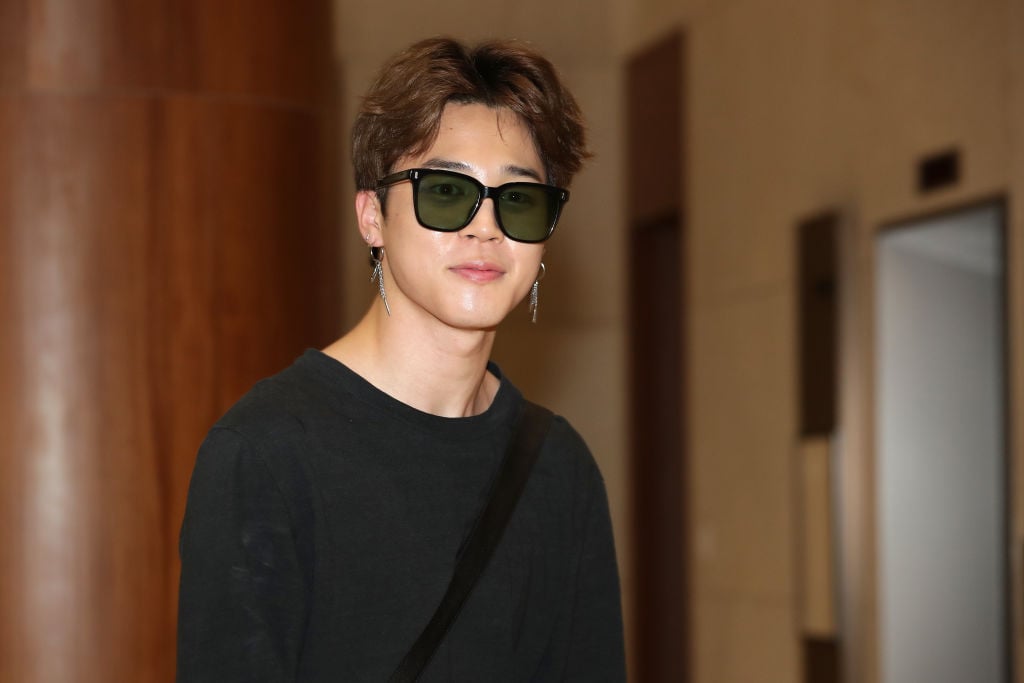 Jimin attended Alec Benjamin's concert in Seoul
During the summer of 2019, Benjamin toured throughout Asia. In an interview with a Chinese media outlet, Benjamin spoke about the details of how Jimin attended his show.
"I invited him to my concert because he had made a playlist online, and he had 12 songs on it and like six or seven of those songs were mine," Benjamin said. "So when I was on my way to Korea… I was just like 'Well I'll just tweet at BTS and just ask him to come.'"
After Benjamin tweeted at BTS, fans noticed he later deleted the tweet. Benjamin explained why in the interview.
"… Next thing I know my manager calls me and he's like 'Yo, you need to take that tweet down,'" he said.
Benjamin's manager then told the singer Jimin planned to attend the show. After the show, both Jimin and Benjamin posted photos with each other on their social media accounts.
Alec Benjamin and Jimin are mutual fans of each other
Jimin attended Benjamin's show with Eric Nam. The next day, Nam interviewed Benjamin about the concert and what it was like to meet Jimin.
"It was funny cause he just kept sitting there and he was like 'His voice is insane. His voice is insane'… for like an hour just like 'His voice is insane,'" Nam said about Jimin.
After the interview, a fan tweeted, "I can't believe jimin sat at Alec Benjamin's concert going 'his voice is insane' the whole way through. the power a collab would have."
Nam also brought up the language barrier between Benjamin and Jimin while explaining how funny it was to watch them freak out over meeting each other.
"I have to learn to speak some Korean then, you know?" Benjamin said.
This comment earned a lot of respect from BTS fans.
"it's not a big thing but it's the first time when someone mentions the language barrier , the singer offers to learn korean to understand the koreans instead of having the attitude of 'everyone should know how to speak English' i rly respect him," one fan tweeted.
Alec Benjamin confirmed he wants to collaborate with Jimin
In the interview with the Chinese media outlet, Benjamin confirmed he plans to collaborate with Jimin for his upcoming album. The singer also plans to collaborate with Khalid.
"There's a two-month break between when I go home after my trip to China and when I go away to Europe again, when I'm going to be making my album and hopefully writing with other people. I have some plans to collaborate with Khalid and also Jimin from BTS," Benjamin said.
Fans cannot wait for the collaboration
After news of the collaboration spread online, fans cannot contain their excitement. Earlier in 2019, BTS released a collaboration with Halsey and confirmed they plan to collaborate with Khalid. J-Hope recently released his collaboration with Becky G, "Chicken Noodle Soup."
"alec benjamin just confirmed collaboration plans with jimin. that's it. we're about to witness the softest collab the music industry has ever seen," one fan wrote on Twitter.
"If anything else, I'm really excited for Jimin x Alec Benjamin collab Two artists with seriously unique voices COMBINED?? Just imagine the melodies and notes they'll be feeding us. I will be sent straight to my grave once they start blending or perform a duet. I am dead," a fan tweeted.