Alex Guarnaschelli's Least Favorite Food to Cook is Extremely 'Simple'
Food Network is home to an incredible collection of culinary shows, run by magnificent chefs.
These celebrity chefs create spectacular dishes that are not only tasty, but look like works of art on a plate. They've been trained in the most prestigious culinary establishments, and have experience in world-renowned restaurants. It seems like they can create a masterpiece out of even the most basic ingredients.
Well, some of them probably can, but you'd be surprised to find that they struggle with some pretty simple dishes. Alex Guarnaschelli, for example, revealed her Achilles heel in an interesting Q&A with Food Network. 
Who is Alex Guarnaschelli?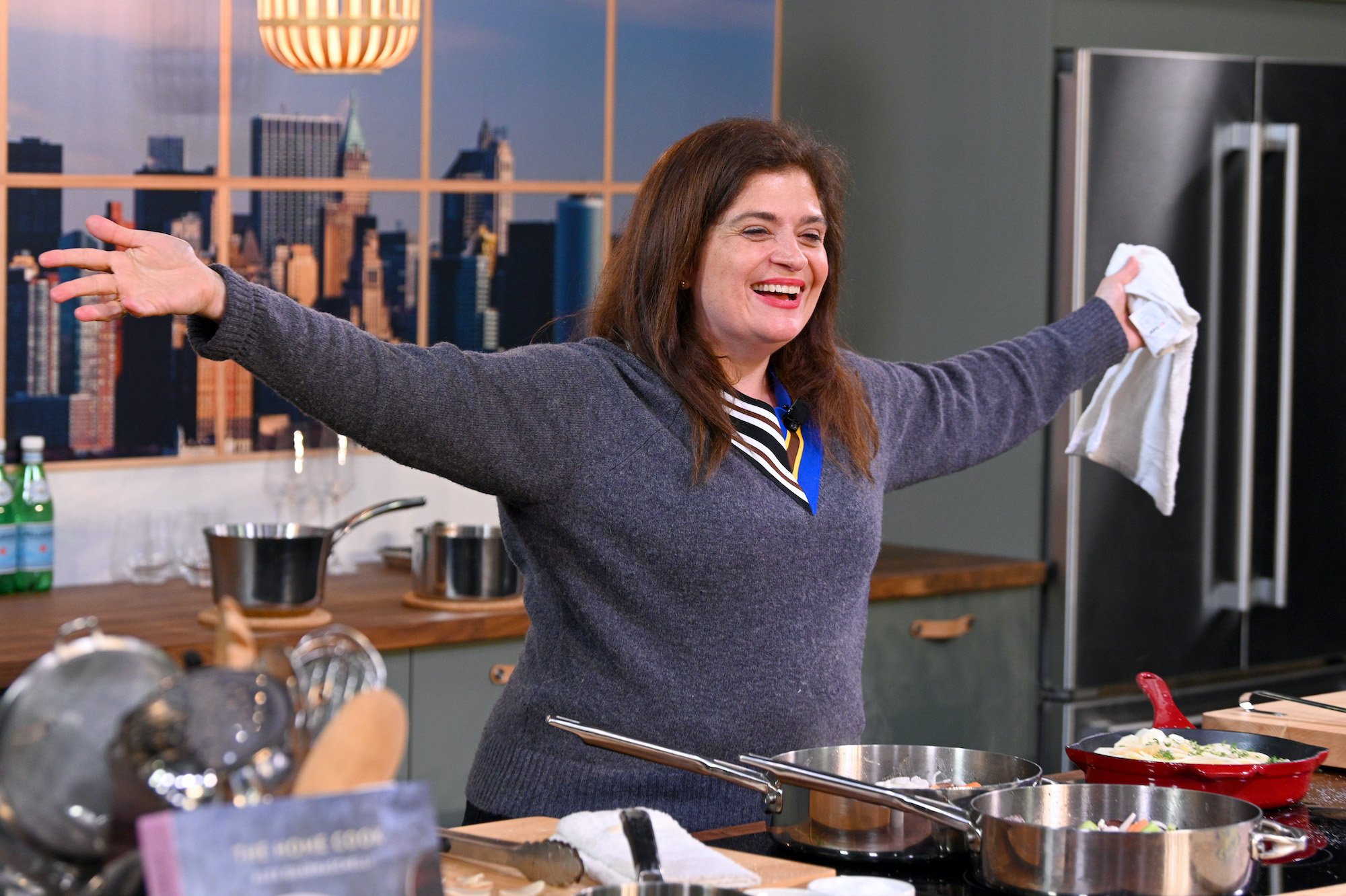 Alex Guarnaschelli is a celebrity chef. She is best known as a judge on the Food Network cooking competition Chopped. Guarnaschelli grew up with parents who both had a passion for food. Her mother was a cookbook editor and her dad was a cooking enthusiast (with a focus on Italian and Chinese food). Her mother would try every meal from each cookbook she edited, so the family experienced a wide range of recipes from a variety of cultures.
After helping her mother for years in the kitchen, Guarnaschelli was inspired to pursue a culinary path herself. She graduated from Barnard College in 1991. At the suggestion of her mentor, chef Larry Forgione, Guarnaschelli moved to France for a work-study program at La Varenne Culinary School.
From there, she went on to the prestigious Guy Savoy. What was meant to be a few days turned into a four-year career at the Michelin three-star establishment.
The talented chef spent seven years in France before returning to the U.S. She expanded her skills at restaurants in New York City and L.A. before settling down as the executive chef at Butter in Manhattan. In 2011, she opened The Darby, also in New York City. Guarnaschelli shared her passion with aspiring chefs as an instructor with the Institute of Culinary Education.
She won the 'Iron Chef' title but can't cook hot dogs
In addition to all of her culinary achievements, Guarnaschelli won the coveted Iron Chef title in 2012. The celebrity chef loves to use local ingredients, stating that "Ingredients that travel less distance from the ground to your plate are likely to taste fresher and more satisfying." She frequents farmers' markets and enjoys creating unique dishes based on whatever is available. 
Guarnaschelli has a passion for American ingredients and recipes with historical or regional significance. Her favorites are simple, classic dishes like clam chowder and strawberry shortcake.
She also enjoys making homemade versions of things you'd normally purchase in the store, like butter and jam. Someone who makes their own butter from scratch is pretty impressive, and you'd expect that she could cook just about anything…
Surprising as it is, the master chef actually can't cook everything. According to Food Network, she has trouble with one iconic American favorite that most of us just toss on the grill without a second thought. Hot dogs.
This world-renowned chef has worked in the biggest cities in America, studied abroad at Parisian restaurants, but can't tackle a hot dog. 
She just got engaged to a 'Chopped' winner
The Food Network star shared exciting news on her birthday this summer–she's engaged! Guarnaschelli's boyfriend of four years, Michael Castellon, popped the question and sealed the deal with a gorgeous emerald and diamond engagement ring.
The couple was driving home from the grocery store when Castellon pulled the car over, insisting he had spotted a stray dog. Guarnaschelli immediately jumped out, looking for the pup. In the meantime, Castellon got the ring ready and got down on one knee, surprising Guarnaschelli when she returned to the car. 
The happy pair met at Castellon's restaurant. Guarnaschelli was so impressed with her steak that she was taken back to the kitchen to praise the chef. Castellon spent quite some time on Food Network himself. He competed on Chopped, winning season 35. He then appeared on Iron Chef America, as Guarnaschelli's sous chef.