Does Alex Karev Die on 'Grey's Anatomy'? These Theories Suggests Death Is Inevitable When Justin Chambers Departs
The characters on Grey's Anatomy might have changed the hospital name to Grey Sloan Memorial, but it'll always be Seattle Grace Mercy Death to us. The ABC medical drama has killed off numerous fan-favorites, including Derek Shepherd (Patrick Dempsey), Lexie Grey (Chyler Leigh), Mark Sloan (Eric Dane), and George O'Malley (T. R. Knight) — just to name a few. And now, viewers think the Shondaland series is about to add Alex Karev, played by Justin Chambers, to the mix. So will Alex die on Grey's Anatomy? This fan theory explains how Meredith Grey's (Ellen Pompeo) person leaves the show after Chambers' sudden exit.
Justin Chambers announces his departure from 'Grey's Anatomy'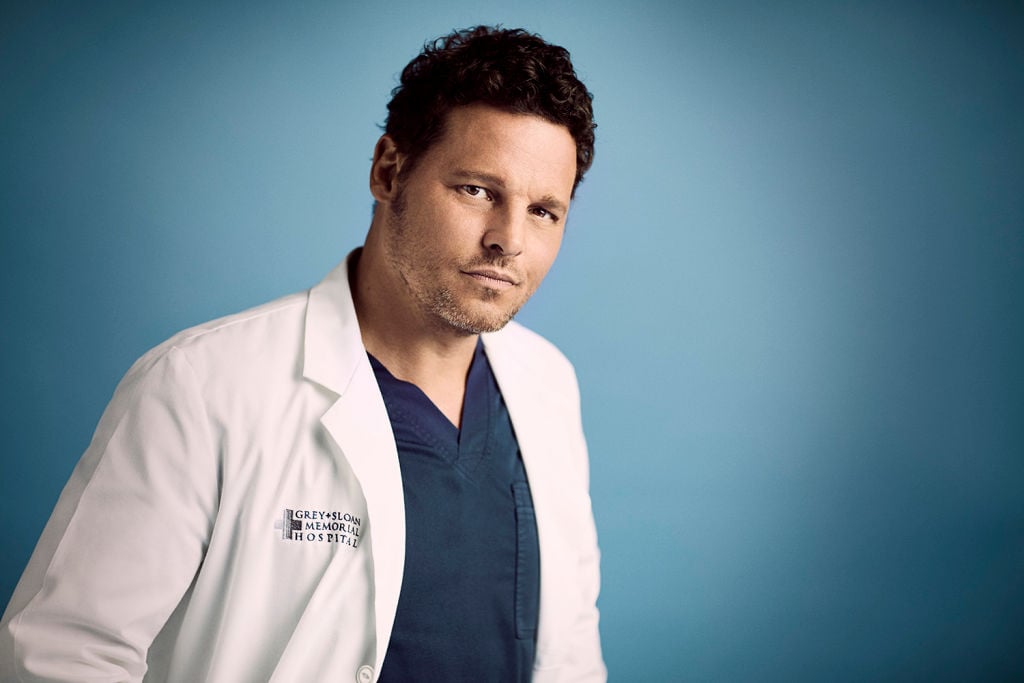 On Jan. 10, Deadline reported Chambers' departure from Grey's Anatomy, revealing the actor wishes to pursue more acting roles moving forward.
"There's no good time to say goodbye to a show and character that's defined so much of my life for the past 15 years," Chambers said in a statement. "For some time now, however, I have hoped to diversify my acting roles and career choices. And, as I turn 50 and am blessed with my remarkable, supportive wife and five wonderful children, now is that time."
Chambers also thanked his "ABC family," including Grey's Anatomy creator Shonda Rhimes and the three remaining original cast members, Pompeo, Chandra Wilson, and James Pickens Jr.
Meanwhile, multiple publications confirmed Chambers' final episode of Grey's Anatomy already aired on Thursday, Nov. 14, and featured the historical 350th episode. Then in the midseason finale, Alex went to see his mother in Iowa. And Alex's wife, Jo Karev (Camilla Luddington), stole a baby home from the firehouse. Of course, Chambers' sudden exit leaves fans with a string of unanswered questions.
'Grey's Anatomy' fans think Alex Karev will die in the midseason premiere
Naturally, Grey's Anatomy fans are trying to predict how Alex's storyline will end now that Chambers has left the show. However, some viewers believe the writers will kill him off, given the nature of the series. Alex also has strong ties to Jo. And as far as we know, Luddington is still on the show.
On Reddit, one fan wondered how the writers will write Chambers out of the show that is fitting of Alex's character. "Either have Camilla leave as well, and have Alex and Jo move away because one of them got a good job offer, and we'll see them as parents," a fan on Reddit wrote. "Or let Alex die, because Alex wouldn't abandon Jo. I would be sad to see Camilla go as well, but I just can't see them not be together."
Another fan on Twitter echoed the previous theory, noting Alex's 350th episode departure doesn't add up. "They're going to kill Alex off offscreen," the fan wrote. "Even if Camilla left too (which she's not) it wouldn't make sense that Alex left without saying his goodbyes and he wouldn't just leave Jo."
The fan added, "Sooo they're going to crash his plane back from Iowa."
Meanwhile, a few individuals hypothesized Alex will die in the Grey's Anatomy Season 16 winter premiere. In the midseason finale, a car crashed into Joe's bar. And now, fans are questioning Alex's involvement in the accident. One Reddit user wrote:
When Alex visits his mom in Iowa, he discovers she is severely mentally unwell. He takes her back to Seattle, so he can closely monitor her during the professional care she will require. Alex drives to Seattle in his mom's car, since air travel would be too stressful in her delicate state. He tells her they are almost home, and she freaks out, saying she doesn't want to be locked up, that she's not crazy, and she pulls the steering wheel to try to turn the car around. They crash into Joe's bar.

Towards the end of the GA episode they realize it's Alex and his mom trapped unconscious in the car, then the car drops all the way into the bar and there is an explosion (extra drama for the Station 19 crossover), and the episode ends. Station 19 starts, they rescue everyone else we know that's inside through the hole that the explosion made, and the fire creates a scenario where they can kill Alex without putting his face on the screen.
Clearly, the news of Chambers' exit from Grey's Anatomy shook the fandom to its core. Alex was one of the last remaining original characters. So his departure hit viewers harder than most. But since Chambers' last episode has reportedly already aired, it's no surprise fans think Alex will die in an upcoming episode. Regardless, everyone will just have to hold on and see what the writers decide when Grey's Anatomy returns on Jan. 23.
Read more: 'Grey's Anatomy': This Owen Theory Will Make You Scream With Glee or Anger — There Is No In-Between