Alex Rodriguez Calls Jennifer Lopez a 'Champion' After 2020 Golden Globes Loss
Alex "A-Rod" Rodriguez took to Instagram to share a heartfelt message after his fiancé, Jennifer "J. Lo" Lopez, left the 2020 Golden Globe Awards empty-handed on Jan 5, 2019. 
The multi-hyphenate attended the awards ceremony as a Best Supporting Actress nominee thanks to her performance as Ramona in 2019's Hustlers. However, she left the event having lost out to Laura Dern for Netflix's Marriage Story.
Despite Lopez not taking home an award, Rodriguez gushed about his future wife calling her a "champion."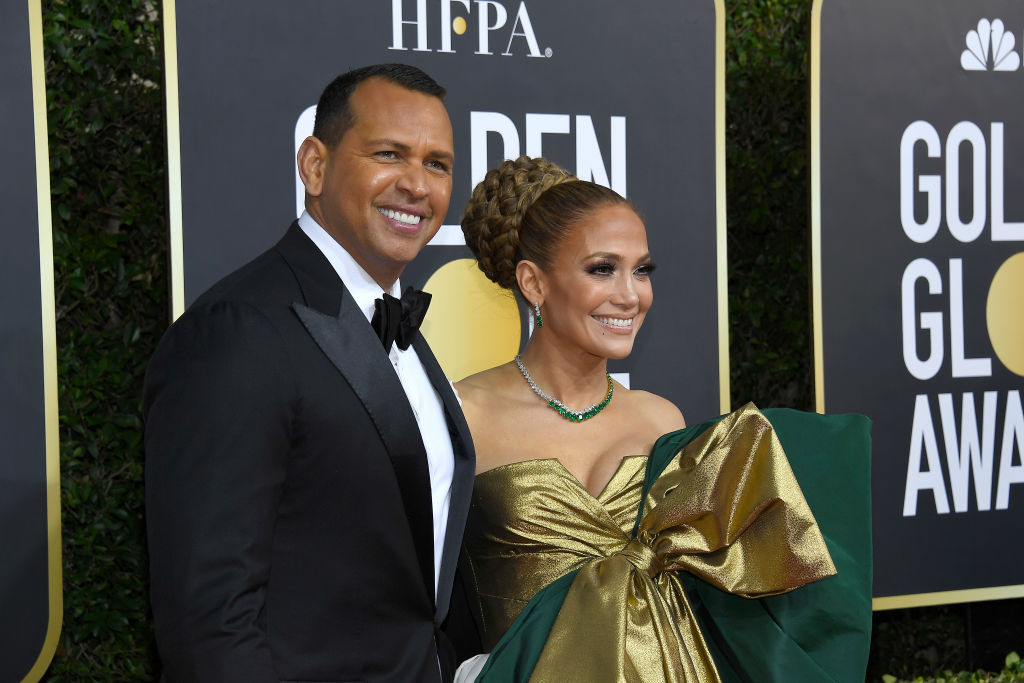 A-Rod's message to J. Lo following Golden Globe loss
After the awards show ended, Rodriguez shared a sweet note on Instagram alongside a snapshot of J. Lo at the Golden Globes where he discussed her being an inspiration to many. 
"Jen, it doesn't take a trophy, medal, or plaque to identify a true champion," A-Rod began the message. 
He continued saying even though she didn't win a Golden Globe Award for Best Supporting Actress, she's been a source of inspiration to fans.
"To millions of young women who have watched you and have been inspired and empowered to do amazing things in their lives, you are a champion," he wrote. 
He went on, highlighting the multitudes of people Lopez has inspired through her work as a dancer, singer, actress, among other hats she's worn in the entertainment industry.

"For countless musicians, dancers, actresses, and performers who have seen and emulate your passion, drive and work ethic to find their own success, you are a champion," Rodriguez said. 
The former MLB player for the New York Yankees wrapped up the touching message by sharing how Lopez has been a role model to those closest to her. 
"To your children, your family, your coaches, your staff, and your extended family, you are a champion," he wrote before adding, "To everyone whose lives you enrich daily, you are a champion. And don't you ever forget it. ❤️❤️❤️." 
Lopez responded to Rodriguez's post with a short and sweet reply: "You are my everything ♥️." 
See A-Rod's original Instagram post here. 
It seems to us even though J. Lo didn't win a Golden Globe, she still walked away from the ceremony a winner and "a champion" as A-Rod said. Plus, the Golden Globes kicked off awards show season meaning there are still other chances for Lopez to earn an award for her acting skills. 
Jennifer Lopez has been nominated a Golden Globe twice
According to the Hollywood Foreign Press Association, this marked Lopez's second nomination. In 1998 she earned a Best Actress nomination for portraying Selena Quintanilla-Pérez in the 1997 biopic, Selena. 
Who were the other 2020 Best Supporting Actress nominees? 
Dern, a two-time Oscar nominee — and now a five-time Golden Globe winner — beat out Lopez as well as other big names for Best Supporting Actress in any Motion Picture. The other nominees in the category besides Dern and Lopez were as follows: 
Kathy Bates, Richard Jewell
Annette Bening, The Report
Margot Robbie, Bombshell
For more details, check out the complete list of 2020 Golden Globe winners.