Alex Rodriguez Teaches His and Jennifer Lopez's Daughters Baseball and They're Awesome At It!
Alex Rodriguez hasn't stopped practicing baseball just because he's under stay-at-home orders. While he and fiance Jennifer Lopez are considering buying the New York Mets, Rodriguez is training his whole family on the game. He's teaching his daughters Ella and Natasha and Lopez's daughter Emme how to catch and hit baseballs.
Rodriguez shared a video for YouTube's #StayHome #WithMe campaign on April 19. Read A-Rod's baseball tips and watch the girls clobber the ball in the video below. 
While Jennifer Lopez is inside, Alex Rodriguez shows Ella, Natasha and Emme how to catch
First, Rodriguez shows Emme, Ella and Natasha catching technique. They are not wearing baseball gloves, but he shows them how to close their fingers around the ball, "like a sponge, soft like a sponge."
He also shows them how to lean into the catch with their mouth, as if they're trying to eat the ball. "Now, we're going to eat it," Rodriguez said. 
"Practice does not make you perfect," Rodriguez said. "Perfect practice, however, makes you perfect."
Alex Rodriguez reveals fielding tips to his daughters and step-daughter
When it comes to catching the ball in the outfield, Rodriguez has some specific tips too. For ground balls, he teaches Emme, Ella and Natasha to keep their butts down. 
"Keep that down like a biscuit," Rodriguez said. "Keep that butt down. That butt's too high."
If the sun is in your eyes, A-Rod shows them how to use their gloves to block the sun and allow them to see the ball.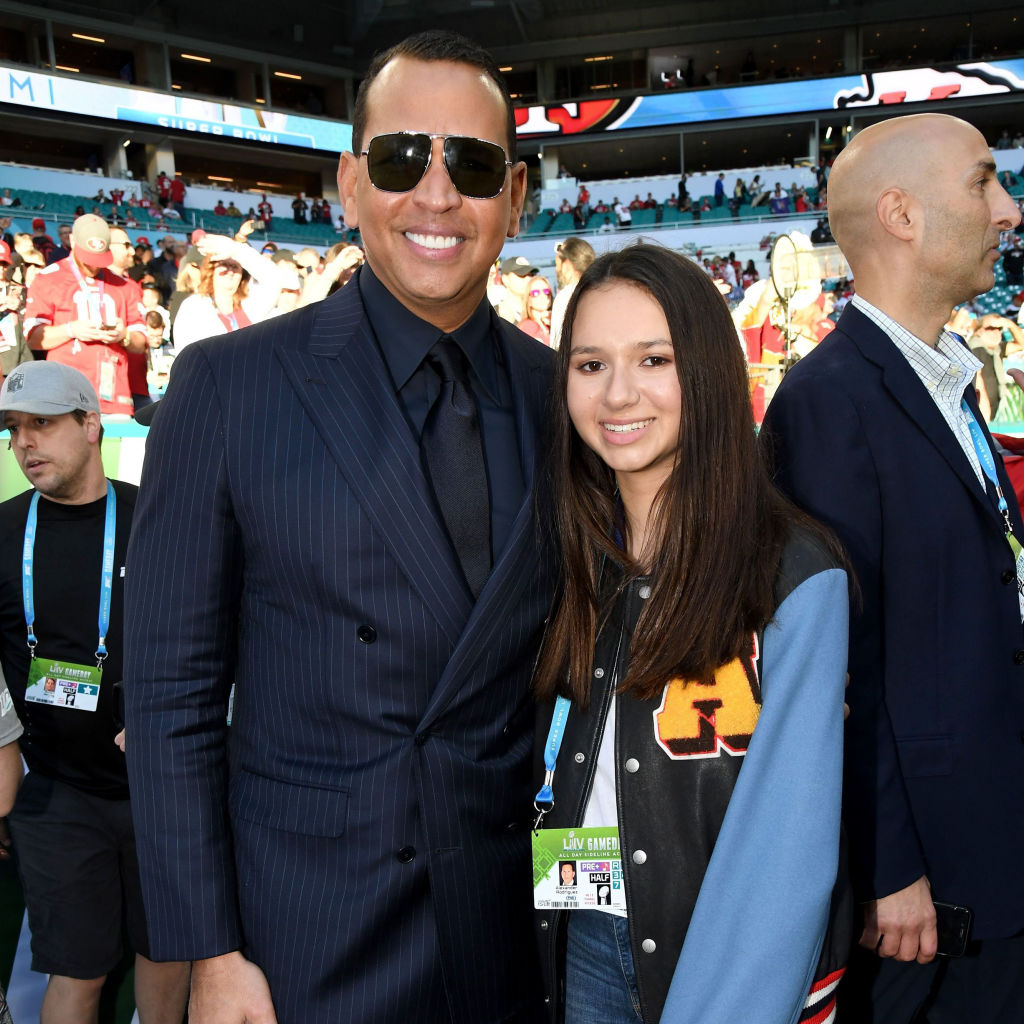 "Sun is up, the glove goes up," Rodriguez said. "It's your shield."
Lastly, Rodriguez has a tip to remain spry, so you can chase the ball wherever it goes. 
"Stay on the balls of your feet," Rodriguez said. "Stay aggressive."
Batting practice, or Cherry Apple Watermelon
Next, Rodriguez shows Natasha, Ella and Emme how to hit the ball. He calls the game Cherry Apple Watermelon because he uses balls of three different sizes from small to large. The lesson isn't to hit them as far or as hard as the girls can. It's simply to make contact.
"Don't hit the ball hard," Rodriguez said. "Don't hit it far. Hit it solid. I'm looking for eye on ball. I'm looking for minimum movement in your head. We're not hitting it far, we're not hitting it hard. we're hitting it solid. We're looking for great consistency."
Watch the girls nail it in the video below. Although the backyard is quiet, Rodriguez also has some tricks to tuning out stadium crowds. 
"We have to master zen," Rodriguez said. "That means, there's 50,000 people screaming at you. You cannot get distracted by your sister. You have to be mentally strong here."
Jennifer Lopez joins for family painting
After baseball, Rodriguez tries some soccer which the girls point out is not his forte. After training, the family takes some time for painting. Lopez joins them and you can see everyone's painting in the video.
"So now, we get rid of the balls, the gloves, the bats and we replace it with our brush," Rodriguez said. He joked that he could take on famous painters like Andy Warhol, Jean-Michel Basquiat and more. "Don't worry, they're safe."