Alex Rodriguez Posts Touching Tribute to Derek Jeter After Hall of Fame Election: 'I Needed You More Than You Needed Me'
Derek Jeter was just elected to the Baseball Hall of Fame, and though many feel it was well deserved, nobody knows that better than his teammates. Jeter was arguably one of the most stand-up players in Major League Baseball history, and his departure was sad but well-deserved after years of playing the game. And his former teammate, Alex Rodriguez, posted a touching tribute to honor Jeter's success, despite the two having a bit of a rocky relationship through the years.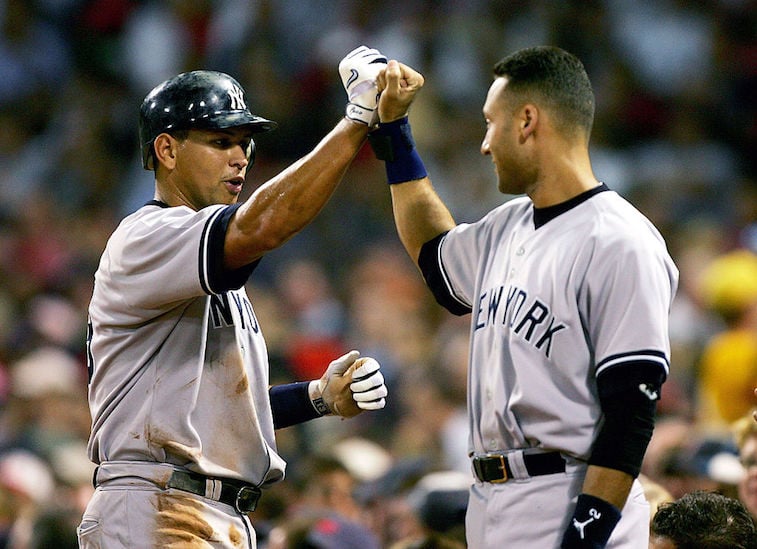 Rodriguez and Jeter both played for the New York Yankees
Rodriguez didn't always plan to head to the Yankees. He played first for the Seattle Mariners, then the Texas Rangers, before Aaron Boone's knee injury at third base meant the Yankees needed a starting player, stat. The Yankees agreed to terms with the Rangers, and in 2004, Rodriguez was traded to New York, where he would play alongside Derek Jeter. But the two, who first met when they were in college, weren't instantly best friends.  
Jeter and Rodriguez's friendship had some highs and lows
Though the two were teammates, there were often rumors that they were not the best of friends. Before Rodriguez was traded to the Yankees, he was a short stop. He switched to third base because that position was already taken by Jeter. Though it's unclear if that's what caused the rocky relationship, Rodriguez made some distasteful comments about Jeter through the years, which definitely fueled the fire.
Before Rodriguez joined the Yankees, he spoke his true thoughts about Jeter in an interview. In 2001, Rodriguez told Esquire that "Jeter's been blessed with great talent around him," and suggested that he wasn't a leader. According to Newsweek, when Rodriguez joined the Yankees, Jeter was asked to "fake" a good relationship with him.
Rodriguez posted a touching tribute to Jeter on Instagram
Despite their rocky relationship, Rodriguez knew that Jeter deserved to be a Hall of Famer. Rodriguez retired in 2016, and Jeter in 2014, and it looks like since then, the two have been on good terms. When Jeter's Hall of Fame election was announced, Rodriguez took to Instagram to thank the former shortstop.
"I was lucky to be by your side on the left side of the infield for so many years," Rodriguez wrote. "I needed you more than you needed me." Rodriguez went on to share some memories he had made with the Hall of Famer.
Surprisingly, Jeter did not receive a unanimous vote for the Hall of Fame — he missed it by one vote. But it's clear to all who played with him that he was destined to be elected. Jeter served as the captain to the world's most famous baseball team for years, and even Rodriguez, who had clearly struggled to coexist with him at times, can see that. Jeter spent nearly 20 years with the Yankees and saw five World Series titles — something that Rodriguez knows deserves a Hall of Fame spot. It's nice to see the two finally getting along.