Alex Rodriguez's Yankees vs. Ben Affleck's Red Sox: Which Team Is More Successful?
Dating someone's ex will hardly put you in their good graces, but Ben Affleck and Alex Rodriguez have way more to disagree about than Jennifer Lopez. If the rumors are true, Affleck and the newly single pop star may be an item yet again.
While Lopez and Rodriguez's breakup is still fresh, the former shortstop and Oscar-winning actor getting together would likely yield an unrelated discussion. Instead, it'd involve Affleck and Rodriguez's baseball loyalties. So, which MLB team has been more successful: Affleck's Boston Red Sox or Rodriguez's New York Yankees?
Ben Affleck is a die-hard Boston Red Sox fan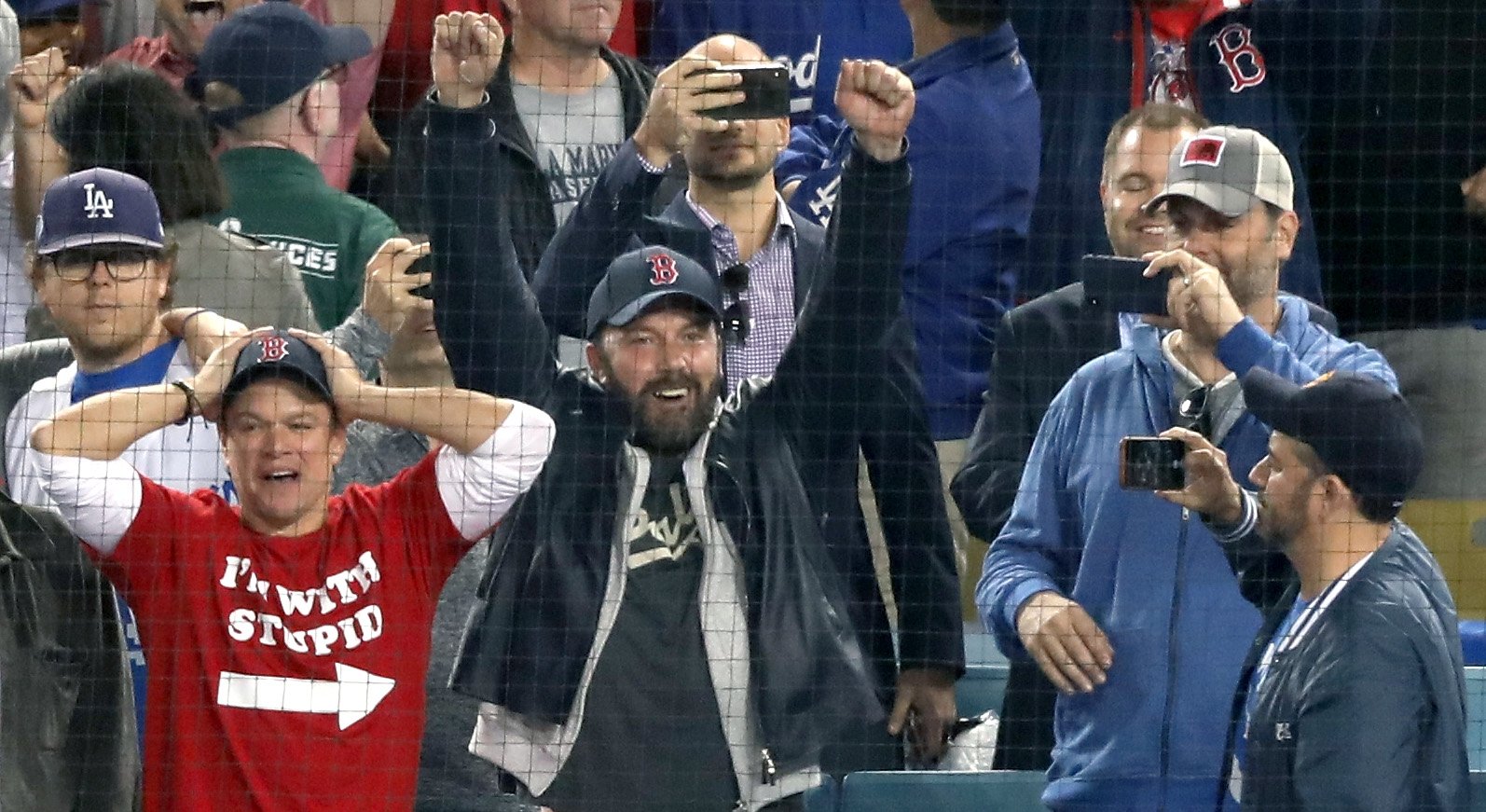 RELATED: Ben Affleck or Alex Rodriguez: Who Has a Higher Net Worth?
Affleck is famous for several things. First, he's an accomplished actor and director. Second, he dates strikingly beautiful women, like Lopez. And third, he is a diehard Red Sox fan.
Affleck is such a Red Sox fan (and Yankee hater) that, during the production of the film Gone Girl, director David Fincher asked him to wear a Yankees hat, according to MSN. Even though it'd involve him portraying a character and not representing his actual loyalties, Affleck refused. He compromised by wearing a Mets hat. 
Affleck dated Lopez in the early 2000s, and the duo has reportedly reunited. When asked about this, the New York Post reported that Rodriguez's only comment was, "Go Yankees." Many believe this was a not-so-subtle swipe at Affleck's Red Sox fandom.
Alex Rodriguez will always side with the New York Yankees
RELATED: How Alex Rodriguez Went From a Baseball Outcast to a Successful Broadcaster
Alex Rodriguez had a controversial career, though he was undoubtedly one of the greatest players of his era. The shortstop was involved in multiple performance-enhancing drug scandals. But he also played at an extremely high level.
In 2004, the Texas Rangers tried to trade Rodriguez and his massive contract to Boston. The deal hinged on Rodriguez shaving money off his contract, so the MLB Players' Union nixed it. The Yankees swooped in and dealt their star second baseman Alfonso Soriano for the slugger.
Rodriguez spent the rest of his career with the Yankees, winning multiple MVP awards and a World Series, according to Baseball-Reference. He never replicated the success the Red Sox achieved during that time, however. In A.Rod's first season in pinstripes, Boston won their first World Series since 1918.
Apparently, Rodriguez going to New York was just the motivation the team needed to reverse decades of pathetic incompetence. But overall, which team has been more successful: Affleck's Sox or A.Rod's Yankees?
Which team is more successful: the Yankees or Red Sox?
The Red Sox have certainly had more success in this century. Since winning the World Series in 2004 after many poor years, they've won subsequent titles in 2007, 2013, and 2018. Meanwhile, the Yankees have only won two this century: 2000 and 2009. The Yankees were better in 2020, however, making the playoffs while the Red Sox did not. 
However, when it comes to overall franchise success, there's no contest: A.Rod's Yankees are much better, recency bias aside. They have won 27 championships, establishing sports dynasties in the '30s, '40s, '50s, '60s, the end of the '70s, and the late '90s. The team has added countless Hall of Fame players to its roster, as Baseball-Reference reports. The Red Sox have had some great players as well, but no franchise can compare to the Yankees.
Although A.Rod's team has had quite a drought of extended championship success, this doesn't erase what they've done throughout baseball history. The Yankees are the most successful American pro sports franchise in history. Affleck's Red Sox are relative newcomers to winning comparatively.