Alexander Ludwig Wished His Wife a 'Happy Anniversary' in the Sweetest Way
On April 23, 2021, Alexander Ludwig wished his new wife, Lauren Ludwig, a 'happy anniversary' in a sweet Instagram post.
Alexander Ludwig is a Canadian actor as well as a singer that you may have seen before. He played Bjorn Ironside in the hit series Vikings from season 2 to season 6B. He's also been in other projects and movies as well.
Ludwig recently eloped with Lauren Dear, and they announced the news on January 3, 2021. On April 23, Ludwig wished his new wife a "happy anniversary," presumably on the date they started dating. We have all the details to know.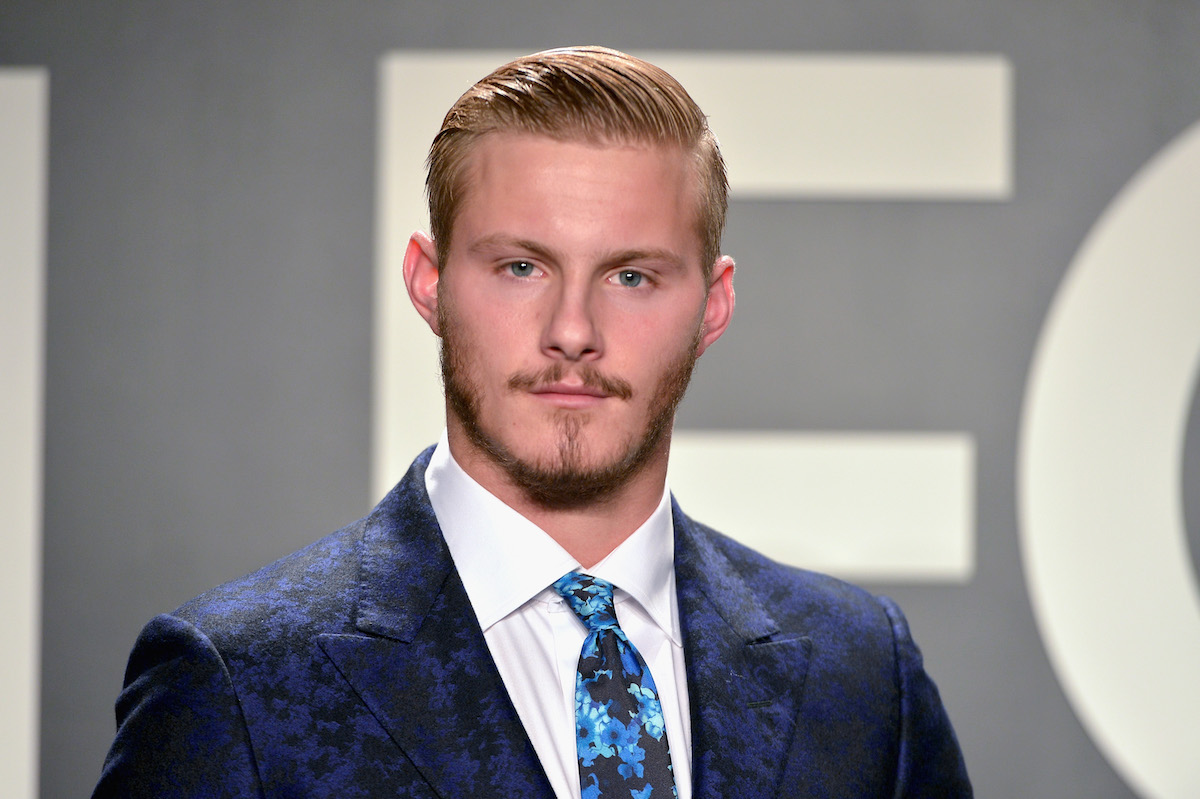 Alexander Ludwig and Lauren Dear eloped
In November, Ludwig announced the news of the couple's engagement via Instagram. They took things public in September of 2020 according to E News. And on January 3, they announced via Instagram that they eloped. They were married at The Lodge at Blue Sky in Park City, Utah. Their dog, named Yam, acted as a "witness" according to Ludwig. They shared a number of beautiful shots of the day, including a mountainous background as the two stand next to each other in their wedding attire. Lauren is wearing a white wedding dress and Ludwig has a tailored suit on.
"My wife, my best friend, the future mother of my children, my everything," Ludwig said in the Instagram post that he tagged Lauren in. He goes on to reveal that the couple eloped.

"We decided to elope," Ludwig continued. "It has been such a crazy year but it certainly put things into perspective. Life is too short And I didn't want to spend another day without calling this beautiful woman my wife. Of course when things settle down we will have a proper celebration with our friends and family but for now- the love of my life, our dog yam, a yurt on a mountain top in the middle of nowhere sounded like the perfect beginning."
Alexander Ludwig wishes his wife a 'happy anniversary' in the sweetest way
Ludwig recently shared an image of himself and Lauren on the beach. The waves are just behind them as Lauren wears a white long-sleeved shirt with glasses on her head. With her hair back and a smile on her face, she looks at her husband. Ludwig has on a zipped-up grey sweater as he looks at his wife pretty close to her face. One of them holds a glass, and it's truly a sweet moment between the newlyweds. But the cuteness doesn't stop there as Ludwig shared a truly sweet caption to go along with the post. 
Ludwig captioned the post while tagging his wife on Instagram, saying: "Well babe I beat you to the Instagram post which means I obviously love you more. What a year it's been. There are really no words to describe how much I love you so I'm gonna keep it short. You are just the best. You are my best friend, the one constant in my life, and I've never laughed and loved harder. Every day I get with you is a gift. You make me strive to be the best version of myself and yeah I got a long way to go but I'm so happy to grow alongside you. Thanks for being my baby, my woman, the love of my d*** life. Happy anniversary @laurendludwig ❤️."
It's truly nice and touching to see moments like this, and Ludwig and his new wife look exceptionally happy. According to his Instagram Stories, the two went on a little hot air balloon ride today as well. Ludwig shows a hot air balloon gearing up as he tags his wife in the post, walking up to her in the vehicle saying, "Happy anniversary." In the next shot, Ludwig pans the camera around while they're in the air in the balloon with his wife by his side as well. They are pretty high up in the air as the landscape around them can be seen. Lauren also shared some pics and videos of the fun moment. It looks like their anniversary is off to an excellent start.