'Alias': Jennifer Garner And Michael Vartan's Off-Screen Relationship Wasn't Meant to Last
The on-screen 'Alias' chemistry of Michael Vaughn and Sydney Bristow was largely due to Michael Vartan and Jennifer Garner.
There's not a TV show in the world that doesn't seem to produce some kind of real-life romance, and Alias was no exception. It seems the on-screen chemistry of Michael Vaughn and Sydney Bristow was largely due to the off-screen chemistry of Michael Vartan and Jennifer Garner.
Fans were worried about the series following their potential split, but fortunately, the two stars continued to bring their A-game in Alias. Their romance just wasn't in the cards — but, hey — it's gotten them to where they are today. 
'Alias': Garner and Vartan's characters on-screen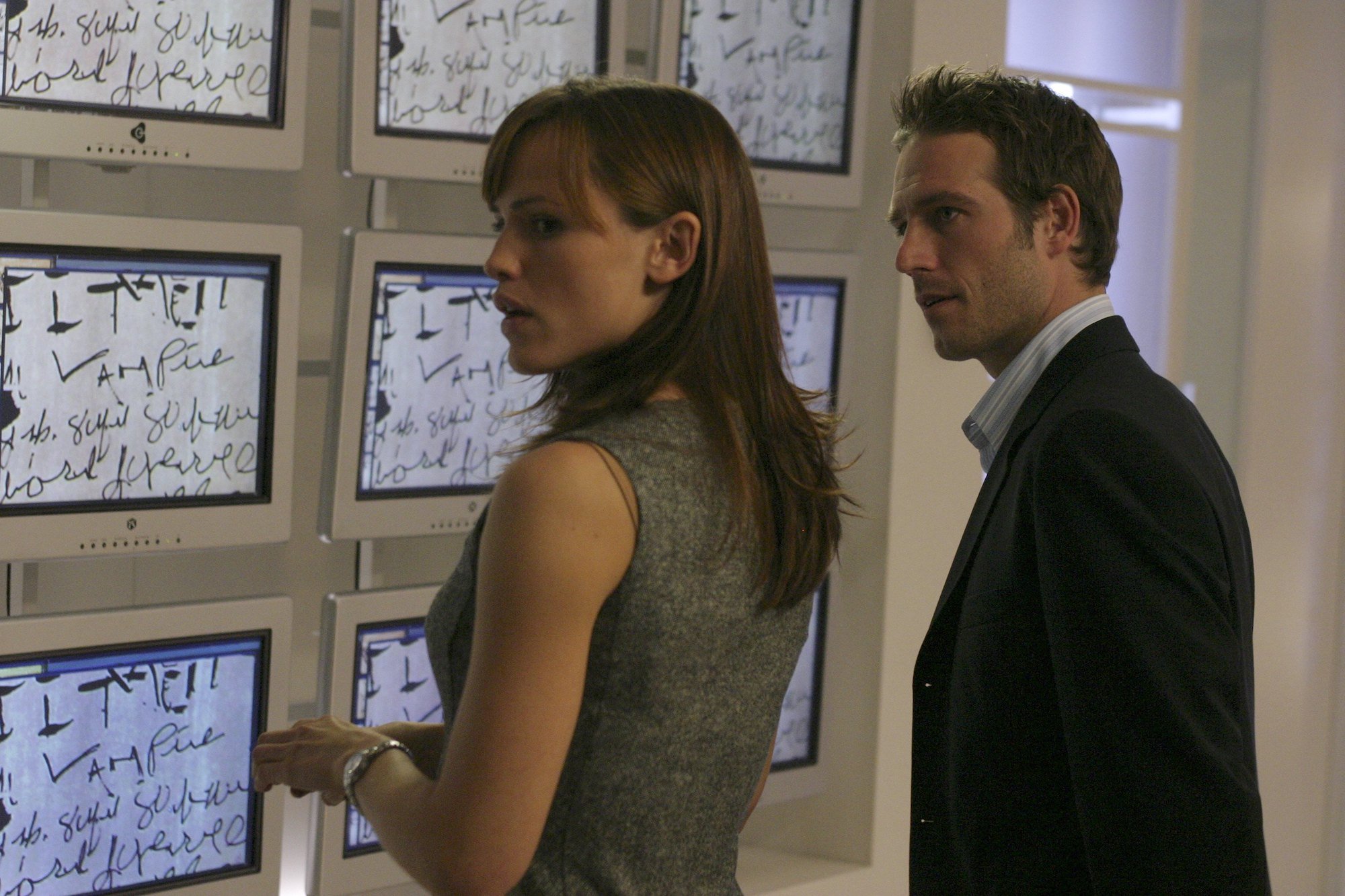 Introduced to the world in 2001, ABC brought Sydney Bristow to life as a teenage almost-college student turned spy. It seems this young woman thought she'd live a normal life and the world (or more like the supposed 'SD-6' branch) had other plans for her — which included countless aliases and $20,000 wigs. 
[SERIES SPOILERS]
When the secret came out that the SD-6 branch of the CIA didn't actually exist, Sydney meets Michael Vaughn at the real CIA. From there, Michael only acted as Sydney's handler until things got heated and their relationship turned romantic. Although it wasn't approved by Sydney's father, Jack, the second season saw their relationship getting more publicly open when SD-6 was finally taken doesn't in season 2.
This left room for their fan-adoring romance in seasons 3 and 4.
Of course, not without its challenges since Sydney met her 'death,' only for Vaughn to find comfort elsewhere in despair. Even his marriage couldn't stop them from coming back together in the end, though. By the finale, the two are married, somewhat retired, and with child — Jack. 
They had a real-life romance during seasons 3 and 4
Vartan and the Yes Day star's chemistry moved from just on-screen as Sydney and Michael to off-screen in real life in 2003. According to US Magazine, "[Garner's] rep confirmed to Us Weekly in August 2003 that the costars' relationship turned romantic in real life."
The magazine added that "though they split in 2004,[Vartan] admitted to USA Today in May 2005, 'Jennifer and I were best friends first, during [the romance] and after.'"
Believe it or not, Vartan even reached out to his Alias co-star following her divorce from Ben Affleck in 2015. According to OK!, "Since finding out that she and Ben are on the rocks, Michel's been reaching out for her, and she's been really enjoying memory lane." This sparked rumors of a potential rekindling, but nothing ever came of it.
As the Monster in Law actor once said, "If it didn't work once, there's a reason it didn't work." It just wasn't meant to last.
Garner and Vartan have gone separate ways since then
Since their rumored romance, Garner was married to Affleck for a decade before calling it quits in 2015. By 2018, Garner was once again wrapped up in love, but this time with businessman John Miller. Their relationship came to an end in 2020, but rumors suggest the flame has been reignited recently. 
In fact, ET reports that "a source confirms to ET that the two 'are seeing each other again,' rekindling their romance after calling things off last year." It seems this love story hasn't met its end just yet — just needed a little break. 
As for Vartan, he has since been married to Lauren Skaar (from 2011 to 2014). There's no say on whom he has been with since his divorce — there have been numerous hookups, flings, etc. but nothing serious enough to mention. As of right now, he is reportedly single.