'All American' Recap: Did Coop and Layla Survive in the Season 4 Premiere?
One of the biggest cliffhangers in All American Season 3 was Coop (played by Bre-Z) getting shot by Mo (Erica Peeples). Many fans wondered if she would survive the shooting or succumb to an untimely fate. Now that the popular drama series has returned to the CW, fans want to know if Coop is alive. Here is everything that happened in the All American Season 4 premiere. 
[Spoiler Alert: This article contains spoilers from All American Season 4 Episode 1, titled "Survival of the Fittest"]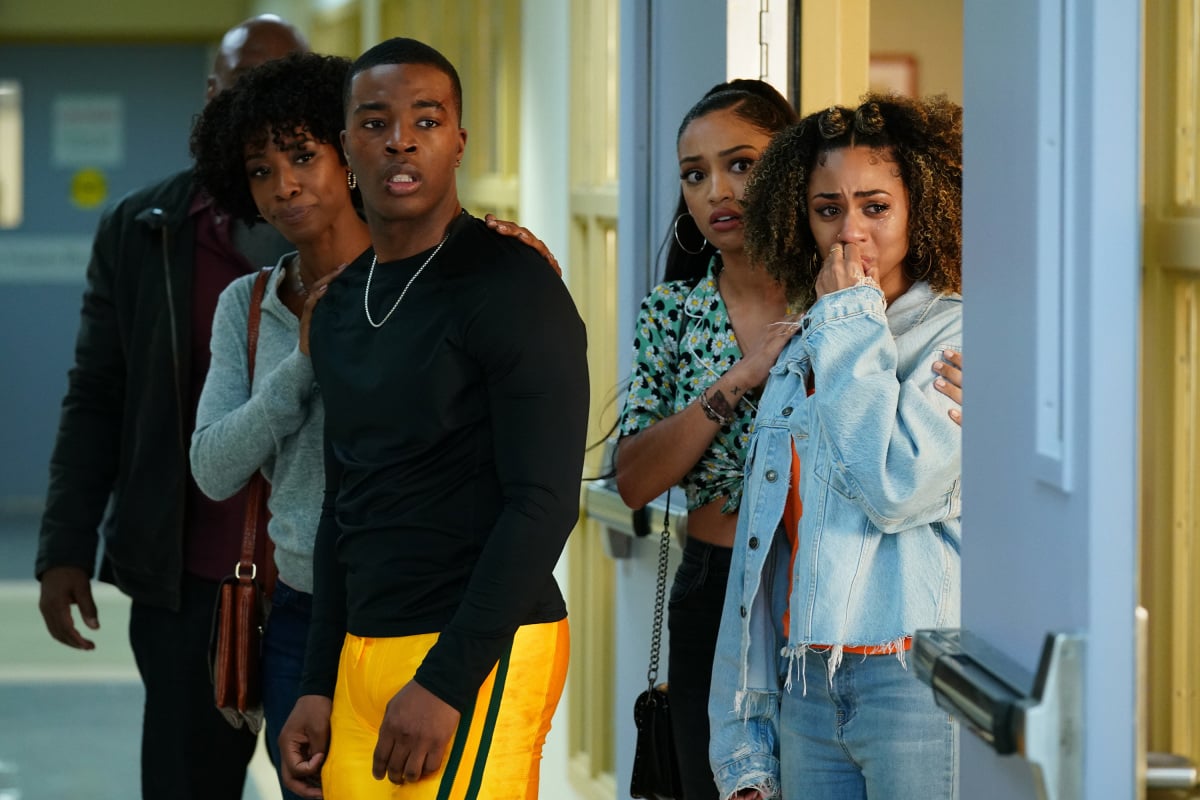 Did Coop survive the shooting in 'All American' Season 4?
Even though the season 4 premiere hinted at Coop meeting an untimely fate, there was a completely different outcome. Coop survived the shooting, but it wasn't an easy journey. After undergoing extensive surgery, she remained in a coma for three days. Her family and friends were unsure if she would ever wake up, but she did eventually. When Coop wakes up, Spencer warns her that more trouble is headed their way. 
Since Preach (J. Kareem Grimes) shot and killed Mo, the police are looking for the shooter. Preach is a convicted felon on parole. So, Coop covers for him and says she shot Mo and doesn't know the whereabouts of the murder weapon. In a rage, Patience (Chelsea Tavares) exits the hospital room. While standing in the hallway, Patience blames Preach for Coop having to lie to the police – and once again, she is involved in gang life. "The truth is, the person to blame for all the drama that follows Coop around is Coop," Patience says. "When is it ever gonna stop?"
What happened to Layla and Carrie?
Despite Layla (Greta Onieogou) surviving the ordeal with Carrie, she is still traumatized. In the flashbacks, Layla drives Carrie to a mountain cliff that overlooks LA. Carrie leaves the car and attempts to jump over the edge, bringing Layla with her. Carrie says that she wants the "pain to go away." In turn, she assumes Layla shares the same sentiment, arguing that her friends and family have abandoned her. But, Layla claims that she doesn't feel that way. "That is not my life. That is not how I feel," Layla says, overcome with tears. "Yes, I've felt betrayal and abandonment, but you know what else I felt? Forgiveness and love and purpose and hope." 
Shortly after, she finally convinces Carrie to step away from the cliff. Even though she releases Layla, she inches closer to the edge. To save her, Layla tries to convince her there is "hope" for her and she will get through this. Ultimately, Carrie steps away from the edge and cries in Layla's arms, saying she's so sorry. Then, Carrie says she wants to go back to the Running Springs rehab facility, where she met Layla.
In the end, Laya opens up to her father and says their unstable home life made her "vulnerable to Carrie." So, she decides to move in with Olivia (Samantha Logan) and Jordan's (Michael Evans Behling) family. Layla's father says goodbye to her and thanks Mrs. Baker for letting her stay. To welcome Layla, Olivia and Jordan build her a blanket and pillow fort in their bedroom. The scene ends with the three standing in an embrace. 
Who won the state championship in 'All American'?
At first, South Crenshaw led in the first half. But, Spencer leaves the game after learning of Coop's condition. Toward the end of the game, the score was 38-33. The Crenshaw football team attempts to win it all by scoring a final touchdown. But when Chris gets tackled near the end zone, the referees claim the point didn't count. As a result, Beverly wins for the second year in a row. However, Coach Baker believes South Crenshaw won that game.
So, what should fans expect from the second episode? Well, the promo video teases Spencer and Billy will continue to have conflict. In All American Season 4 Episode 2, titled "Taking Control," Spencer will confront Billy about the situation. 
According to the official episode synopsis, it reads, "The gang celebrates a birthday, but not everyone is happy about it. As Olivia (Samantha Logan) and Spencer's (Daniel Ezra) relationship grows stronger, Olivia struggles with the rift between Billy (Taye Diggs) and Spencer. Jordan's (Michael Evans Behling) buried feelings come to the surface, leaving his and Billy's relationship strained. Meanwhile, Asher (Cody Christian) is trying to come to terms with his football career but is hopeful when he goes to see a new doctor."
All American airs on Mondays at 8 pm E.T on The CW.
How to get help: In the U.S., call the National Suicide Prevention Lifeline at 1-800-273-8255. Or text HOME to 741-741 to speak with a trained crisis counselor at the free Crisis Text Line.