'All American': Everything We Know About the 'Homecoming' Spinoff
The third season of All American gave fans a glimpse into the new spinoff series, titled All American: Homecoming. The CW series follows two young college athletes attending Bringston University, a prestigious institution classified as an HBCU. Here is everything we know so far about the All American spinoff series. 
The 'All American' spinoff is set to premiere in 2022
Although there is no official release date for All American: Homecoming, the spinoff series will be a part of The CW midseason 2022 lineup. According to CinemaBlend, Geffri Maya will play a pivotal role in the new series. The actor played Simone Hicks, Jordan Baker's love interest in All American.
Additionally, the spinoff centers around her character's journey through college as a tennis player. Also, the series follows high school baseball prodigy, Damon Sims. While attending Bringston University, the Chicago native strives to replenish the tarnished baseball team's reputation.
Showrunner Nkechi Okoro Carroll serves as a writer on the series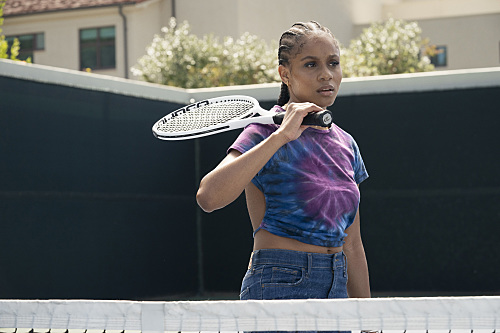 All American executive producer and showrunner Nkechi Okoro Caroll will work as a writer for the spinoff series. In an interview with Entertainment Weekly, Caroll revealed that she wants viewers to see the HBCU experience. While growing up, her only exposure to that world was through Black sitcoms such as A Different World – the Cosby Show spinoff that centered around students attending Hillman College.
But, Caroll wants to change that with the spinoff series. "This is my way of hoping I can introduce the HBCU experience and widen the horizon for our youth as a whole," she explained.
However, she wants people who went to HBCUs to feel seen. "I'm completely surrounded by people who went to HBCUs, and [they have this] sense of finding themselves. And finding a place where they felt permission to be whatever version of Black they were and really explore what that means."
Meanwhile, All American: Homecoming star Geffri Maya shared that she's excited to tell Simone's story on the small-screen. "These kids, especially kids that look like me, deserve to be inspired, celebrated, and motivated," the actor said. "To be part of something so monumental matters to me." 
The 'All American' spinoff series showcases a talented Black cast
The CW spinoff series features a Black ensemble cast. Alongside Geffri Maya, All American: Homecoming will star Peyton Alex Smith (The Quad, Legacies); Cory Hardrict (Brotherly Love, The Oath); Sylvester Powell (99 North); and Netta Walker (Chicago Fire). 
Additionally, Kelly Jenrette plays Simone's aunt and Journalism professor at Bringston University. The Emmy-nominated actor starred in Hulu's The Handmaid's Tale. She also made guest appearances in Fuller House and Mixed-ish. Meanwhile, Camille Hyde played the Pink Power Ranger in the 2015 television series Power Rangers Dino Charge. In addition, she played Alexandra Cabot in The CW series Katy Keene. 
Aside from playing the lead role in All American: Homecoming, Maya starred in ABC's Private Practice, FX's Snowfall, Everybody Hates Chris, Finding Carter, and Black-ish.
All American: Homecoming will premiere on The CW in 2022.