'All American' Star Samantha Logan Opens Up About Fan Reactions to Olivia and Spencer's Relationship: 'They Are Very Passionate'
'All American' star Samatha Logan explained why the show's fan base is 'very passionate' about Olivia and Spencer's relationship.
When Olivia Baker befriended Spencer James (Daniel Ezra) on his first day at Beverly Hills High School, fans could see the instant connection. Now that they made their relationship official, fans can't simply get enough. All American star Samantha Logan recently opened up about the fan reaction to Spencer and Olivia, saying they are "very passionate" about the couple on The CW show. 
Spencer confessed his love for Olivia in Las Vegas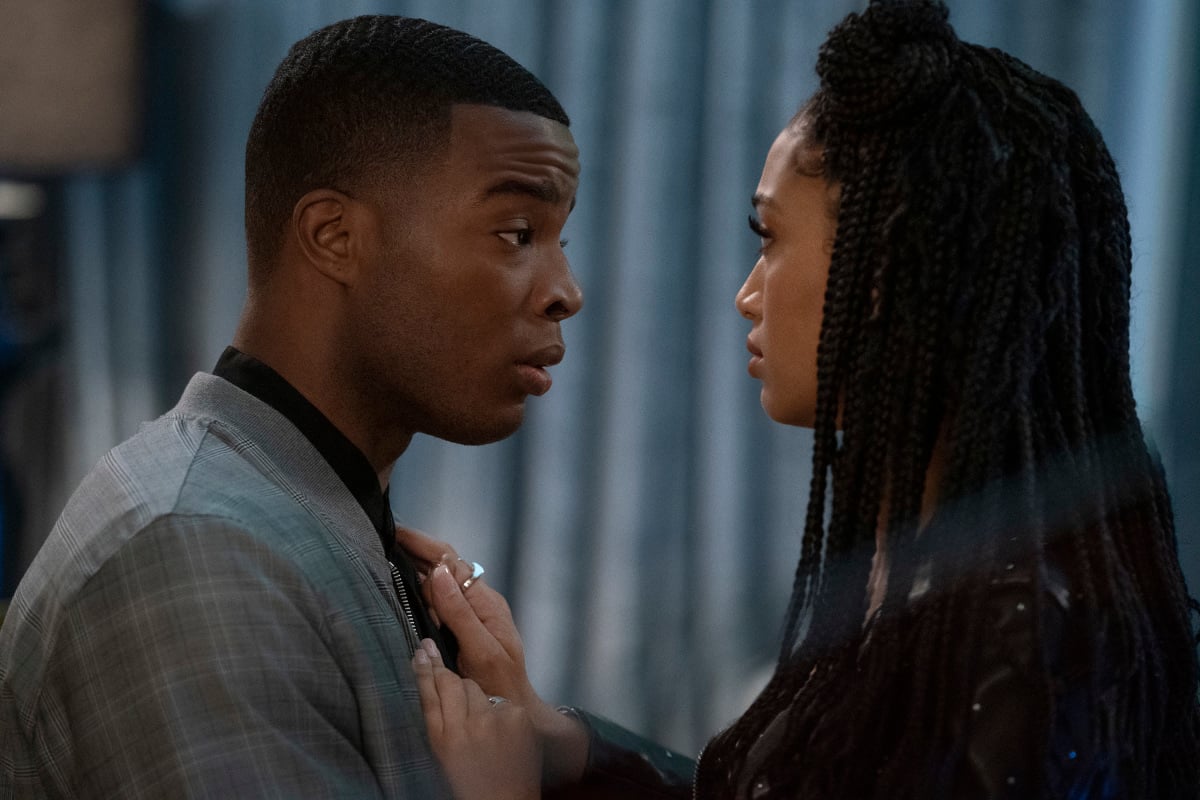 In season 3, Olivia and Spencer agreed to be their witnesses during Jordan and Simone's wedding reception in Las Vegas. While they were reciting their vows, Spencer realized that he was in love with Olivia. In the hotel room, Spencer confessed his love to her. After they share a kiss, Spencer says, "I love you. I'm not even sure when it happened. Maybe it's the night I got shot or watching movies with you all summer. Or, maybe it's been since my first day at Beverly, and I just didn't realize it. But I know now. I'm in love with you."
At the time, Olivia was in a committed relationship with Asher (Cody Christian). And Spencer's ex-girlfriend Layla (Greta Onieogou) was still in the picture. Olivia didn't want anyone to get hurt, so she urged Spencer to forget the kiss had ever happened. Although Spencer and Olivia attempted to keep their kiss a secret, the truth eventually came out. In the end, the two decided to accept their feelings and take their relationship to the next level. Since the couple made their relationship official, fans simply can't get enough of Spelivia!
'All American' star Samathan Logan says the fans are 'very passionate' about Olivia and Spencer's relationship
Since Olivia and Spencer took their relationship to the next level, fans can't get enough of their long-awaited union. In an interview clip posted to the show's official Twitter page, All American star Samathan Logan opened up about the fan reactions to their relationship.
"The fan reaction has been very passionate," she said in the 46-second clip. "They are very passionate about Olivia and Spencer. I'm also passionate about [their relationship]. I think they've come such a long way since episode one. It's kind of surreal to see them together and happy."
Logan continued, "They deserve to be happy. And they deserve to be together. There were definitely a lot of bumps on the way, and neither one of them are perfect. But that's the whole thing. They're teenagers, [and] they're human and imperfect. [But] they love each other."
What's next for Spencer and Olivia in 'All American'?
As the season progresses, fans will see a lot more cute Spelivia moments! In All American Season 4 Episode 6, titled "Show Me a Good Time," Spencer plans a romantic getaway for the couple. But, things do not go according to plan. According to the official episode synopsis, it reads: 
"Everyone is excited for Senior skip day, and Spencer (Daniel Ezra) plans a romantic getaway at the cabin for him and Olivia (Samantha Logan), but when the gang shows, nothing goes as he had planned. Surprising news makes Jordan (Michael Evans Behling) and Simone (guest star Geffri Maya) realize they might not be as prepared for their new reality as they had hoped. Now that Patience (Chelsea Tavares) is back from tour, she and Coop (Bre-Z) can't seem to get on the same page when it comes to their relationship. Meanwhile, Billy (Taye Diggs), Grace (Karimah Westbrook), Laura (Monet Mazur), and Principal Carter (guest star Lamon Archey) team up with an unlikely ally as they go on an adventure in the halls of South Crenshaw High to track down relics of the past."
All American airs on Mondays at 8 pm E.T on The CW.