All of the Celebrities Who Stan BTS, From Jimmy Fallon to Maisie Williams
BTS has a number of celebrity fans including Terry Crews, Jimmy Fallon, and Maisie Williams.
Without a doubt, BTS is one of the biggest music acts in the world. The Korean group gains new fans every day. BTS also has a large number of celebrity fans, including Jimmy Fallon, Randall Park, and Maisie Williams.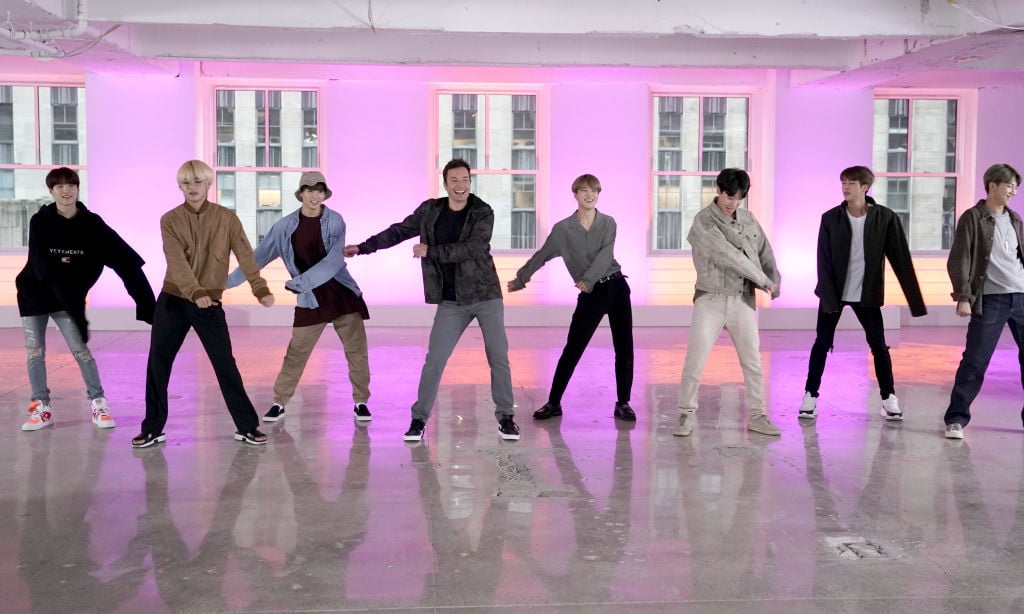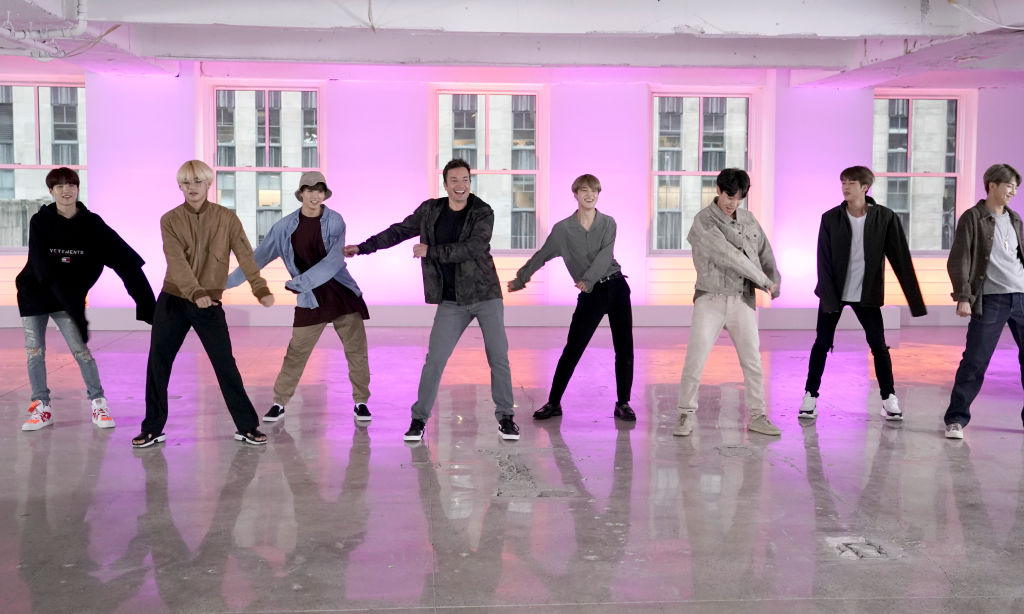 Halsey first met BTS in 2017
Halsey is now friends with the members of BTS, and fans love the genuine friendship between them. She met the group at the 2017 Billboard Music Awards. Before meeting BTS, Halsey was a fan of their music and music videos.
In 2019, Halsey and BTS collaborated on the song "Boy With Luv," which is the lead single from BTS's EP, Map of the Soul: Persona. The artists performed the song at the 2019 BBMAs, BTS's Love Yourself: Speak Yourself tour stop in Paris, and the KIIS Jingle Ball.
On Dec. 6, Halsey collaborated with Suga from BTS for her upcoming album, Manic. They released the single "SUGA's Interlude," and told fans she picked him for the album because she is a fan of his introspective artistry.
Jimmy Fallon has been a fan of BTS since the group appeared on his show
Fallon first became a fan of BTS in 2018 after the members appeared on The Tonight Show Starring Jimmy Fallon. The group participated in the "Fortnite Dance Challenge" with Fallon, performed their songs "Idol" and "I'm Fine," and were interviewed by Fallon.
During the interview, Fallon made it clear that his bias in BTS is Jimin. The talk show host wore a Chimmy headband, a nod to the character Jimin designed for BTS's BT21 collection with LINE FRIENDS CREATORS. Jimin noticed the Chimmy headband and the two hugged.
"I'm not picking favorites," Fallon said before subtly pointing at Jimin.
When each member of BTS introduced themselves, Fallon gave another shout out to Jimin.
"Here we go, my man, here we go," Fallon said right before Jimin introduced himself. Jimin and Fallon then hugged again.
In 2019, Fallon presented BTS with the award for Album of the Year at the 2019 Mnet Asian Music Awards through a video message. BTS thanked Fallon in their acceptance speech, and Fallon later posted a video congratulating the group on Twitter.
John Cena is a huge BTS fan
Cena, an actor and wrestler, considers himself to be a member of ARMY, BTS's fandom. In his 2019 movie, Playing with Fire, Cena had BTS's song "Fire" included on the soundtrack.
"I've said before, I admire the message @bts_bighit sends thru music. @BTS_ARMY you'll hear some familiar 'Fire' in #PlayingWithFireMovie OUT FRIDAY! Thank you @andyfickman for using a favorite song of mine! (Only because RM wears jorts in the video)," the actor tweeted.
While he loves all of the BTS members, Cena has repeatedly affirmed that his bias in the group is J-Hope.
"J-Hope is my favorite just because he's got a little bit of street cred, like myself," Cena told Entertainment Tonight. "But I really enjoy the following and the passion they create. I think that's something special."
Maisie Williams is a huge BTS stan
Williams is not just a BTS fan; she is a wholehearted stan. The actress rose to fame for her portrayal of Arya Stark on Game of Thrones, but she is also known as one of the biggest BTS fans of all time.
After replying to BTS's #IDOLCHALLENGE thread on Twitter in 2018, Williams revealed to fans that she is a huge BTS fan and Jungkook is her bias.
On Williams' Twitter account, her header photo is a photoshopped picture of her with the members of BTS at the Grammy Awards.
Randall Park's bias in BTS is RM
Park is an actor known for his work on the ABC show Fresh Off the Boat. In May 2019, Park attended BTS's Rose Bowl concert. On The Ellen DeGeneres Show, the actor revealed he was absolutely blown away by BTS's performance and their diverse fan base.
"I was super moved by them because I was not a fan going into that show. My wife is a huge fan," Park said. "And I get to the Rose Bowl, 90,000 people packed, all different races, all different ages, singing along to these Korean musicians and dancers. It was just really, like, oh my gosh. As a kid, I could never imagine something like that happening. And it was just… I cried."
In another interview, Park revealed that his bias in the group is RM.
"I think RM is my bias," he said. "I love them all, but I really like RM because he's the leader. And he's like such a good leader. He's like, you can tell he loves those guys so much. And he like cares about them, and looks out for them, and he uh, he just seems like a, I don't know, I respect him a lot."
Terry Crews met BTS at the BBMAs
Crews considers himself to be a huge fan of BTS. Before the 2019 BBMAs, the actor discovered he would be sitting behind the Korean group and tweeted about his excitement.
"CRAZY! @AGT SENT ME TO THE @BBMAs TO PRESENT AN AWARD AND I JUST FOUND OUT IM SITTING BEHIND @BTS_twt! THE LOVE IS REAL! @rebeccakcrews wants a picture!! #BTSArmy," Crews wrote on Twitter.
At the BBMAs, Crews took selfies with BTS and once again posted how excited he was on Twitter.
"TERRY LOVES BTS! TERRY LOVES AWARD SHOWS! #BBMAs #AGTonMAY28 #BTSArmy #AmericasGotTerry," he tweeted.