'All of Us Are Dead' Season 2: Actor Yoon Chan-young Teases His Character's Return
Netflix's Geeked Week revealed a gem for K-drama fans. All of Us Are Dead Season 2 is in the works and some of the main cast made the announcement to fans in a short video. One of the biggest takeaways from the video was the inclusion of actor Yoon Chan-young. Yoon's message confirms the continuing story of his 'dead' character in All of Us Are Dead Season 2.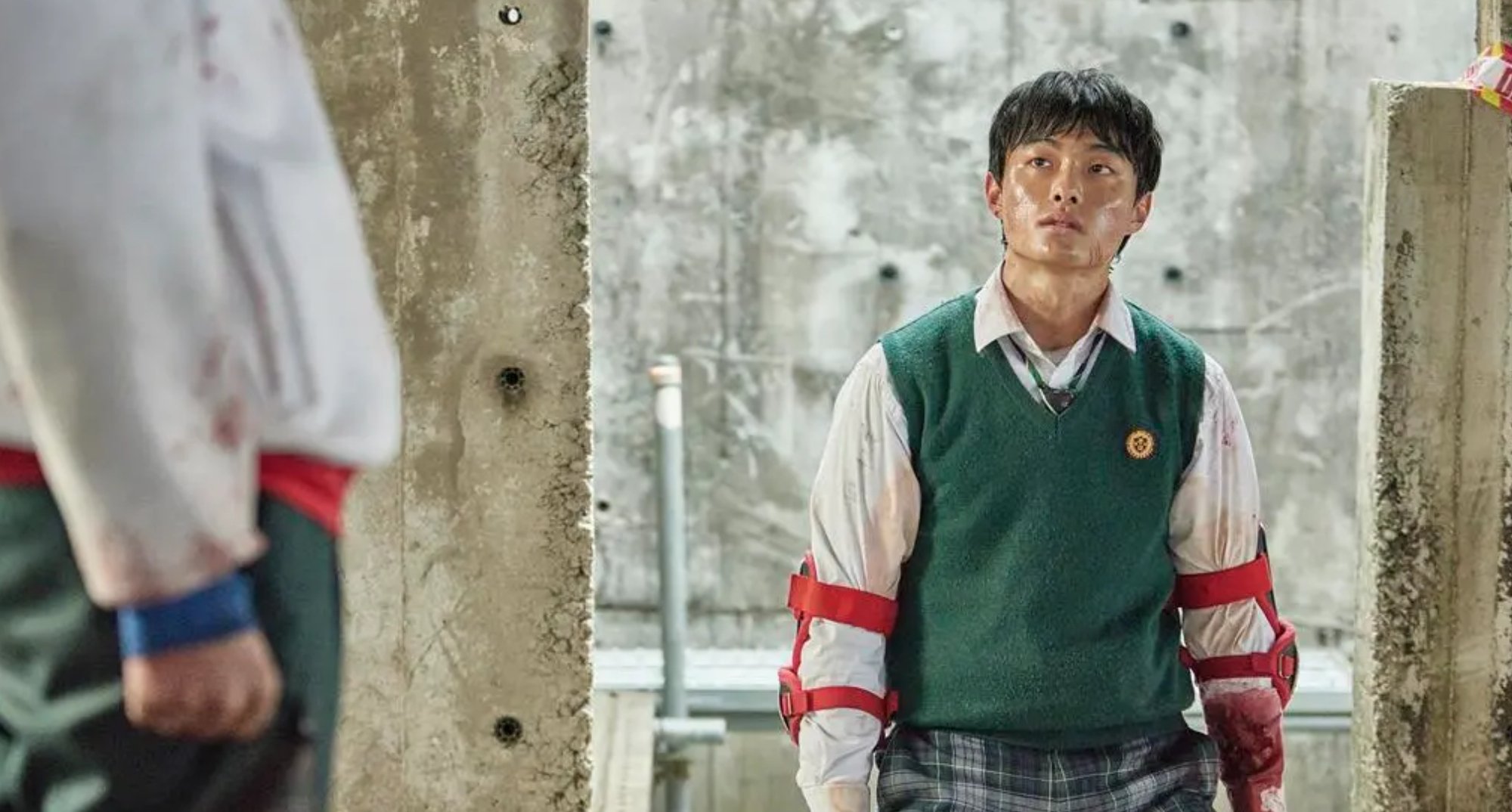 The main cast of 'All of Us Are Dead' thanks fans for a second season
Dressed in new school uniforms, Yoon kickstarted the announcement video for All of Us Are Dead Season 2 by thanking fans for making the K-drama a global sensation. Park Ji-hoo asks fans if they have heard the good news. Lomon officially announces the second season is in the works for fans.
Cho Yi-hyun ended the video by teasing fans by wondering what the new season will have in store for the characters. The actor also says that her friends are waiting for her. Her statement might have a double meaning about the K-drama's cliffhanger.
But fans noticed one crucial detail – the inclusion of Yoon. The actor's involvement in the announcement hinted his character, Lee Cheong-san might be alive and continue a new story in All of Us Are Dead Season 2.
What happened to Lee Cheong-san during the finale of the K-drama?
RELATED: 'All of Us Are Dead': Yoon Chan-young Had His First Kiss With Co-Star Park Ji-hoo
One of the K-drama's leading characters is Cheong-san, who has been secretly in love with his childhood friend On-jo (Park) for years. When the viral outbreak at school occurs, he and his group of friends find refuge in a classroom and try to make sense of the madness. As the drama progresses, and multiple deaths, the biggest heartache came from Cheong-san's story arc.
In All of Us Are Dead Episode 11, the characters escape to a nearby construction site in hopes to get to town before the missile strike. But Gwi-nam (Yoo In-soo) catches up to them and bites Cheong-san, implying he could be infected. Realizing he needs to help his friends, Cheong-san distracts the zombies away from them and fights Gwi-nam.
But fans soon noticed Cheong-san does not show signs of turning into a zombie or an immortal. His story ends with the missile strike destroying the school and the construction site. The last thing fans see is On-jo's nametag in the rubble.
Yoon Chan-young has no idea what happens to his character ahead of 'All of Us Are Dead' Season 2
RELATED: 'All of Us Are Dead' Episode 4: What Happened to Lee Byeong-chan in the K-Drama?
With the All of Us Are Dead Season 2 confirmed, Yoon and the cast might have a bigger picture of the new storyline. But back when the K-drama first ended, Yoon, explained he had no idea what happens to Cheong-san.
According to Soompi, Yoon explained, "I was actually asked about whether Cheong San died or not in another interview recently. To be honest, I don't know. I haven't heard about what happens next, and nothing has been decided yet. Personally, I'd like to live. I'd like to be able to say things that I didn't get to say."
Fan theories suggest Cheong-san is immune based on having never seen him turn before his supposed death. The K-drama director teased there are immortal and halfbie zombies and people who are immune. He explains All of Us Are Dead Season 2 will focus on the survival of these zombies in the aftermath of the infection.
Theories suggest On-jo is also immune and Cheong-san could be as well. Yoon's confirmation as part of the main cast has fans theorizing his character is alive and might have been what shocked the main characters in the finale.
RELATED: 'All of Us Are Dead': Park Solomon's and the Main Casts Instagrams, Age, and More