All the Clues Michael and Janet Were Replaced by Demons in 'The Good Place'
The Good Place is currently in its fourth season. Since the first episode of the new season, fans of The Good Place have theorized that Janet and Michael were replaced by demons from The Bad Place. While at first it just seemed like a theory, the most recent episodes have some fans convinced they are right. Warning, this article contains spoilers for the newest episode of The Good Place.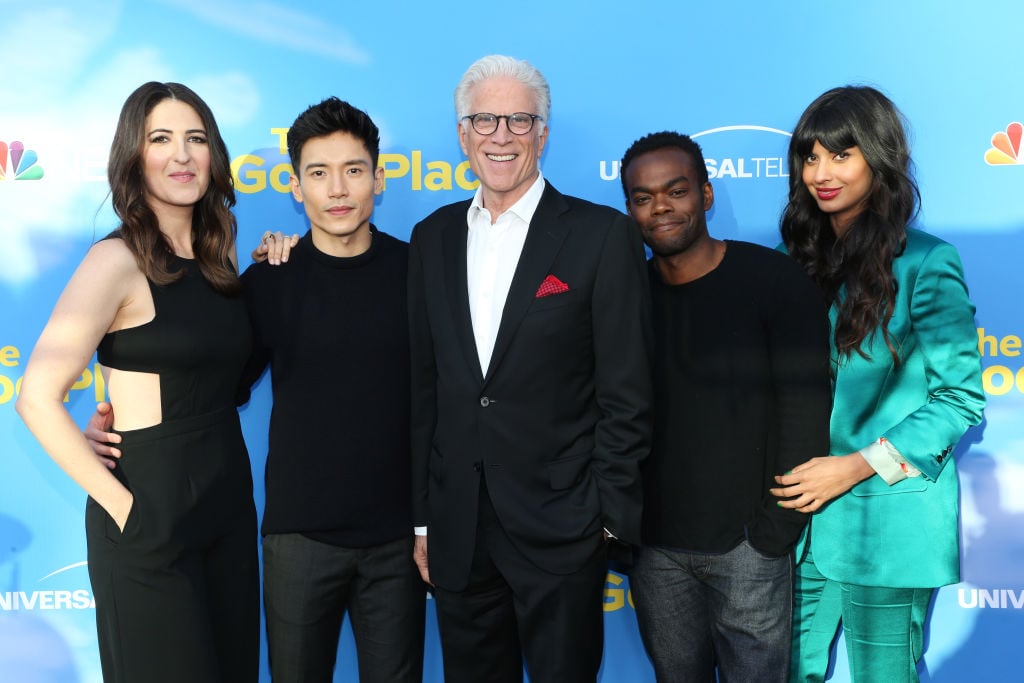 Janet told Tahani to hit someone
In the newest episode of The Good Place, Janet acted very strange. While she did just break up with Jason, not all of her behavior can be attributed to the breakup. Throughout the episode, she repeatedly gives Tahani poor advice on how to handle John.
At one point, after she convinces Tahani to confront John, a dark look enters her eyes. As Tahani walks away, she says, "Yeah," as if she just accomplished an evil goal. Later in the episode, she repeatedly tries to convince Tahani to physically hit John.
"This episode makes me think that Janet was the one switched… The scene that especially made me suspicious is when she was talking with Tahani and she kept getting riled up, even trying to get Tahani to physically hurt the gossip guy. Seems so unlike her," a Reddit user wrote.
Michael enjoyed torturing Chidi during the newest episode of 'The Good Place'
In the newest episode of The Good Place, Michael convinces Eleanor that Chidi needs to feel like he is being tortured so he will feel compelled to teach the others ethics. While Eleanor agrees with him, Michael is the one who makes the realization.
"The major hint for me that Michael wasn't acting normal is how pro-torture he was, encouraging Eleanor to torture Chidi," wrote a Reddit user.
Later in the episode, Michael advises Eleanor that they do not need to torture Chidi anymore. Some fans theorize this was just to keep those around him from becoming suspicious. Immediately after this, Michael gleefully tortures Chidi by trying to get Chidi to tell him what is wrong.
The Reddit user continued, "And then even after he suggested to her to back off a bit (maybe to stop the others getting suspicious), he continued to torture Chidi himself when he insinuated to Chidi that he would 'eliminate' Jason, thus causing Chidi to lie. Chidi has now done some pretty immoral stuff under Michael's guidance…"
Michael is not seen alone in the fourth season of 'The Good Place'
In the first season of The Good Place, viewers never see Michael alone unless the four humans are around. This changes in the finale of the first season when viewers see Michael talking alone with Shawn who is pretending to be the Judge. The reason Michael was never seen alone is because nobody knew Michael was actually a demon.
After Michael's true identity is revealed, viewers see Michael alone frequently as he goes through his character arc. Fans see how much Michael grows and learns human behavior as he reforms his bad ways. This stops in the fourth season. Since the supposed swap, fans have not seen Michael alone without any of the humans present.
Michael appears to be acting differently
Some fans argue that a demon impersonating Michael would not have been able to give such an emotional speech to Eleanor in "A Girl From Arizona Part 2." However, Michael does appear to be acting differently. The changes in his behavior are just small and not easily detectable.
The past few seasons of The Good Place have focused on Michael's growth as he becomes more human. He finds joy in human things like paperclips and losing car keys. Michael's story line focuses on him changing from a demon to an advocate for saving the human race.
In the newest episode of the show, Michael commented to Eleanor how much he still did not understand humans. Instead of it being a positive comment about humans like Michael used to make, Michael made the comment as a way to insult humans. He even mentioned humans' inability to drive without texting, a common phrase demons from The Bad Place use when referencing negative human behavior.