'Ally McBeal': Which Star Has the Highest Net Worth Today?
Ally McBeal was a 90s-era legal show with a quirky, irreverent tone. The cast of the Fox show gained popularity with fans, and many Ally McBeal alums went on to increase their fame and fortune. But how do the former cast mates stack up today when it comes to net worth?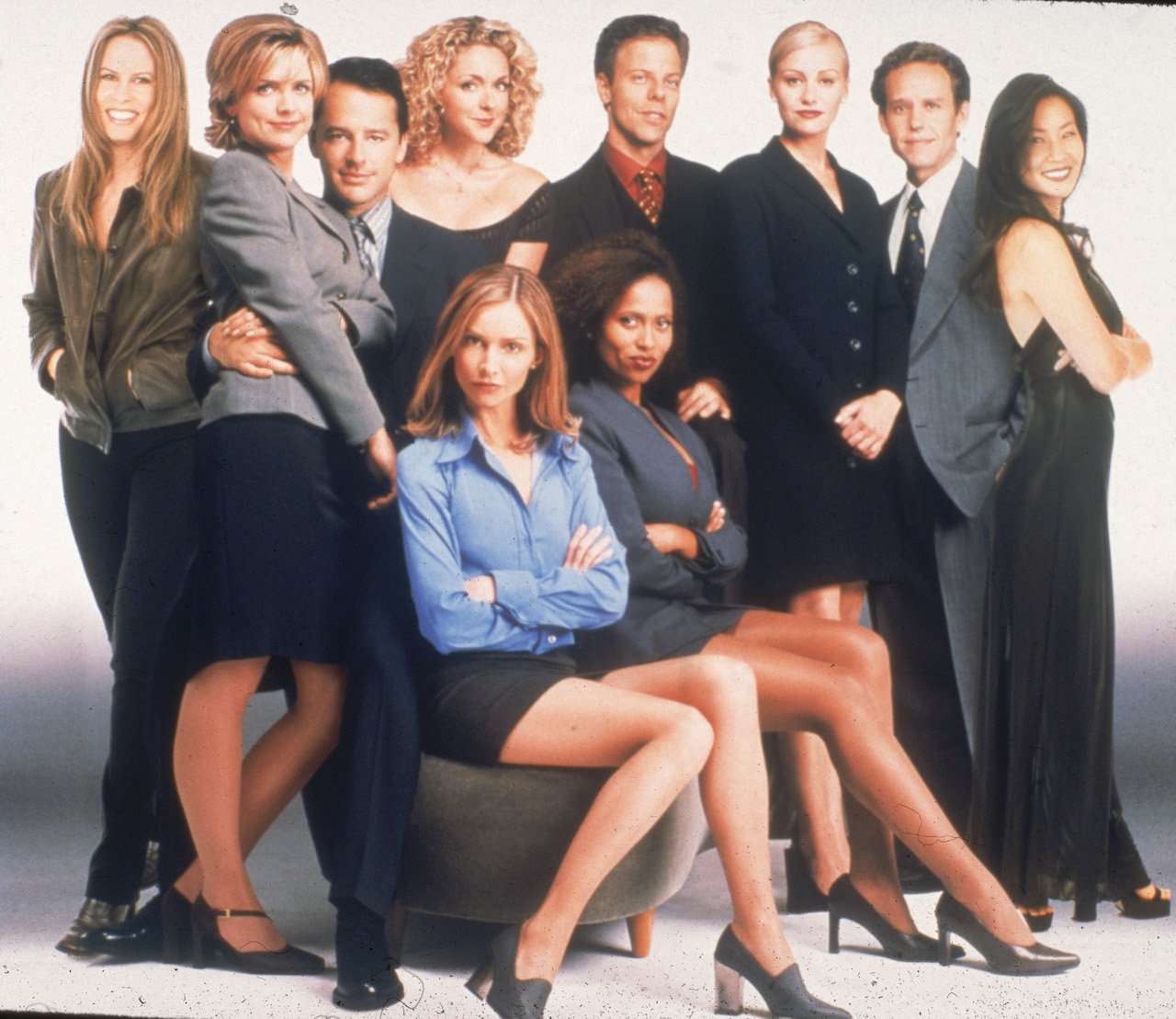 'Ally McBeal' was unlike any other legal show on the air
Legal series typically incorporate a serious tone, rigid procedural elements, and high stakes. But Ally McBeal challenged the courtroom show genre and twisted the legal narrative into an entertaining and romantic romp.
The characters on the show were not stuffy, cookie-cutter attorneys. They were eccentric, likable individuals with endearing idiosyncrasies. And unlike other law-based shows on network television, the Fox dramedy injected fantasy elements and soulful musical numbers.
RELATED: Which 'Growing Pains' Former Child Star Has the Highest Net Worth Today?
Calista Flockhart portrayed the title character, Ally McBeal, a brilliant but awkward legal eagle. Greg Germann took the role of the womanizer, Richard Fish. Mild-mannered John 'The Biscuit' Cage was played by Peter MacNicol, with Portia de Rossi in the part of Nell Porter, the object of John's affection. Jane Krakowski played the blonde bombshell, Elaine Vassal, and Lucy Liu played ice queen, Ling Woo. Also on the main cast were Lisa Nicole Carson, Courtney Thorne-Smith, and Gil Bellows as Ally's best friend, Renee, and the law firm's resident married couple, Georgia and Billy Thomas.
With Vonda Shepard as the official Ally McBeal vocalist, a rock-solid main cast, and A-listers like Robert Downey Jr. and Jon Bon Jovi in featured roles, the show was a bona fide hit.
'Ally McBeal' stars ranked by net worth
After five seasons, Ally McBeal came to a close, but it wasn't the end of the road for the actors who continued to work in entertainment. With that in mind, here's how the primary cast members of Ally McBeal rank. All rankings are according to Celebrity Net Worth, except where noted.
9. Lisa Nicole Carson
With an estimated $100,000 in net worth, actress and singer, Carson, claims the number nine spot.
8. Gil Bellows and Vonda Shepard
There is limited information about the total wealth of Bellows and Shepard. Although Celebrity Net Worth does not indicate their worth, several outlets, including Trend Celebs Now, estimate that both stars have likely amassed between $1 million and $5 million each.
7. Peter MacNicol
MacNicol, who has remained a fixture in Hollywood, maintains an estimated $5 million in wealth.
6. Greg Germann
Recent Grey's Anatomy import, Germann, boasts an estimated $8 million net worth.
5. Courtney Thorne-Smith
TV movie maven, Thorne-Smith, has built an estimated $10 million fortune.
4. Jane Krakowski
30 Rock alum, Krakowski, is estimated to possess $12 million in wealth.
3. Lucy Liu
Elementary star, Liu, has generated an estimated $16 million in total wealth.
2. Calista Flockhart
Ex Supergirl cast member, Flockhart, boasts an estimated $24 million net worth.
1. Portia de Rossi
With an estimated $50 million, Arrested Development standout, de Rossi, tops her former Ally McBeal costars with the biggest bank account.
How can fans watch 'Ally McBeal' today?
RELATED: 'Dead to Me': Who Has the Higher Net Worth, Christina Applegate, or Linda Cardellini?
Fans who hope to catch repeats of Ally McBeal in syndication are unfortunately out of luck. There are currently no airings of the show scheduled. However, the series is available to stream on Hulu, so subscribers can relive every colorful episode of Ally McBeal.