Is 'Always Be My Maybe' On Netflix Based On A True Story?
It's almost summer, and you know what that means: It's time for Netflix to release some new romantic comedies. Naturally, the streaming service does this year round, but it seems to put out some of the best in the warmer months. For instance, fresh arrival Always Be My Maybe. This is what you need to know about this film, and how the story came to be.

Here's what the movie is about

If you haven't seen a trailer, fear not: Here it is. The film stars Ali Wong (Netflix comedy specials Baby Cobra and Hard Knock Wife) and Randall Park (Fresh Off the Boat) as Sasha Tran and Marcus Kim, childhood best friends who reconnect after the former, a celebrity chef, moves back to San Francisco to open a new restaurant.

The title, which naturally is derived from the Mariah Carey hit "Always Be My Maybe" strikes a chord with its Gen-X/Millennial audience. So does the cast, which also includes Daniel Dae Kim (Lost), Karan Soni (Deadpool), and John Wick star Keanu Reeves as a heightened version of himself. But there's even more that makes this film special.

This isn't Park and Wong's first time working together

The stars of the film have never played love interests on screen before, but they have worked together. Both attended UCLA (though years apart), and when Wong came along, she joined a group that Park started: LCC Theatre Company. They met through others who were a part of it and became fast friends.

More recently, Park and Wong have worked together in a different dynamic. For the first few seasons of Fresh Off the Boat, Wong was a writer for the show. Park portrays Louis Hang, the patriarch of the family at the center of the story.

Was Always Be My Maybe based on a true story?

The film, which was co-written by Wong, Park, and Michael Golamco, isn't exactly autobiographical for the stars, who have, by Park's own admission, "Always [just] good friends." But many elements from their friendship and other parts of their own lives made their way into the story in a way that Park calls "organic."

Wong talks about how Park would visit her when she moved to New York, which happens in the film. Park was, like Marcus, really in a band at one point, and Wong went to his shows. And just in general, Wong's childhood experiences growing up in San Francisco were incorporated.

"You've never seen someone like Jenny, [Marcus'] girlfriend [in the movie], who has the dreadlocks, on camera," said Wong. "And that's someone I've been dying to put on camera for the longest time…'cause I grew up in the Bay Area. I know, like, ten Jennys who are so out there. But they're real people to me."
Could there be a sequel?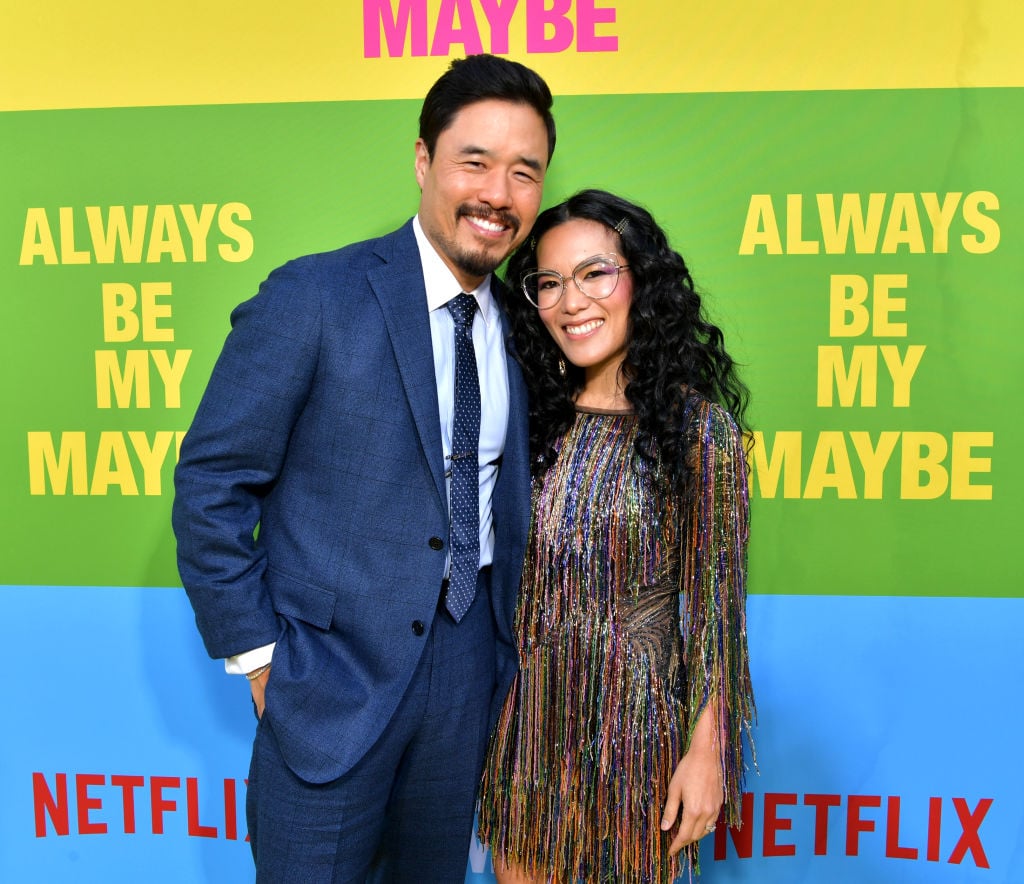 As we know, Netflix is keen to create franchises where it can, now that it's losing shows like Jessica Jones and the other Marvel series, as well as numerous other properties. The streaming service capitalized on the success of last summer's rom-com hit To All the Boys I've Loved Before by commissioning a sequel. So could it do the same for this movie? It's hard to say, but Wong and Park are at the helm again, we bet Netflix is interested.