'Always Sunny': Rob McElhenney Reveals Title for First Episode of Season 15
The coronavirus (COVID-19) pandemic caused multiple delays in filming many TV shows, including It's Always Sunny in Philadelphia. We last saw the gang from Paddy's Pub in November of 2019 during their fourteenth season, but we now know that filming for the fifteenth season has resumed.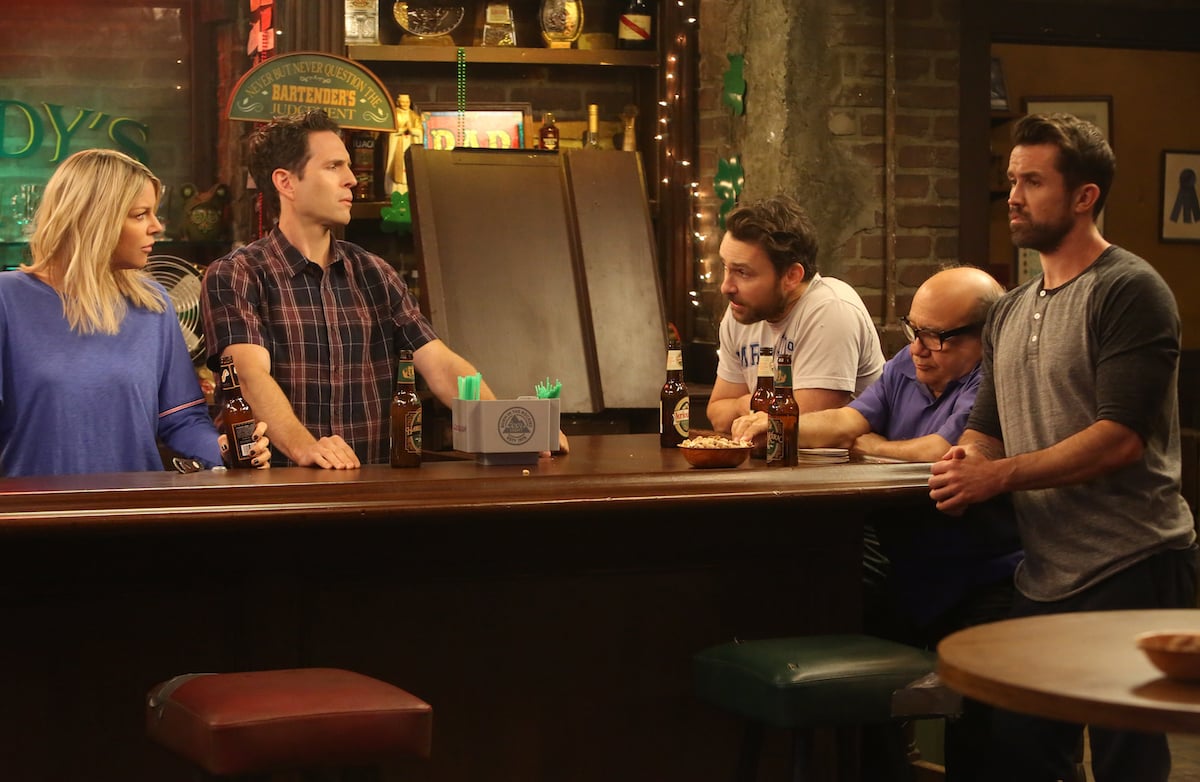 'It's Always Sunny in Philadelphia' Season 15 premiere episode title has been released
In May of 2021, creator and star Rob McElhenney confirmed to NME that writers were starting to work on the show's fifteenth season. Just last month, he gave us the title of the premiere episode.
The episode, '2020: A Year in Review', was revealed in a TikTok video from McElhenney that received over 500,000 views in less than three hours. The clip shows him dressed for what appears to be combat while holding the script for the first episode. From that little bit of information, fans can assume that Mac (McElhenney), Charlie (Charlie Day), Frank (Danny Devito), Dennis (Glenn Howerton), and Sweet Dee (Kaitlin Olson) are going to figure out what they should do in a global pandemic.
RELATED: 'It's Always Sunny' Star Kaitlin Olson Recalls Getting Injured on Set and Taken to the ER — 'It Was a Lot of Blood'
This isn't the first episode dealing with quarantine
The characters are no strangers to quarantines. The show has addressed the issue before in the episode aptly titled 'The Gang Gets Quarantined.' Season 9's seventh episode features a flu outbreak in the Philly area, and the group decides how they should handle the problem. They initially come up with a set of rules they should all follow, but things quickly go awry.
The first rule is no alcohol as to not harm their immune systems. Then Frank determines nothing should come in or out of Paddy's Pub, but Dennis decides to order a pizza. He's immediately quarantined in the bar's bathroom while Charlie and Mac think supplies are needed like food and water. The two suit up in homemade hazmat suits before venturing out to a local convenience store. However, a tear in Mac's suit forces him into quarantine upon his return. Dee is busted eating the pizza Dennis ordered and is tossed in the room with the guys. In the meantime Frank becomes increasingly unhinged.
Frank shaves off all his body hair, believing that's where all the flu germs congregate, and at this point, Dennis, Mac, and Dee are all visibly ill. Charlie gets tired of Frank's antics and voluntarily quarantines himself with the others. The next day all four are sick and resigned to suffer from what they think is flu and begin to drink the whiskey Charlie stashed under the sink. It turns out that none of them have the flu and are all just experiencing withdrawals from alcohol.
RELATED: 'Always Sunny's' Rob McElhenney's Wild Cameo on 'Game of Thrones'
No release date yet for season 15
With the writers just returning in May, fans will not likely get any new episodes in 2021. According to Cinemablend, the writers for the show will be writing as the show films this upcoming season. Until then, fans have over 150 episodes to entertain themselves with. The show is currently streaming on FX and Hulu.