'The Amazing Race' Season 31 Episode 9: Which Team Went Home?
The Amazing Race Season 31 Episode 9 continues in the race around the world by going to Croatia. Here, the teams must find a gnome and, while completing detours and roadblocks, carry it with them until they meet Phil Keoghan at the next Pit Stop. Which team left their gnome behind and which team went home?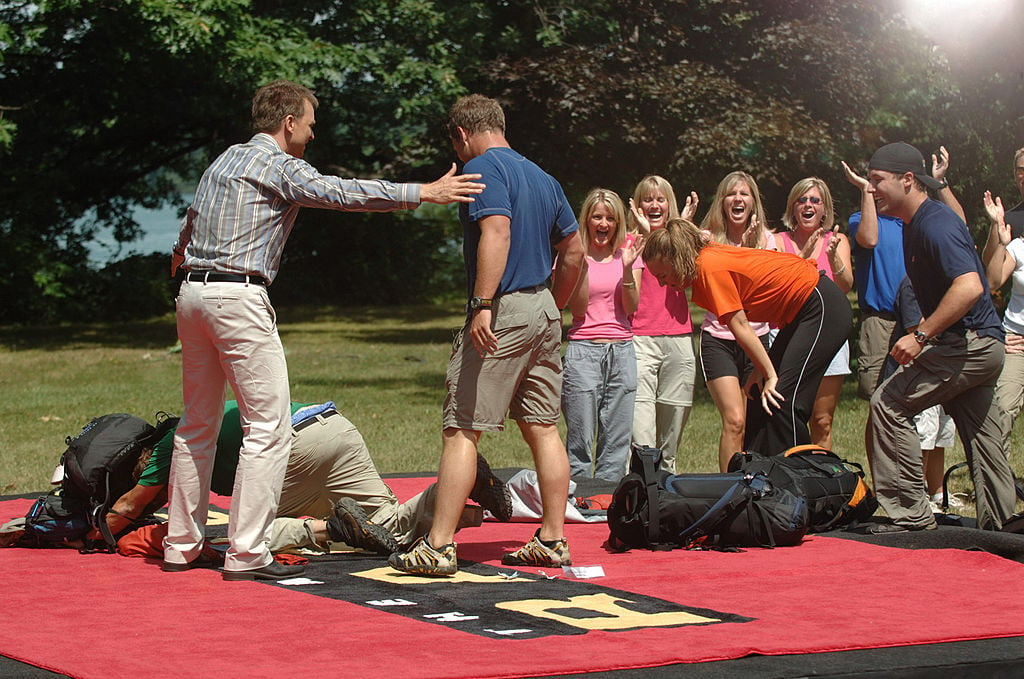 Tyler Oakley and Korey Kuhl completes 'The Amazing Race' Season 31 Episode 9 leg in 1st place

The Amazing Race Season 28 competitors retained their first place lead throughout most of the leg. They arrived in Croatia second, right behind Chris Hammons and Bret LaBelle. The first challenge is to serve six filled glasses of punch to people at a beach, who in return give the teams a gnome, and then they go back to the bar where they receive their first clue.

Tyler and Korey completed the challenge second and chose the snorkeling detour, where they had to search the beach and find five coins and a goblet. They arrived after Chris and Bret, who were already having a difficult time, and decided fairly quickly to switch the other detour, "Poetry in Motion."
For this one, the competitors have to ride in a tube attached to a speeding boat and memorize a tongue-twisting poem. Then, they had to recite the poem to an expert. If they forgot any words or pronounced them wrong, they had to start the bumpy tube ride over and try again.

Tyler initially had a hard time pronouncing the word "triviality," however, they finally nailed it and moved on to the next challenge. For the next stop, they had to deliver a loaf of bread, using the gnome, to a monk, who gave them their next clue.
To complete this roadblock, one competitor had to keep track of five Roman soldiers who had a red ribbon tied to their helmet, amongst several other soldiers. The soldiers then marched and changed positions, while flipping their shields over their helmets, making it difficult for the challengers to keep track.

Korey chose to do the roadblock for his team, and he and Nicole Franzel have a hard time remembering. After getting it wrong nine times, they decide to work together and memorize the red-ribbon wearing soldiers on their side. After completion, they then row to the Matejuska Harbor Pit Stop where host Phil Keoghan and several adorable Dalmatian dogs, eliminated the last team. Tyler and Korey are the first to arrive at the pit stop.

Nicole Franzel and Victor Arroyo come in 2nd place

Nicole and Victor were the last in the line to get a flight to Croatia. However, they were able to land a faster flight then the majority of the other contestants. They landed ten minutes after Tyler and Korey and Chris and Bret. The engaged couple, known from Big Brother, chose to do Poetry in Motion first and finished right behind Tyler and Korey.

Becca Droz and Floyd Pierce completes 'The Amazing Race' Season 31 Episode 9 leg in 3rd place

The former Amazing Race Season 29 contestants arrived in Croatia fifth, about an hour after the first three teams landed. They also chose to do Poetry in Motion first, and in Team Fun form, memorized the poem in a song.
Floyd decided to do the roadblock for his team and felt that he had an advantage because of his marching band experience. It paid off because he memorized it the very first time, by himself, and Becca and Floyd ended up finishing the leg in an impressive third place.

Leo Temory and Jamal Zadran finishes in 4th place

Team Afghanimals arrived at the Poetry in Motion detour in fourth place. However, since Leo continued to say "can" instead of "could" in the poem, they had to go back 11 times. Finally, they advance to the Roman Soldier road block where Leo teamed up with Christie to complete the challenge. They rowed to Phil Keoghan before Collin and Christie, finishing the leg in fourth place.

Colin Guinn and Christie Woods finishes in 5th place

Colin and Christie arrive last to Croatia, about three hours after the first few teams. The couple chose to go snorkeling, where they run into Chris and Bret. The boys admitted to the couple that they hadn't found any coins in two hours, so Colin and Christie quickly decided to try their luck at Poetry in Motion.

They completed the detour and made it to the next roadblock before they realized they left the gnome at Poetry in Motion. The couple had to go back and get it, and then Christie chose to complete the challenge. She worked together with Leo to memorize the soldiers, and she and Colin finished right behind Team Afghanimals.

Chris Hammons and Bret LaBelle went home on The Amazing Race Season 31 Episode 9
Chris and Bret arrived in Croatia first and had at least an hour head start on the other teams except for Tyler and Korey. They chose to attempt the snorkeling detour instead of Poetry in Motion, a choice that ultimately sealed their fate. The friends snorkeled during their time on Survivor, so they thought it would be easy for them.
However, after spending an hour snorkeling, Chris and Bret switched to Poetry in Motion. They attempted it once before going back to the snorkeling detour where they searched for at least two more hours. Finally, the team went to Poetry in Motion again and completed the detour after a few attempts. But it was too late.
By the time they arrived at the Roman Soldier detour, Christie and Collin already took the final spot. Bret joked with Phil Keoghan that he could never be a detective because he couldn't find the coins and Chris said the experience was rewarding. They called it the "second adventure of a lifetime" and assured the viewers that their bromance would continue.