'American Horror Story': Fan Theories Suggest Season 10's Black Pills Are Connected to Season 5, 'Hotel'
American Horror Story might be an anthology series, but many seasons share connections beyond the core cast members. Season 8, Apocalypse, for example, brought back characters from season 3, Coven, and took viewers back to the setting of season 1, Murder House. So, it wouldn't be completely far-fetched to draw connections between season 10, Double Feature, and its predecessors.
The first half of American Horror Story: Double Feature, called Red Tide, kicked off on Aug. 25 with a two-episode premiere. Many fans have already started theorizing about where the season will go. According to one theory, the black pills in American Horror Story Season 10 might be related to the vampires of season 5, Hotel.
[Spoiler alert: The following story contains spoilers for American Horror Story Season 10 Episodes 1 and 2.]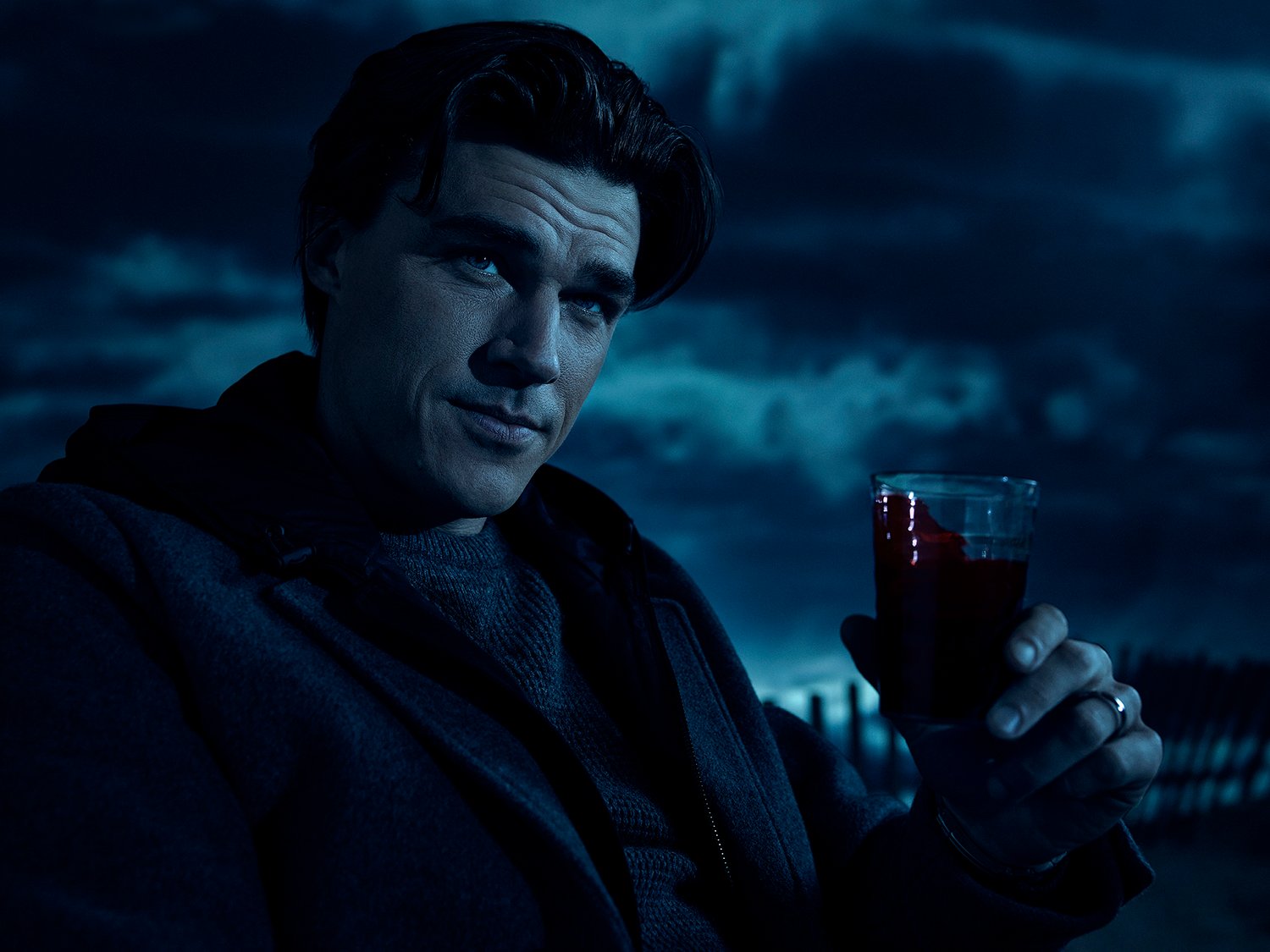 'American Horror Story' Season 10 features mysterious black pills
The first two episodes of season 10 introduce the Gardner family during their temporary move to Provincetown, Massachusetts. Harry Gardner (played by Finn Wittrock), a writer, plans to spend time working on his newest screenplay. Meanwhile, his pregnant wife, Doris Garnder (Lily Rabe), will redecorate the home for its owners, the Brown family, whom the Gardners have yet to meet. Their daughter, Alma (Ryan Kiera Armstrong), practices her violin.
After hours of experiencing writer's block, Harry visits a local bar, where he meets fellow writers Belle Noir (Frances Conroy) and Austin Sommers (Evan Peters). Later, Austin offers Harry black pills that will allegedly help him write the best screenplay of his life. Harry refuses but then becomes desperate and takes a pill.
Harry completes his script. However, he soon learns the side effects of the pills: a craving for blood.
Some theories on what's in the black pills relate to 'Hotel'
Many fans have wondered what the ingredients in the black pills are. The vampire and blood themes have eerie similarities to American Horror Story Season 5, which featured a blood virus that gives the afflicted eternal youth in exchange for needing to consume blood. In a Reddit discussion of the black pills, some American Horror Story fans suggested they might include traces of the same virus.
"My theory is that there's traces of the blood virus from Hotel in there, which explains the thirst for blood without being full vampire," the post read.
In addition to the virus from Hotel, one commenter suggested that the pill might include stem cells from babies, which would explain why Belle has TB Karen (Sarah Paulson) bring her an infant.
"If we take into account all the drug usage this series, it's probably Adrenochrome. If we can trust Austin's words, there's also meth blended in it, but my personal guess is that it's mostly Adrenochrome, the 'Hollywood rich people drug' that makes celebrities instantly successful and also makes them appear youthful," another user added. "It is considered to be extracted from the adrenalized blood of tortured infants. The color of the pills also kind of appears as dried blood too."
'American Horror Story' seasons might be connected in several ways
Another Reddit thread has suggested that the American Horror Story seasons were meant to connect all along. Seasons 5 and 10 have parallels, as do seasons 1 and 6, seasons 2 and 7, and so on.
"I see a lot of similarities with the first 5 seasons in a history repeats itself type of manner. Generally, of course, all seasons are connected, but there's just this special pattern," the post read.
Many users agreed with the list of connections the author provided, and some added their own. Some examples included the witches in Coven and Apocalypse and the haunted houses in Murder House and Roanoke.
Hopefully, viewers will learn the truth about the black pills soon. New episodes of American Horror Story Season 10 air on Wednesdays on FX.