'American Horror Story' Caused Controversy Among Professional Clowns
Clowns should spark memories of happy times and joy. However, with Hollywood's continued portrayal of clowns as scary characters in horror movies and TV shows, many have a fear of clowns. One who has caused controversy among the professional clown community, and one of the scariest in many opinions, is Twisty from American Horror Story. In fact, he is ranked as one of the most terrifying characters in the show's history. Many professional clowns are not a fan of the serial killer clown Twisty and blame American Horror Story for the increased amount of coulrophobia, or fear of clowns.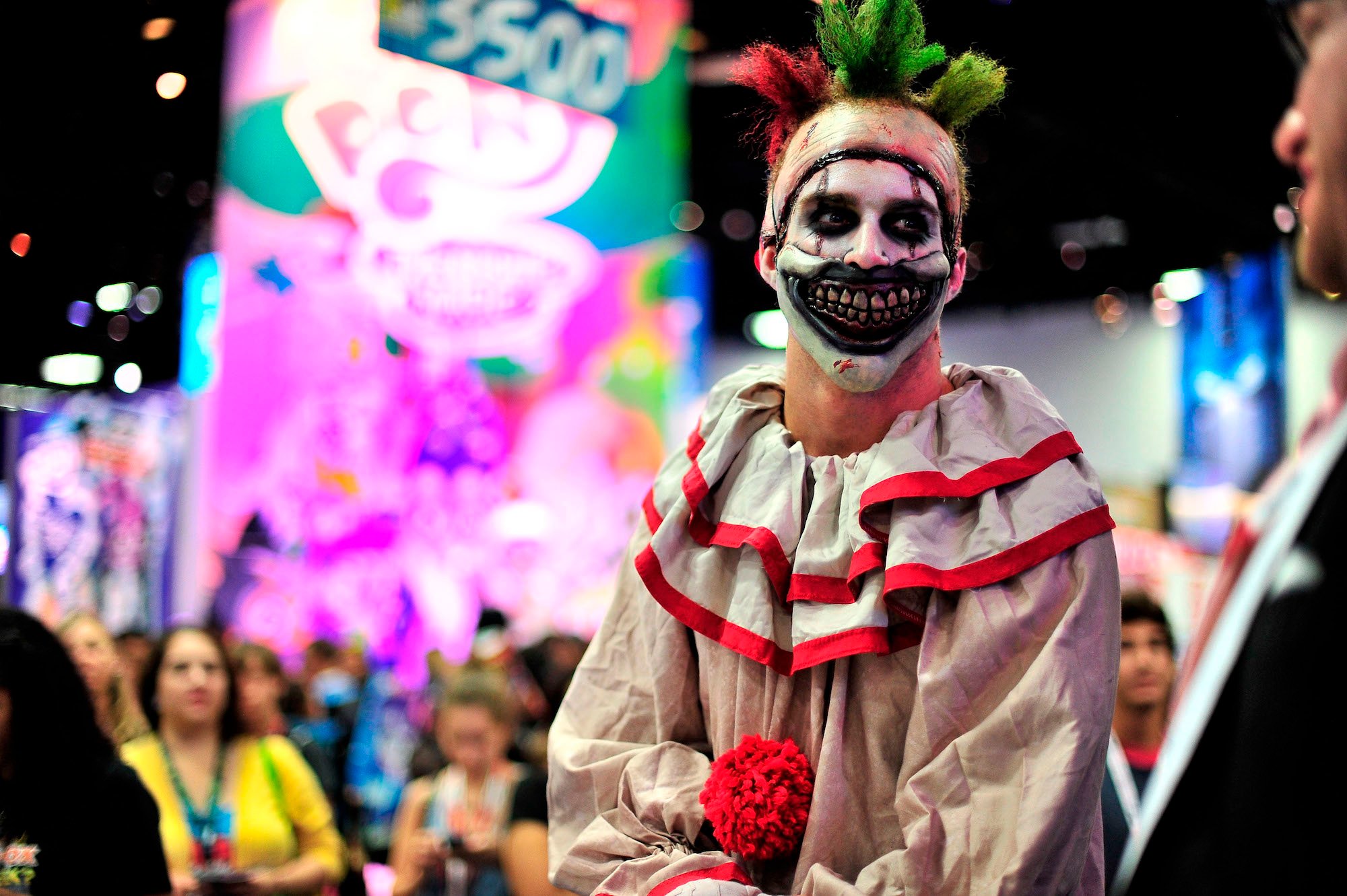 Twisty from 'AHS'
Fans of AHS look forward to figuring out the theme each season of the show full of horror and freaky aspects. Season four, Freak Show, was a season fans ranked as the most terrifying, with Twisty the Clown giving viewers nightmares for months. While, to many fans' disappointment, Twisty was not around for the entire season, the murder clown was not forgotten. After the discovery of his tragic backstory, the ghost of Edward Mordrake stabs the ruthless killer clown to join his ghostly entourage. Twisty's ghost showed up in the season finale of Freak Show and also made a reappearance on American Horror Story: Cult.
Since the introduction of Twisty, many have haunting images of the clown running around killing people and kidnapping children to keep them in a cage on a school bus. With his urge to perform as a clown, Twisty thought keeping the children as his captive audience was helping to rescue them from their cruel parents. Actor John Carroll Lynch played Twisty in the series. Twisty's grubby clown suit and demented, wide grin mask make a popular Halloween costume, but for many, it's a terrifying image. 
The common fear of clowns
RELATED: 'American Horror Story' Wouldn't Have Been So Successful Without Another Ryan Murphy Show
While there is a long list of fears, Hollywood has led us to believe that clowns and sharks would be at the top of the list. Demented clowns are a popular choice for villains that continually scare the pants off of people. According to a Chapman University survey, 7.8 percent of Americans have a fear of clowns. Each fear has its official name, so for those who are not familiar, coulrophobia is the fear of clowns. Phobias can come from a variety of sources that usually stem from a traumatic or scary event.
According to Healthline, coulrophobia is commonly caused by scary movies, traumatic experiences, or as a learned phobia. They note that watching "too many scary movies with clowns at an impressionable age can have a lasting impact." While it may be a fear some laugh at, coulrophobia is real, and movies and shows could be the culprit for causing the fear for many. 
Professional clowns are not happy with Twisty
While Hollywood thinks of clowns as ideal villains for the next big horror hit, professional clowns say it hurts their business. The American Clown Club attacked AHS for contributing to the fear of clowns with Twisty. The Hollywood Reporter stated the group's president says, "The FX series, which features a serial killer named Twisty the Clown who stalks couples with scissors and imprisons children in a school bus, is contributing to 'clown fear.'"
As you would imagine, the increase of evil clowns in the media has a big impact on those who are trying to make a living as a clown. Professional clowns want to bring joy and smiles to people's faces, but it's hard to do when films keep using evil clowns that strike fear when encountering any clown. Twisty was not the first evil clown to cause outraged professional clowns and certainly won't be the last.