'American Horror Story: Here Are the 4 Scariest Scenes From 'AHS: 1984'
A totally radical group of friends from the 1980s-era Los Angeles decided to spend a summer out in the woods as camp counselors. What they didn't know was that they were working at the site of one of the worst summer camp massacres of all time.
In true American Horror Story fashion, these characters are the next victims for the ninth season of this award-winning series, AHS: 1984. Here are a few of the scariest moments.
When Brooke gets attacked by the Night Stalker (Episode 1)
She just wants a break away from the craziness of her life. Moving to a new apartment, though proves to be a bad idea when someone named the Night Stalker breaks in and steals some of her jewelry.
Brooke fights back and decides to leave for Camp Redwood with her friends for safety. The woods aren't exactly safe either, though, with a few more serial killers who are eventually set loose.
When Margaret Booth tells the story of Mr. Jingles (Episode 1)
What's the real reason why no other counselors showed up to work at Camp Redwood? As viewers learn from a campfire story from the nurse and Margaret Booth, Mr. Jingles killed a handful of counselors one year before being sent to a psych ward.
Margaret Booth tells her employees that she's a survivor and it's all through God that she is even able to reopen the camp safely again. However, when Mr. Jingles escapes from prison, the mood in this forest changes quite a bit.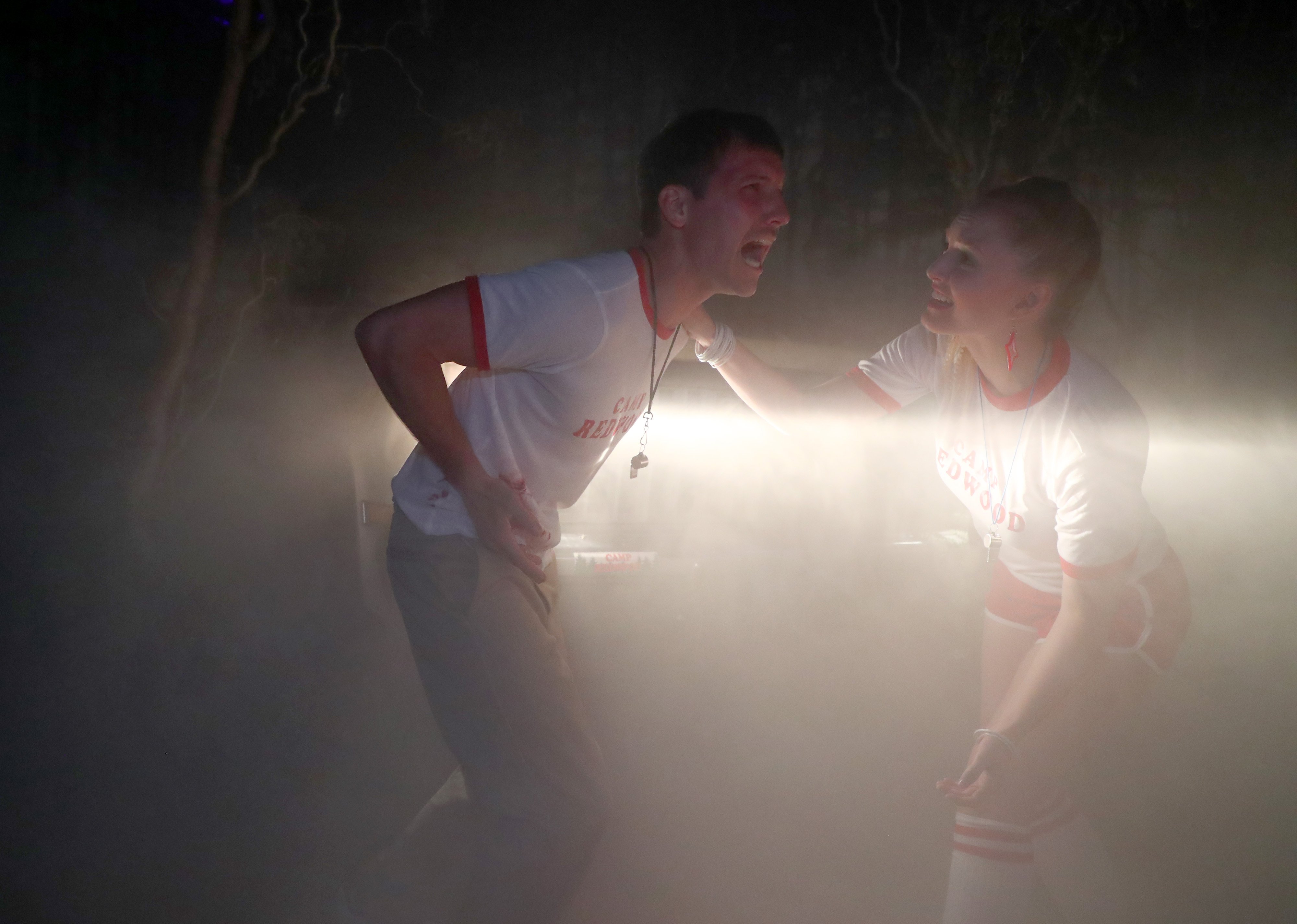 RELATED: FX's 'American Horror Story: 1984' Episode 4 Recap — True Killers
When Xavier is trapped in the oven (Episode 4)
It's not so much scary as it is painful to watch. Xavier has dreams of being a real actor, meaning that his appearance is pretty important to him. Unfortunately, his dreams of starring on the silver screen are crushed when every inch of his body is burned at the hands of Mr. Jingles.
Even though Mr. Jingles manages to lock Xavier in the oven and turn it on, it's thanks to the cook that he breaks out and lives. (Even if the rest of his life is pretty short, anyway.)
RELATED: Why AHS Fans Think Season 10 of 'American Horror Story' Has Something to Do With the Ocean
When Margaret Booth finally dies (Episode 9)
She has to pay for all the lives she's taken. While Margaret is busy trying to move the bus blocking the camp, she finally gets what she deserves. The ghosts of her victims surround her cabin, complete with torches and weapons. The problem is that they can't kill her on the property without her becoming a ghost, as well.
Trevor's already thought of that, though. He chops her up and puts her through a wood chipper, one limb at a time, while the rest of her victims stand there laughing. Even though Margaret was already dying, Montana confirms that the brain can live on 30 seconds past decapitation and chops off her head. It's what she deserved.
Some seasons of American Horror Story, including AHS: 1984, are available for streaming on Hulu. More news regarding the show's 10th season, and its spinoff American Horror Stories, will presumably be announced in the coming months.