'American Horror Story' Season 10: Fans Are Torn Over Kaia Gerber's Acting in 'Death Valley'
The first half of American Horror Story Season 10, "Red Tide," has come to a close. Now, it's time to dive into the second half: "Death Valley." Part 2 premiered on Sept. 29, featuring American Horror Story newcomer Kaia Gerber. The young model appeared in the franchise's spinoff series, American Horror Stories, but many fans criticized her performance. Now, some of that criticism has spilled over into the "Death Valley" premiere.
[Spoiler alert: The following story contains some spoilers for American Horror Story Season 10 Episode 7, "Take Me To Your Leader."]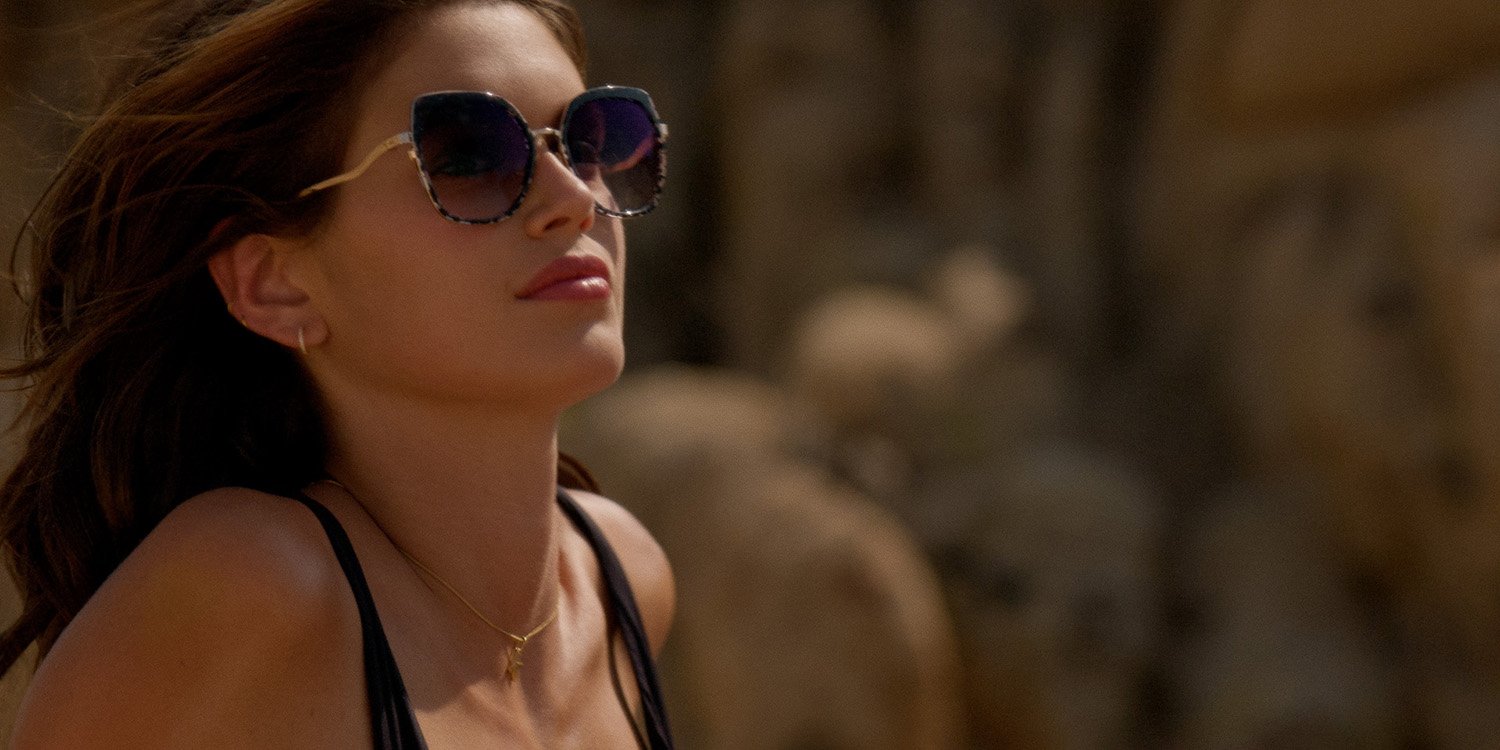 Kaia Gerber plays a college-aged luddite named Kendall in 'American Horror Story' Season 10
In "Death Valley," Gerber plays college student Kendall Carr, who returns home for the summer to spend time with her three closest friends. During a night out, Kendall tells Cal (Nico Greetham), Jamie (Rachel Hilson), and Troy (Isaac Cole Powell) about her (mostly) technology-free experience at school. She convinces her friends to join her in putting away their phones for a camping trip in the New Mexico desert, but the trip doesn't quite go as planned.
While heading out for some time in the sun, Kendall, Cal, Jamie, and Troy come across a herd of bulls sliced completely in half. Scared, the group flees the scene and packs up to go home. However, during their drive to civilization, a mysterious beam of light traps their car and causes them to lose consciousness temporarily.
When Kendall and her friends return home, they all experience a strange sickness, and a curious Kendall insists that they all take pregnancy tests. Sure enough, all four tests come out positive, and Kendall suspects an alien invasion. After that shocking reveal, the coming episodes are sure to be interesting.
Sone 'American Horror Story' fans think Kaia Gerber lacks emotion
Many American Horror Story fans have criticized Gerber's acting in the premiere. In a Reddit discussion of the episode, some said her performance felt wooden.
"Where is the reaction?! She's just like ":| there's no blood :|" while looking at a mutilated animal," one fan wrote.
Other viewers couldn't believe that Gerber has so far been featured more prominently in "Death Valley" than some of the most popular American Horror Story alum, including Lily Rabe and Sarah Paulson. These actors do appear in "Death Valley," but only in the 1950s scenes.
"We have Sarah Paulson and Lilly Rabe, yet Kaia Gerber is getting the most screen time," one user added.
"The '50s part was excellent. The minute I saw Kaia Gerber and her friends were going to have more time, my heart sank," another person wrote.
Many fan opinions echo the thoughts some had after watching Gerber in American Horror Stories. At the time, some viewers said it seemed like she was reading from a script.
Others are cutting the young actor some slack
Of course, fan opinions about Gerber aren't all bad. Many people have argued that her acting improved between American Horror Stories and American Horror Story Season 10.
"I do think Kaia is doing better than her role in Stories. That being said, she's playing a college-aged girl from a rich family, so she's basically playing herself," one person added to the thread. "But maybe that's where she needed to start out. I think the Stories role was not a good fit. If she wasn't in that and only played this part, I don't think she would have gotten so much hate."
In another post, one person urged viewers to give Gerber a fair chance to impress. They pointed out that former American Horror Story star Emma Roberts faced the same scrutiny but soon became a favorite.
"Wasn't great in Stories, more due to that character and the writing. But I think [Gerber] did a fine job in the first episode of Death Valley. She's not a phenomenal actress, but I don't think she's bad," they wrote. "So many people thought Emma Roberts' acting was the worst thing to happen to the show, and she's grown to be a favorite of a lot of fans. I think people should give her a break. She is still a young girl starting out in acting after all."
American Horror Story Season 10 airs new episodes every Wednesday at 10 p.m. on FX.
RELATED: Noah Cyrus Cried When She Got 'American Horror Story' Role For This Reason