'American Horror Story' Season 10: Who Does Macaulay Culkin Play?
American Horror Story saw its usual ensemble cast returning for its season 10 premiere, but there's one newcomer who immediately caught fans' attention: Macaulay Culkin. Most movie lovers will recognize the name from their favorite Christmas classic, but Culkin has come a long way from making booby traps and warding off home intruders. His inclusion in American Horror Story: Double Feature made headlines and left viewers wondering who he could play. Now they have an answer. So, who is Macaulay Culkin in American Horror Story Season 10?
Who is Macaulay Culkin?
Macaulay Culkin is best known for his lead role as Kevin McCallister in Home Alone, a part he took on when he was just 10 years old. Culkin started his acting career at age four and also starred in My Girl, so he's no stranger to appearing on the big or small screen. However, the majority of his recent roles haven't been in major franchises. American Horror Story diverges from that a bit, bringing Macaulay into the spotlight once more.
If you can believe it, the Home Alone star celebrated his 41st birthday ahead of his AHS debut, and he took to Twitter to honor both occasions:
"Like a fine bottle of worcester sauce we all get better with age. With that in mind here's your yearly reminder that time does indeed march onward: I'm 41 years old. I hope you enjoy every passing year as much as I do. We're not getting older, we're just getting saucier.

Also, there seems to be a super handsome, middle-aged dude on this season of American Horror Story.

If I were you I'd totally check him out."
Who does Macaulay Culkin play in 'American Horror Story' Season 10?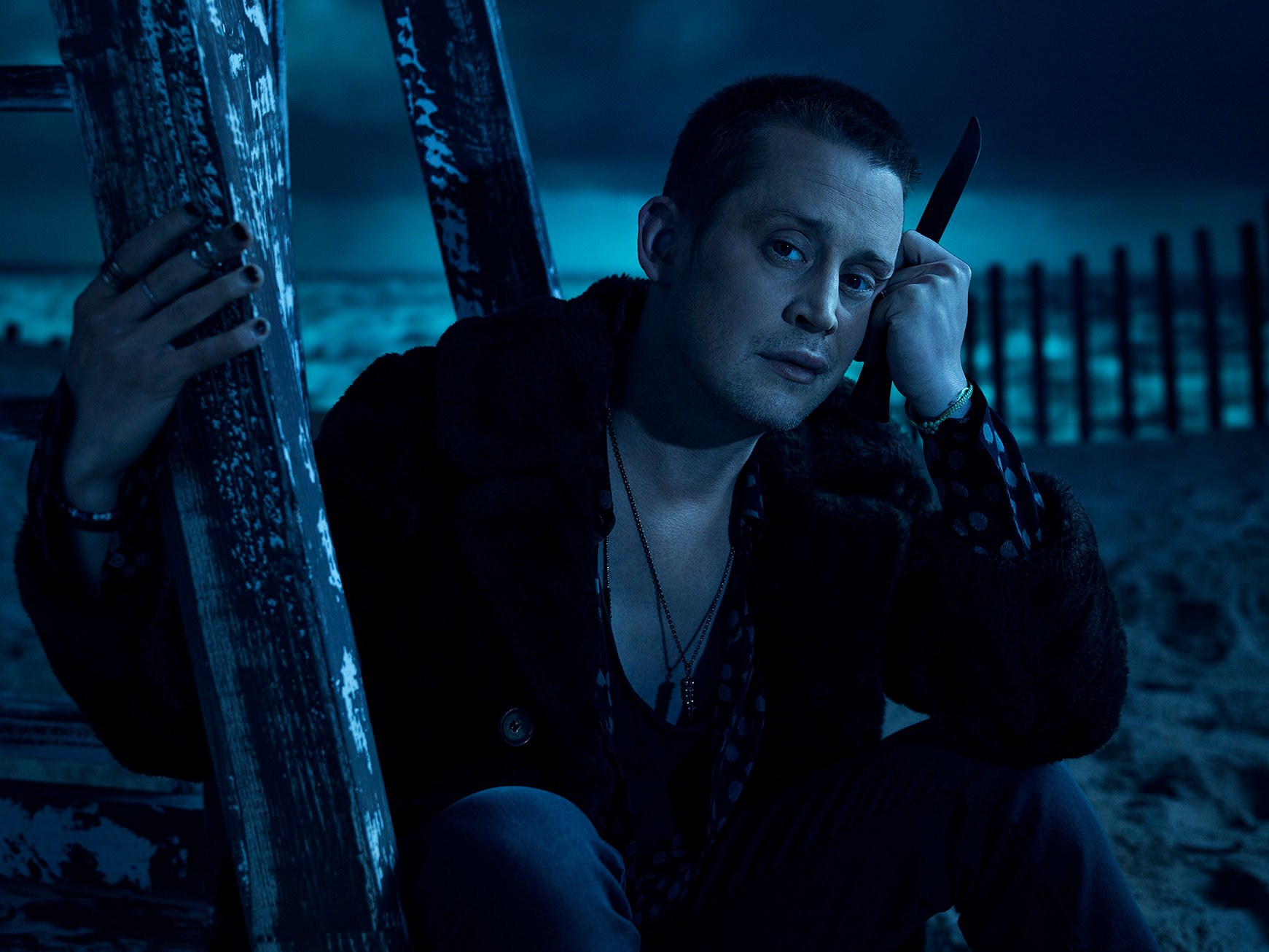 The season 10 premiere of American Horror Story introduced Culkin as Mickey, a prostitute residing in Provincetown, Mass. That's where the main characters of American Horror Story: Double Feature Part 1 — Red Tide — move for a fresh start. Unfortunately, the Gardner family finds more than they bargained for in the strange coastal town.
Like most of the Provincetown residents, Mickey is struggling with addiction. However, unlike Evan Peters' Austin Sommers and Finn Wittrock's Harry Gardner, Mickey isn't hooked on the bizarre black pills the story centers on (or the bloodlust that accompanies them). Instead, he's desperate to get his fix from the people who ingest those pills — even if it means giving them a taste of his own blood.
Mickey's first scene sees him hitting on Wittrock's character, a hilarious addition to the season that won't be his only bawdy moment. Series creator Ryan Murphy told E! News that Macaulay has "crazy erotic" sex scenes coming up with Kathy Bates' character. Talk about a wild debut.
Will the 'Home Alone' star appear in 'American Horror Story' Season 10's second part?
True to its name, American Horror Story: Double Feature divides the series' 10th season into two separate parts. The first, which sees Culkin as Mickey, is called Red Tide. The second is Death Valley and will somehow involve aliens. Whether Culkin will appear in the second half of the season is unknown. However, things don't look promising.
FX Networks' official YouTube channel released a teaser for Death Valley ahead of the American Horror Story Season 10 premiere, and Culkin is nowhere to be found in the footage. Additionally, IMDb only has the actor listed for six episodes of the season, all of them as Mickey.
It's possible the FX show is keeping details about Death Valley closely under wraps, so there's still some hope he'll show up. Even if he doesn't, AHS fans can look forward to a few more episodes with Culkin. The first two installments of season 10 are currently streaming on Hulu.