Why the 'American Horror Story' Spinoff Won't Air on FX
Fans thought they were going to receive a double dose of American Horror Story when co-creator Ryan Murphy announced the spinoff earlier this year. But now, the new anthology series — American Horror Stories — is no longer expected to air on FX like its predecessor. Here's why and where you'll be able to watch the show upon release.
Ryan Murphy announces the 'American Horror Story' spinoff, 'American Horror Stories'
In May 2020, Murphy teased the American Horror Story spinoff on Instagram. The co-creator posted a fanmade image of the show's cast, bringing back favorites like Sarah Paulson, Jessica Lange, and Evan Peters. 
"American Horror Story cast zoom call…where we reminisced about the good times," Murphy wrote in the caption. "The spinoff we're doing called American Horror Stories (one hour contained episodes)…when we will start filming the next season of the mothership…and other stuff I cannot print. It was so much fun and I'm glad we caught up. I miss everyone!"
At the time, AHS fans weren't sure whether or not to believe Murphy. But then Deadline confirmed the news and shared American Horror Stories will be like a "companion" to the flagship series. That said, viewers may have to wait a while before the spinoff is released. The publication noted the project was just gaining traction when the coronavirus (COVID-19) pandemic shut down production in March 2020. 
'American Horror Stories' will be on Hulu and not FX
Whenever American Horror Stories premieres, FX confirmed the new series will not be available to watch on the Disney-owned cable network. Rather, the AHS spinoff will move exclusively to FX on Hulu, along with Y: The Last Man. Meanwhile, American Horror Story Season 10 will continue to air on FX, per usual. 
According to The Hollywood Reporter, FX on Hulu is part of Disney's strategy to prioritize its streaming platform as users shift away from traditional cable. When former Disney CEO Bob Iger made the announcement back in November 2019, the company already planned to use content supplied by FX to fill the Hulu library. And given the built-in fan base surrounding the AHS spinoff, it's really no surprise Disney is choosing to add it to the queue. 
What to expect from American Horror Stories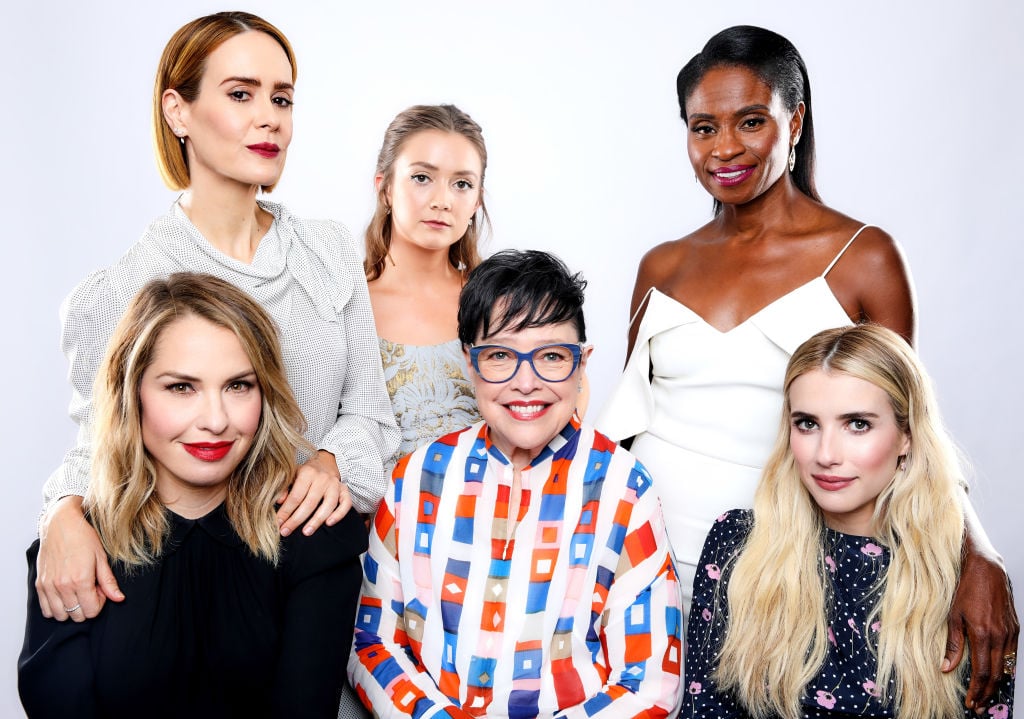 As Murphy mentioned in his Instagram post, American Horror Stories will feature hourlong episodes with a self-contained story each week. So rather than an entire season dedicated to a specific arc, the spinoff will highlight a terrifying new story in every episode, like Netflix's Black Mirror. 
Meanwhile, Murphy's Instagram teaser could indicate fans will see familiar faces in American Horror Stories upon its release on Hulu. Of course, it's too early to tell at this point. But recently, Paulson hinted she wants to be involved, whether it's directing or being part of the cast.
 "There's no American Horror Story spinoff, movie, play, projection from space that I would not want to be a part of if I could be," Paulson told The Hollywood Reporter in May 2020. 
For now, American Horror Story fans will just have to wait and see how the new spinoff comes together. But regardless, just remember you'll have to watch the upcoming series on the Disney-owned streaming service rather than the Disney-owned TV network. 
Check out Showbiz Cheat Sheet on Facebook!