'American Idol' 2022: Who Was the Winner?
The 'American Idol' 2022 finale on May 22 featured three hours of music and fun, all leading up to the big winner reveal at the end of the night.
America has found its next Idol. Sunday, May 22's American Idol 2022 grand finale gave the season's Top 3 — Leah Marlene, Noah Thompson, and HunterGirl — one last chance to win over the audience and get their votes. By the end of the three-hour extravaganza, only two singers remained — but only one could become the next American Idol winner. Here's who took home the trophy.
[Spoiler alert: The following story contains spoilers for American Idol Season 20 Episode 20, "Grand Finale."]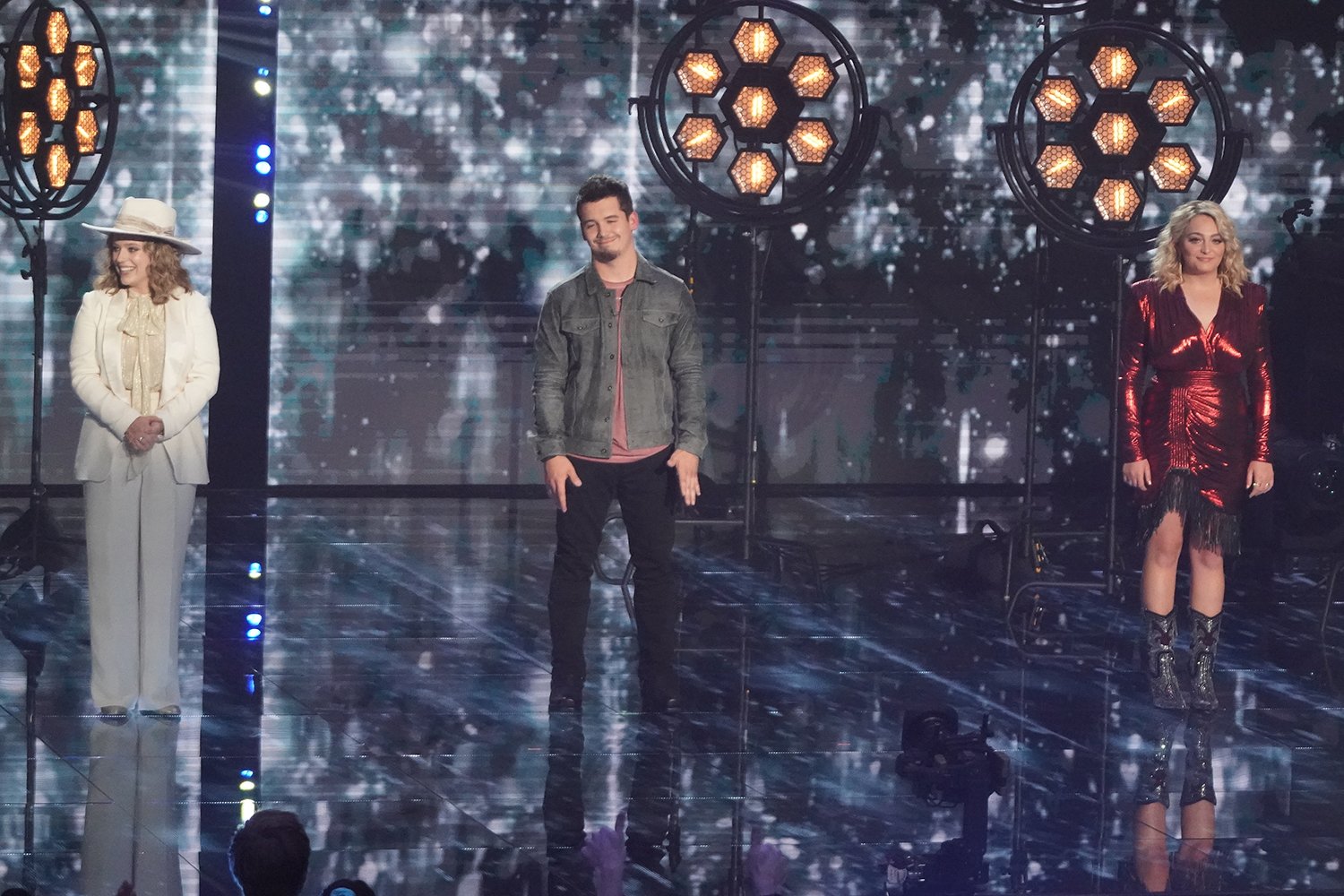 'American Idol' 2022 grand finale featured 3 hours of music
American Idol's grand finale celebrated the season by bringing in a slew of exciting musical guests. That included the return of season 20's Top 10 artists, who performed duets with famous acts as well as some group performances.
For example, Nicolina Bozzo, who was eliminated from the Top 5, took to the stage for a chilling rendition of "She Used to Be Mine" alongside Sara Bareilles. Meanwhile, Top 7 singer Christian Guardino achieved his dream of performing with Michael Bublé. Judge Lionel Richie also joined the Top 10 on stage for a rendition of his R&B hit "You Are."
Other musical guests included Ben Platt, Flo Rida, Earth, Wind, & Fire, Melissa Etheridge, and more. American Idol alum Carrie Underwood had been scheduled to perform, but she was forced to cancel after possible exposure to COVID-19, host Ryan Seacrest revealed.
Of course, the Top 3 showcased their talents a few times throughout the evening. They performed tunes by Bruce Springsteen, as well as original songs and duets. Leah Marlene wowed the judges with Bruce Springsteen's "Cover Me," followed by her song "Flowers." She later performed "Firework" alongside judge Katy Perry. Her original brought Katy to tears as she called Leah a "brilliant messenger."
Meanwhile, Noah Thompson sang Springsteen's "I'm on Fire," Rihanna's "Stay," and his original song "One Day Tonight." He also performed "I'm the Only One" alongside Melissa Etheridge. Noah's Springsteen cover impressed Lionel, who said the performance showed off Noah's newfound confidence.
Finally, HunterGirl performed Springsteen's "Dancing in the Dark," Rascal Flatts' "Riot," and her original song "Red Bird." She also joined judge Luke Bryan on stage for a duet of Randy Travis' "I Told You So." The judges commended HunterGirl for her growth since she auditioned with "Riot."
Who won 'American Idol' 2022 last night?
Shortly after the episode's first hour, Ryan brought Leah, Noah, and HunterGirl to the stage to reveal the Top 2. Noah and HunterGirl moved forward, putting Leah in third place. Then, at the end of the night, Ryan announced Noah Thompson as the winner of American Idol 2022. Noah looked completely shocked and blown away as Ryan opened the card to prove he had won.
Continuing the American Idol tradition, Noah then grabbed a mic for an encore performance of "One Day Tonight" as confetti covered the stage. His fellow finalists ran out on stage to congratulate Noah and wrap him in a big group hug before singing along with him.
Noah spoke to USA Today after the show, revealing that he felt "numb" in his winning moment.
"It blew me away. I just didn't know how to feel. Anybody could have won this show, you know what I mean?" he said. "I just didn't think that it was me."
Noah Thompson says 'American Idol changed everything' for him
Noah has come quite a long way since his audition. He never even planned to try out for American Idol, but his close friend, Arthur, believed in Noah enough to sign him up. And every week since he made it to Hollywood, Noah has displayed serious growth in his confidence. He told USA Today that he's grateful for the experience because of that.
"It's made me open up a lot and just grow," he explained. "It's helped me with my confidence, just everything. I feel like it's changed me in a lot of ways. It's just changed everything, but it's a good change for the better. I'm really looking forward to it."
American Idol Season 20 is now streaming on Hulu. Stay tuned to Showbiz Cheat Sheet for more updates.