'American Idol': You Won't Believe How Many Contestants Have Dated on the Show
American Idol is best known for being one of the United States' longest-running singing competitions. After taking a quick hiatus a few years back, the show switched from Fox to ABC and has had viewers intrigued with every episode ever since. But something that isn't as obvious about the show is that it has been the base of several romantic relationships since its start.
Kelly Clarkson and Justin Guarini
Justin Guarini and Kelly Clarkson were the couple that everyone wanted to see. From the start of the first season of Idol, these two always remained close and ended up being the top two on the show that year. When Clarkson won, Guarini gave her the most genuine embrace, which sparked obvious dating rumors. The two kept things under wraps, but years later in 2015, Clarkson admitted on Watch What Happens Live that they did date briefly after the show ended.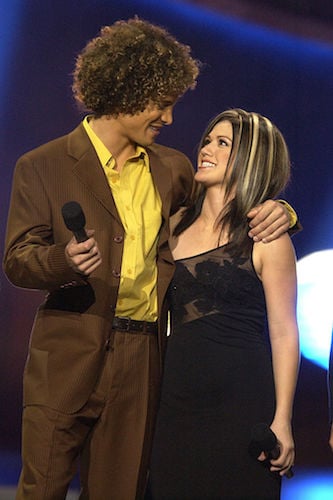 Two 'Idol' couples got together in the most recent season
This past season of Idol saw multiple love stories. Contestants Gabby Barrett and Cade Foehner started dating shortly after the show kicked off, and though they did their best to hide their connection, everyone could see it. The two got engaged a year later in March 2019 and tied the knot in October 2019. But last season's top two contestants also fell in love. Maddie Poppe, last season's winner, has been dating runner-up Caleb Hutchinson since the show ended. The two are still going strong, and we're confident they're another pair who will be together forever.
Simon Cowell met his ex-fiancé on the show
Simon Cowell and Mezhgan Hussainy met through Idol, too. Hussainy wasn't actually a contestant, so this relationship might not count — she was the show's makeup artist, and the two fell in love quickly. Cowell proposed, but things between the two went south when Hussainy supposedly had a problem with Cowell's busy schedule and many female friends. The two began to argue frequently, and Cowell eventually decided to call off the engagement.
Diana DeGarmo and Ace Young wed after the show
Gabby Barrett and Cade Foehner aren't the only couple to have ever gotten married after the show. Though Diana DeGarmo and Ace Young didn't meet on Idol, they are both veterans of the show. DeGarmo appeared in season 3, and Young in season 5, but the two met actually met on Broadway. They had an instant connection because of their time spent on the show, and it eventually turned into a full relationship. Young later proposed to DeGarmo when they both returned to an Idol finale show in 2012. 
There have been several other 'Idol' dating rumors
Though some couples didn't work out and others flew a bit too far under the radar for us to truly remember them, there were actually several other Idol romances that occurred during the contestants' time on the show. Casey Abrams and Hailey Reinhart of season 10 dated for a while, though it didn't last. And other Idol stars went on to have relationships with other celebrities, including season 10 contestant Paul McDonald, who married actress Nikki Reed in 2011 (they later divorced in 2015). Season 10's Pia Toscano found love with professional dancer Mark Ballas, though the romance only lasted several months.