'American Idol': Fritz Hager Shuts Down Leah Marlene Dating Rumors — 'She's Like My Sister'
American Idol is a cutthroat competition, but many of its contestants have found close friendships — and sometimes even love — during their time on the show. That's the case for American Idol Season 20 singers Fritz Hager and Leah Marlene, who sparked dating rumors after a sweet and emotional hug on Sunday, May 15's episode. Many viewers have said they would love to see a romance between the two. However, according to Fritz and Leah, they're just best friends. Here's what they said.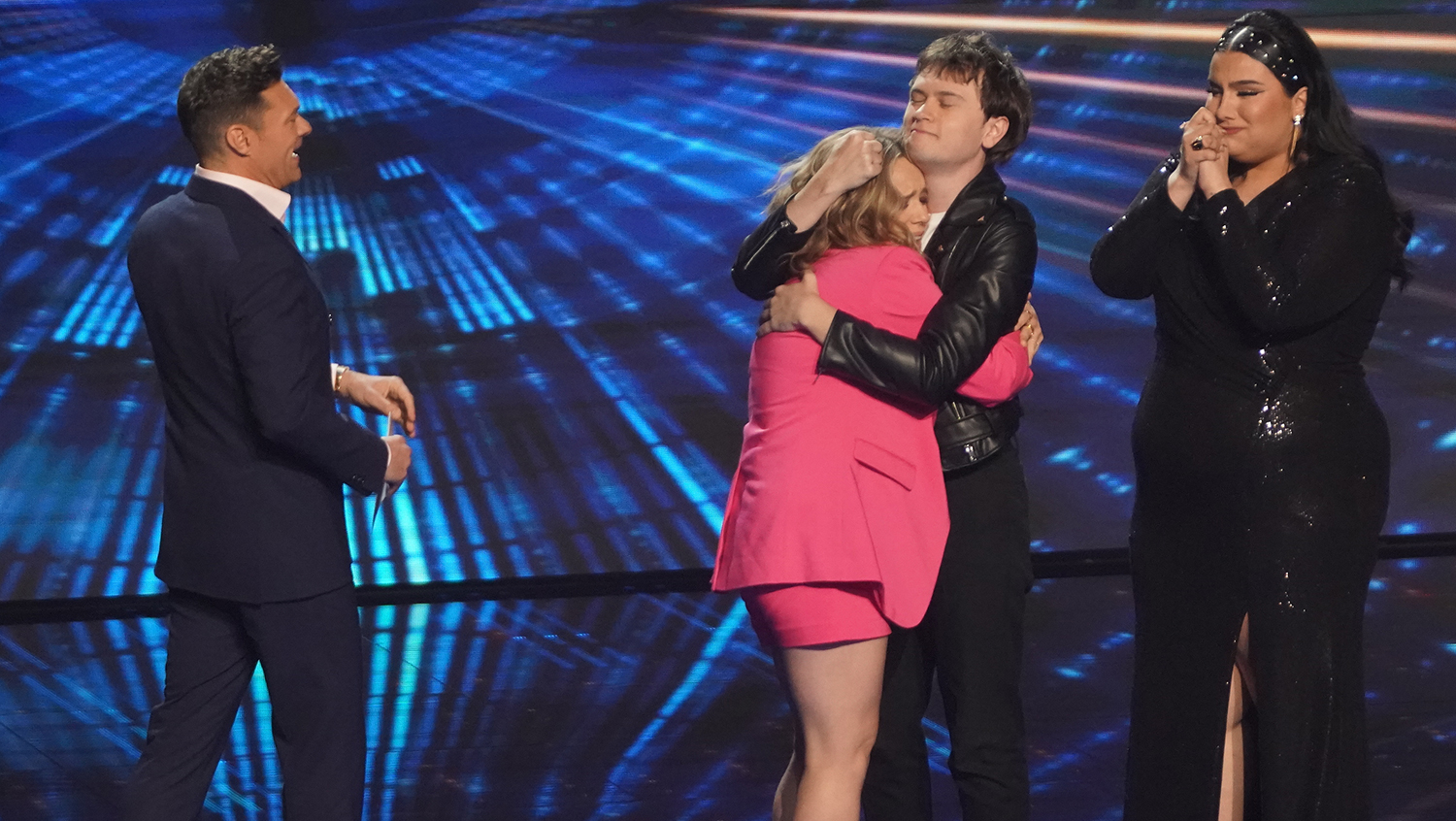 Leah Marlene and Fritz Hager's hug on 'American Idol' sparked dating rumors
Both Fritz and Leah found themselves at risk of elimination on Sunday, along with Nicolina Bozzo, after the Top 5 performed for their spots in next week's finale. Huddling together, the three waited to hear host Ryan Seacrest announce the final name in American Idol Season 20's Top 3. Then, when Leah heard her name, she fell to the ground in excitement. Fritz quickly pulled her up and into a tight hug as he whispered something to her.
Many Idol fans zeroed in on the sweet moment. They took to Twitter to speculate about Fritz and Leah's relationship status.
"Anyone else think there might be a little spark between Leah Marlene and Fritz on American Idol?" one person tweeted.
"Really hope Leah and Fritz announced that they're dating like Maddie and Caleb did if they make Top 2," another user added, referencing American Idol couple Maddie Poppe and Caleb Hutchinson.
Are Fritz Hager and Leah Marlene dating? Fritz cleared things up
Thankfully, Fritz was quick to respond to the dating rumors. Speaking to Hollywood Life after his elimination on Sunday, the Tyler, Texas, native revealed that he and Leah are close friends.
"She's like my sister. She's great," Fritz shared. "We've been in this competition together, working together since Hollywood Week, and to get this far with her is special."
Fritz even explained what he said to Leah during their embrace: he loves her, and he's proud of her.
"I am so excited to see what's next from her. I really believe in her," he added. "Anyone that voted for me this week needs to vote for Leah."
Leah Marlene gushed about her friendship with Fritz Hager
Leah also stuck around after American Idol for an interview, where she confirmed that she and Fritz are not dating. She explained that they became close pals during Hollywood Week's Duets Challenge, where they sang Bruno Mars' "Locked Out of Heaven."
"He's one of my best friends in the whole wide world. I want nothing but the universe for that man," Leah gushed. "It's really bittersweet having to get split up, but that's the nature of the show so I think we were just both so proud of each other and screaming that to each other."
Later, Leah took to Instagram to share a tribute to Fritz. She posted a photo of them hugging in a hotel room.
"Fritz, you are a gem of a human. There are no words to articulate just how proud of you I am," Leah wrote in the caption. "To witness the beautiful personal transformation and growth you have undergone from the moment I met you to now has been the greatest honor, and I am simply amazed that I get to be your friend. I cannot wait for all the music we have yet to make together."
American Idol fans can see Leah Marlene perform with the Top 3 in the season 20 finale on May 22, airing at 8 p.m. on ABC. Fritz Hager and other season 20 contestants are expected to return.
RELATED: 'American Idol' Season 20: Hear the Top 7's New Singles, Out Now