'American Idol': Katy Perry Shares Behind-the-Scenes Look at Her Ariel Costume — and Her Hilarious Fall
If there's one thing Katy Perry loves, it's going all out with her costumes. That's why American Idol's Disney Night is the perfect opportunity for the pop star to show off her wacky closet. This year, she went all-out as Ariel from The Little Mermaid, completing her ensemble with a mermaid tail and a Dinglehopper. However, Perry's costume proved to be quite complicated and even caused her to stumble from her seat on live TV. She later took to social media to laugh at the moment and share a behind-the-scenes look at her pre-show costume prep.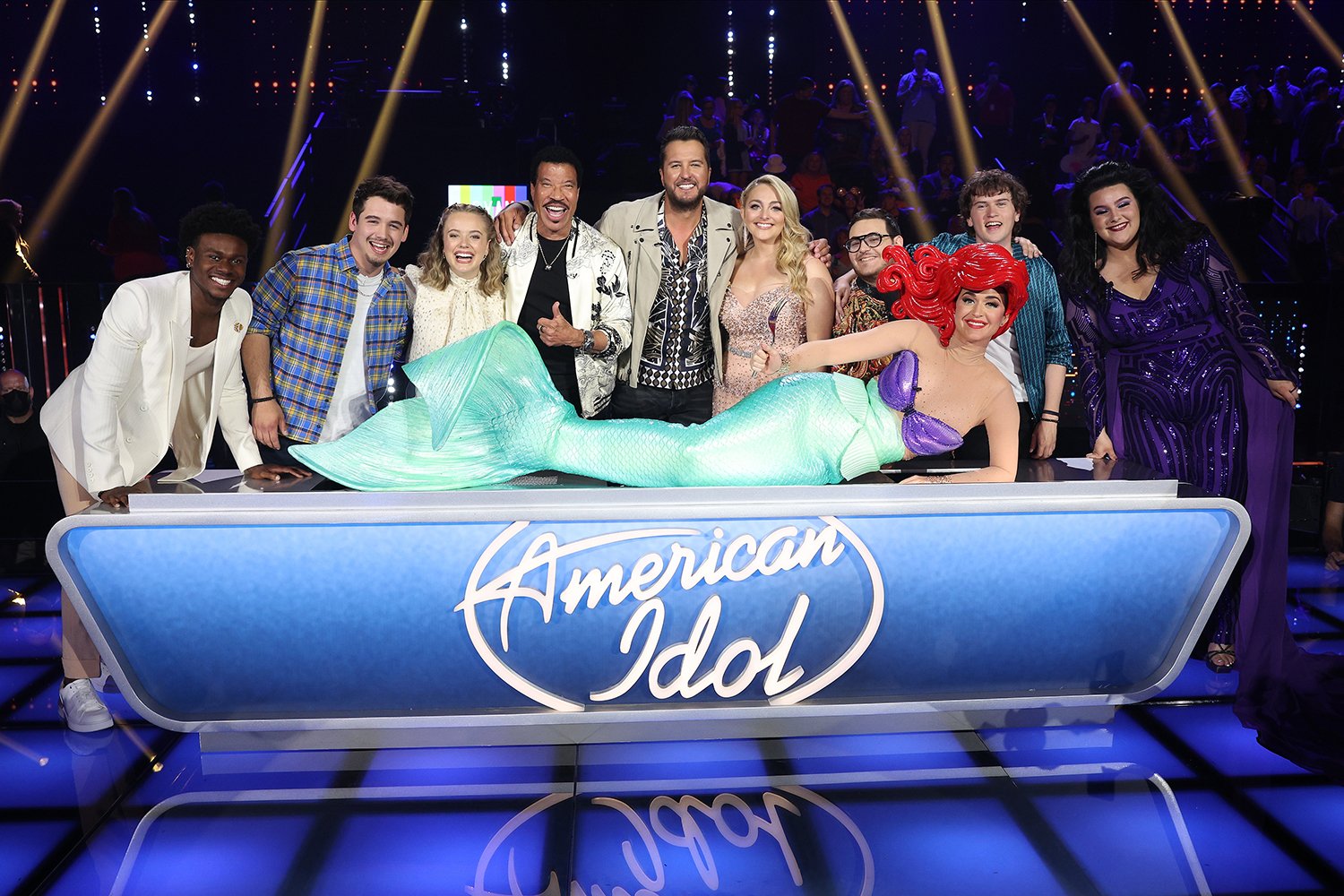 'American Idol' hosted its annual Disney Night on Sunday, May 1
The latest episode of American Idol Season 20 brought its Top 10 contestants to Disneyland. After celebrating at the park with their families, the contestants gathered on stage for a night of Disney covers. Then, at the end of the episode, America's votes were tallied to reveal the Top 7.
In celebration of the fun evening, Perry transformed herself into a mermaid. She rocked a stiff red hat made to look like Ariel's hair blowing in the breeze, as well as a nude, sequined top with a purple shell bra. Over her legs, Perry wore a green mermaid tail — and it apparently wasn't easy to maneuver.
Fellow American Idol judges Luke Bryan and Lionel Richie helped Perry make her grand entrance by wheeling her in on a dolly. No one could hold in their laughter as Richie, Bryan, and host Ryan Seacrest brought Perry to the judges' table and placed her in her seat. Of course, she couldn't quite sit upright in her chair, so she had to rest her tail on the table. And that's where things went wrong.
Katy Perry shared a behind-the-scenes look at her complex Ariel outfit on 'American Idol' and made fun of her fall
Just a few moments after the judges took their seats, a loud crash interrupted Seacrest's introduction. The camera panned over to the judges' table, where Perry had fallen backward in her chair. Thankfully, she was perfectly fine, and all smiles as her co-stars helped her back up. When Perry returned to her seat, the audience chanted her name.
"To hell with mermaids!" Bryan joked.
Perry herself found humor in the incident. After the show, she took to Instagram to share the footage of her fall.
"Flippin' your fins, you don't get too far," she joked in the caption.
In another post, Katy Perry shared some behind-the-scenes photos of the American Idol crew helping her put on her Ariel outfit. It took five people to slip the tail onto her legs. She also included some videos and photos with Bryan and Richie — in one shot, Bryan held Perry in his arms, while another clip showed Perry getting into character as Ariel. The pop star even dressed up her dog, Nugget, as Ariel's best friend, Flounder the fish.
"Some BTS of a lil Sunday sushi," she wrote.
Katy Perry has gone all-out for Disney Night every year since she became an 'American Idol' judge
Sunday night marked Perry's fifth time dressing up for American Idol's Disney Night. Her previous looks included Snow White, Tinker Bell, Mrs. Dumbo, and even Ursula. And with this year's costume, Perry kept her 1-year-old daughter, Daisy — whom she shares with husband Orlando Bloom — in mind.
"She has no idea I'm in this, and she just started watching The Little Mermaid," Perry told Entertainment Tonight after the show. "I have started her on the Disney classics, like even the old, old stuff, like Snow White, and then The Little Mermaid, and she really likes them. We've watched all of those."
American Idol airs on Sundays and Mondays at 8 p.m. ET on ABC. Stay tuned to Showbiz Cheat Sheet for more updates.