'American Idol': Noah Thompson Reveals He Had Intense Throat Pain During His 'Best Performance Ever'
American Idol judges Lionel Richie, Katy Perry, and Luke Bryan were completely blown away by Noah Thompson's performances on Sunday, May 8's episode. For Noah, though, the experience was quite painful. In a recent interview, the singer opened up about testing positive for COVID-19, revealing that his throat wasn't in the best shape. Still, the show had to go on. Here's what Noah said.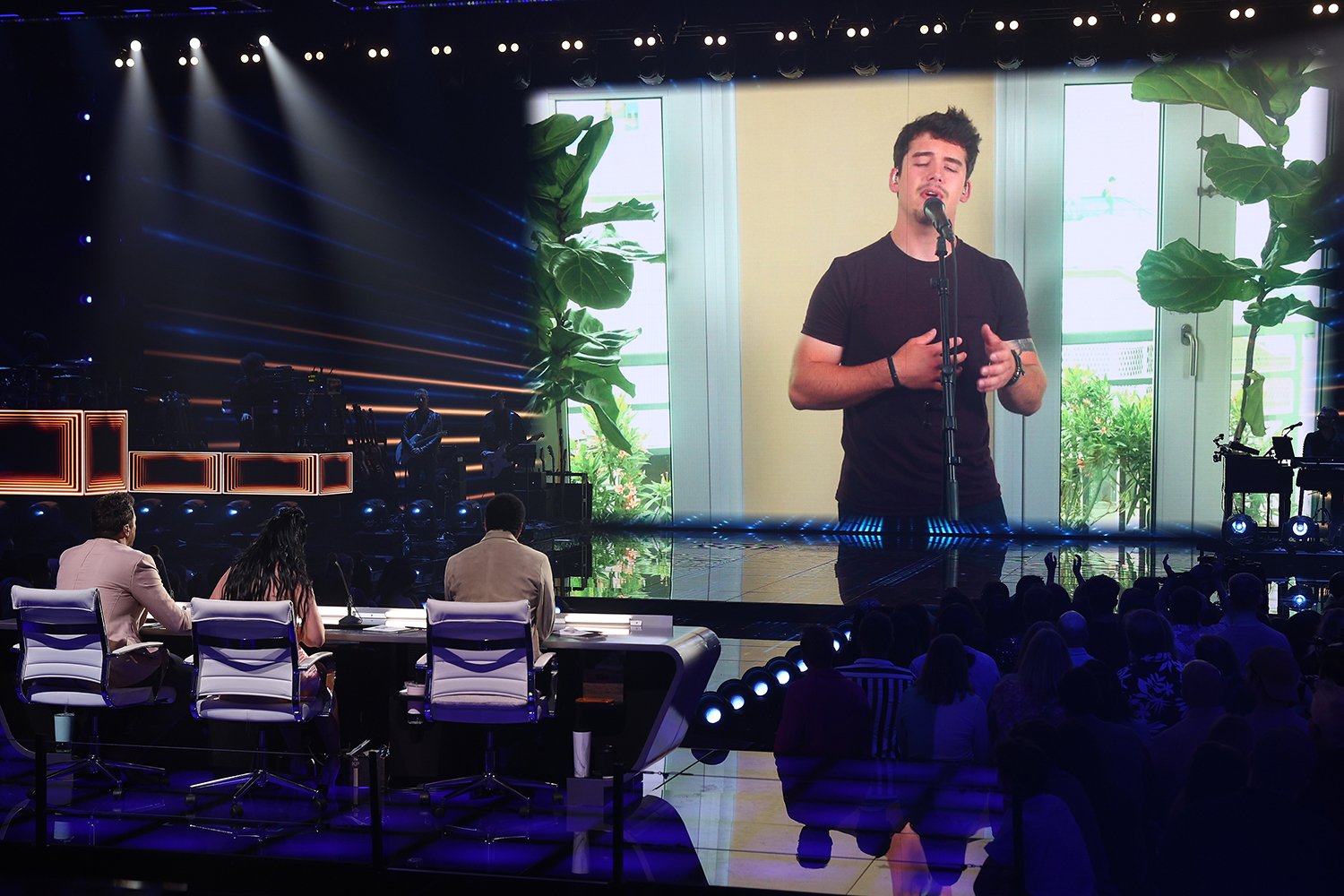 Noah Thompson and Fritz Hager tested positive for COVID-19 ahead of 'American Idol' on Sunday, May 8
At the beginning of Sunday's episode, American Idol host Ryan Seacrest announced that Noah and Fritz Hager had both tested positive for COVID-19. However, they still planned to safely perform along with the rest of the Top 7 contestants. In Fritz's case, that meant airing rehearsal footage from before he received his test result. Meanwhile, Noah sang remotely from his hotel room.
The night had two themes — TikTok and Mother's Day dedications — so each artist chose two songs to perform. Noah first sang Sunday Best's "Painted Blue," accompanied by his guitar, and later performed Fleetwood Mac's "Landslide." His voice sounded slightly raspier because of his sickness, but the judges seemed to love that. They even said Noah delivered his best performances of the season.
"I think adrenaline took over, Noah, and I think you had to surrender and just be like, 'I'm just gonna do the best I can.' And you did the best that you have ever done tonight," Katy said.
Luke asked how Noah felt, and the 19-year-old performer remained positive.
"It sucks," he said. "I'm getting through it, though."
Noah Thompson admitted his throat was 'killing' him during his Top 7 performances
After the show, Noah shared how he really felt during his performances. Speaking to People, the Kentucky native revealed he woke up Sunday morning with the worst sore throat he had ever experienced.
"It was killing me," Noah explained. "I was just trying to push through it. I honestly can't believe I made it through because it was hurting that bad. I was having such problems with it. I'm just glad it worked out."
Frtiz, who sang two original songs, "Ocean" and "All My Friends," wasn't symptom-free during his performances, either. He revealed that his throat became sore during rehearsals, which made him extremely nervous.
"They filmed my rehearsals from before I got my positive result back, and my throat was already getting kind of weird at that point," the former security guard said. "There's something about being in that studio with that crowd that really just elevates performances. And I was really, really nervous. Going up against the other contestants who are in the room … it's so daunting to have my fate sealed for me yesterday, and then just waiting to see how it plays out."
Lionel Richie said situations like these prepare the 'American Idol' contestants for a career in music
As uncomfortable as Noah and Fritz might have felt, their performances served as an impromptu glimpse of life in a music career, Lionel Richie said. The 72-year-old soul singer told People that Noah and Fritz proved they could survive.
"There's 50,000 people in a concert. Your throat's hurting. You have a cold like you've never experienced before. And you go, 'You're on.' We've done that so many times," Lionel said. "In other words, they're gonna be sick and tired and worn out every time for the rest of their careers. But they have a career. We're not building just singers with this. This is special forces."
American Idol fans can see both Noah Thompson and Fritz Hager perform with the Top 5 — provided they're in good health — next Sunday, May 15, at 8 p.m. ET on ABC. Stay tuned to Showbiz Cheat Sheet for more updates.