'American Idol': Samantha Diaz Explains 'Just Sam' Nickname
Samantha "Just Sam" Diaz is one of the Top 20 on Season 3 of American Idol. Find out where the nickname "Just Sam" came from.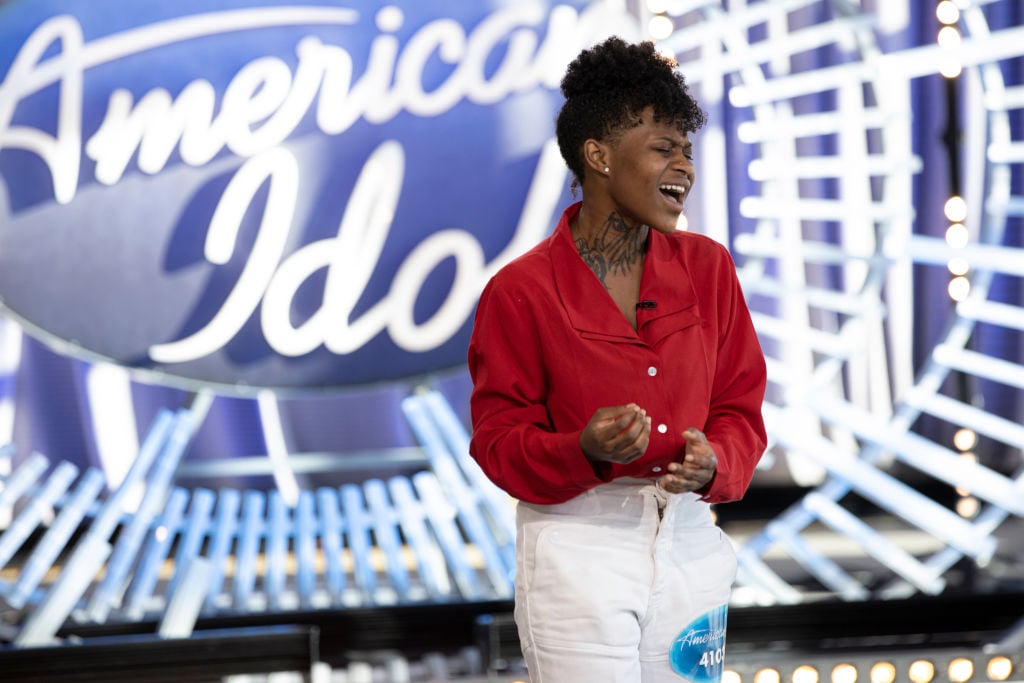 Samantha 'Just Sam' Diaz wowed the judges
The 21-year-old singer from Harlem, New York, swept American Idol judges Katy Perry, Lionel Richie, and Luke Bryan off their feet in her initial audition. During Hollywood week, "Just Sam" walked on stage with poise and grace toting her "lucky box." A subway performer, Diaz placed the box in front of her while she sang "to make her feel comfortable — like [she was] on the train." 
In Hawaii, Diaz once again floored the judges with her performance of Selena Quintanilla's 1992 hit "Como La Flor." Mentor Bobby Bones questioned Diaz on her decision, asking: "You know it's a risk singing a song in a language you don't know fluently. Is that risk worth it to you?"
"Oh yes," Diaz said, adding: "I trust myself and my ability. I trust that I will impress the judges." Her decision paid off. "I was using the word 'metamorphosis,'" Perry told Diaz during her final judgment. After finding out she made it to the Top 20, Diaz called her beloved grandmother to tell her the good news. "I feel so happy, I cannot put that in words," said Grandma.
Where the nickname 'Just Sam' originated 
Because of the restrictions the coronavirus (COVID-19) has placed on large gatherings, the live portion of American Idol was put on hold. As such, producers had a few time slots to fill. Fans were given two two-hour specials, American Idol: This is Me, that showcased footage from behind the scenes of each contestant's journey. 
During her portion of the special, Diaz explained how her nickname came to be.
I go by Just Sam…Just Sam. Growing up, I was kind of a tomboy. I would switch up my style a lot. In high school, they didn't know which category to put me in. I wasn't a girl, not a boy, but both. And I'm like 'Just Sam.' You can't tell them anything else. It sounds perfect, I think I'm going to use that as my stage name forever.

American Idol: This Is Me
Diaz is so much more than a singer. Her message is inspiring and serves as a symbol of strength for her fans to always take ownership of who they are as individuals. "How come every time Just Sam comes on the screen I start bawling??? You are WORTHY & I LOVE YOU" a fan wrote on Twitter. 
"Just Sam" seems to have acquired a following, so expect to see her go much farther than the Top 20 this season.
'Just Sam' will be performing from home
American Idol has faced many challenges this season. Beginning April 26, contestants will be performing live from their homes while the judges watch from remote locations. Ryan Seacrest will continue to host the show, albeit from home, as the Top 20 contestants perform for America's vote. 
"There was never a conversation about completely scrapping this season with ABC," American Idol's executive producer Trish Kinane told Billboard. She explained the process of how the live shows will be run from 45 different remote locations: "The 20 contestants [will perform] remotely from their homes."
After the Top 20 become the Top 10, fans will notice even more changes in the show. "[When] the 20 will become 10, it breathes a little bit where we will have the story packages. But the story packages will be a little different: where they are, how they're coping. We have no option but to embrace where we are, and that's the story of American Idol this season."
Tune in to American Idol beginning April 26 for live performances directly from the homes of "Just Sam" and the rest of the Top 20.