'American Song Contest': Meet Each Contestant Representing Your State or Territory
Here are all the singer-songwriters competing on 'American Song Contest.'
Hosted by award-winning singer Kelly Clarkson and Grammy-nominated rapper Snoop Dogg, the reality TV singing competition American Song Contest features musicians from every U.S. state and territory, facing off with original songs for the grand prize. Meet every contestant representing your region.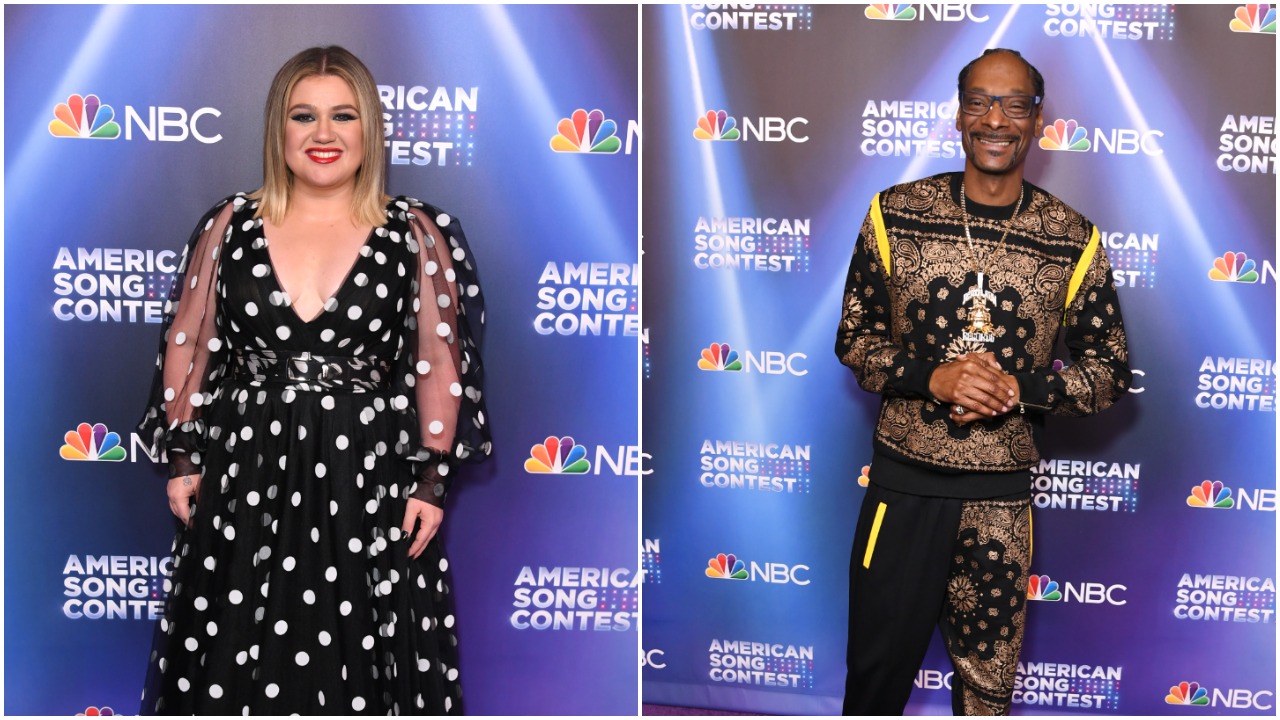 Alabama – Ni/Co
The LA-based pop duo consists of Dani and Colton, the latter of whom previously competed on NBC acapella competition show, The Sing-Off. Their music has appeared in several Spotify playlists and multiple television and ad campaigns.
Alaska – Jewel Kilcher
The four-time Grammy nominee has sold over 30 million records. Her debut album Pieces of You (1995) became one of the best-selling debut albums in history, certifying 12-times Platinum.
American Samoa – Tenelle
Described as a reggae, r&b, and pop singer, Tenelle's debut album, For the Lovers (2017), peaked at number one on the Billboard Reggae Albums chart.
Arizona – Las Marías
The regional twin duo, Maria Teresa and Maria Isabel Eguino, are based in Nogales, Arizona. They have nearly 40,000 monthly Spotify listeners.
Arkansas – Kelsey Lamb
Country singer Kelsey Lamb has had a few singles hit 1 million streams and has ventured into acting. She previously announced she would perform an original song, "Never Like This," during her debut performance on the American Song Contest.
California – Sweet Taboo
Jen, Sami, and rapper ICP Bre make up the LA-based Latina group Sweet Taboo. They have accumulated millions of views on TikTok, and hit musicians including DJ Khaled, Kehlani, and Russ have shared their videos on Instagram.
Colorado – Riker Lynch
The Colorado-native previously appeared on musical comedy-drama Glee as Jeff of the Dalton Academy Warblers. He also finished runner-up on season 20 of Dancing with the Stars. Riker Lynch is currently the lead singer and bassist in the pop-rock band, R5.
Connecticut – Michael Bolton
Singing, "Beautiful World," the musician previously made a name in the '70s and '80s in the hard rock and heavy metal genres. He then became known for his trademark pop-rock ballads, selling more than 75 million records. Michael Bolton has recorded eight top 10 albums won six American Music Awards and two Grammys.
Delaware – Nitro Nitra
The Delaware-based astral-pop and soul-rock singer recently had a spiritual awakening in 2019 and has since felt compelled to share her music.
Florida – Ale Zabala
Based out of South Florida, Ale Zabala is a Latin pop singer.
Georgia – Stela Cole
The Georgia native is described as having doo-wop harmonies and Kanye West hip-hop as their source of influence.
Guam – Jason J.
Artist Jason J. predominantly makes alternative and reggae music.
Hawaii – Bronson Varde
The Hawaii native is a singer inspired by island reggae music, "Jawaiian," and previously appeared in the movie American Song.
Idaho – Andrew Sheppard
The Idaho-native is described as a country-infused singer/songwriter.
Illinois – Justin Jesso
Justin Jesso previously co-wrote and served as a featured artist on Kygo's "Stargazing," which reached over 170 million streams. He has also written for singers including The Backstreet Boys and AJ Mitchell and earned a Latin Grammy nomination for his work on Ricky Martin's 2016 song, "Vente Pa'Ca."
Indiana – Ug Skywalkin
The Indiana-based rapper is scheduled to perform his track, "Love In My City," during his debut performance.
Iowa – Alisabeth Von Presley
Described as having pop lyrics with rock melodies, the Iowa-native performed the original song, "Wonder," for her opening performance.
Kansas – Broderick Jones
Scheduled to sing, "Tell Me," the Kansas-based singer's hit "FaceTime" has reached over 200,000 plays on Spotify.
Kentucky – Jordan Smith
Jordan Smith won NBC's singing competition, The Voice Season 9 (2015), under Coach Gwen Stefani. The singer has since become the highest-selling artist to compete on the series.
Louisiana – Brittany Pftanz
The Louisiana-based indie-alternative soulful singer recently worked with a Grammy-winning producer for her upcoming EP.
Maine – King Kyote
Singing "Get Out Alive" for his opening performance, the singer admitted he didn't submit an audition tape for American Song Contest as the producers reached out to him.
Maryland – Sisqó
The singer is mainly known for the hit "Thong Song" and time as lead singer for Dru Hill. His debut album earned him multiple American Music Award and Grammy nominations.
Massachusetts – Jared Lee
Also a platinum producer, singer Jared Lee has written for many artists, including Jason Derulo, Jordin Sparks, and fellow competitor Michael Bolton. His song, "Beautiful World," has appeared on American Idol.
Michigan – Ada LeAnn
The Michigan-based country singer/songwriter performed "Natalie" for her opening performance.
Minnesota – Yam Haus
Singing "Ready To Go" for their debut performance, Yam Haus is a pop band consisting of friends vocalist Lars Pruitt, guitarist Seth Blum, drummer Jake Felstow, and bassist Zach Beinlich. The group has played alongside singers including Adam Lambert and Tori Kelly.
Mississippi – Keyone Starr
The Mississippi Blues artist is singing "Fire" for her opening act and previously worked on Mark Ronson and Bruno Mars's "Uptown Funk," which earned her a Grammy nomination.
Missouri – Brett Seper
Brett Seper, a Missouri-based pop singer, is singing "Can't Stay Away" for the first performance.
Montana – Jonah Prill
The Montana-based country singer's music also includes a bit of rock.
Nebraska – Jocelyn
Based out of Nebraska, songwriter Jocelyn has written for rapper Nelly and singer Jason Reeves.
Nevada – The Crystal Method
The electronic music act consisted of Scott Kirkland and Ken Jordan, with the latter retiring in 2017. They are considered pioneers of the big beat genre.
New Hampshire – MARi
Singing "Fly" for their debut performance, New Hampshire-based singer MARi is a Christian musician and pianist.
New Jersey – Brooke Alexx
Based out of New Jersey, the pop singer has gained fame on TikTok and previously performed at Lollapalooza.
New Mexico – Khalisol
Producer and artist Khalisol is based out of New Mexico.
New York – ENISA
Signed artist, ENISA, is also a model.
North Carolina – Country Anger
The North Carolina-based musician is signed to country superstar Jason Aldean's label, Night Train Records.
North Dakota – Chloe Fredericks
Pop singer Chloe Fredericks is based out of North Dakota and described as having old country music as her influence.
Northern Mariana Islands – Sabyu
Sabyu is a singer-songwriter based out of Saipan and resides in Seattle, Washington.
Ohio – Macy Gray
The famous r&b soul singer-songwriter Macy Gray is recognized for her differentiating raspy tone. She has received several Grammy nominations, winning one.
Oklahoma – AleXa
Singing "Wonderland," AleXa is a K-pop artist based in Oklahoma. She previously competed in reality shows Rising Legends and Produce 48.
Oregon – courtship.
The electronic indie-pop duo consists of Micah Gordon and Eli Hirsch, and they plan to sing "Million Dollar Smoothies" for their opening performance.
Pennsylvania – Bri Steves
Celebrated rapper Kendrick Lamar brought Pennsylvania-based artist Bri Steves on stage during the Made in America festival, and she played her first single, "Jealousy."
Puerto Rico – Christian Pagán
The Puerto Rican singer, recognized for his Latin pop songs and ballads, previously won the Puerto Rico spinoff of American Idol. 
Rhode Island – Hueston
Formerly the frontman of the indie duo, The Blancos, singer-songwriter and producer Hueston will perform "Held On Too Long" for the first performance.
South Carolina – Jesse Leprotti
The r&b singer has opened for multiple rappers on tour, including Waka Flocka, Young Thug, and 21 Savage.
South Dakota – Judd Hoos
The South Dakota-based rock band features vocalist Tyler Bills, drummer Shane Funk, bassist Chris Hornick, and guitarist Andy Young who will sing "Bad Girl" for their debut performance.
Tennessee – Tyler Braden
Country singer Tyler Braden has accumulated over 85 million streams on Spotify. He is set to sing "Seventeen" for his first performance.
Texas – Grant Knoche
Formerly a member of Kidz Bop Kids, singer Grant Knoche also portrayed Liam in the Nickelodeon series, "Nicky, Ricky, Dicky & Dawn." 
United States Virgin Islands – Cruz Rock
The Latin-based singer-songwriter and producer is described as infusing Caribbean, Latin, and American styles into his music.
Utah – Savannah Keyes
The singer-songwriter Savannah Keyes previously appeared on Street of Dreams with CEO and entrepreneur Marcus Lemonis.
Vermont – Josh Panda
The local pop singer has performed in Vermont-based music festivals.
Virginia – Almira Zaky
Indonesian r&b singer-songwriter Almira Zaky is inspired by millennial music.
Washington – Allen Stone
Singing "A Little Bit of Both" for his first performance, the soulful r&b singer has released five albums.
Washington DC – NËITHER
The musician has written songs for artists including Ty Dolla $ign and sung backup for Childish Gambino.
West Virginia – Alexis Cunningham
The alternative and indie singer got her start on YouTube, eventually signing to a record label at the age of 19.
Wisconsin – Jake'o
The vocalist and entertainer Jake'o is credited as an originator of the Nuvo-retro sound as he's described as infusing rock, pop, and r&b into his music.
Wyoming – Ryan Charles
The hip-hop country-infused artist is scheduled to sing "New Boot Goofin" for his first performance.
American Song Contest airs on NBC.