'America's Got Talent': Ellen Degeneres Discovered the Cline Twins Before 'AGT' Season 17
The Cline Twins auditioned in America's Got Talent (AGT) Season 17 Episode 4. However, this wasn't the first time they appeared on an NBC TV show. Ellen Degeneres discovered the twins in her audience on The Ellen Degeneres Show in 2019 and invited them on stage to perform their hockey stick tricks act. Many of the acts auditioning this season on AGT previously had moments in the spotlight, like Madison Taylor Beaz who was in a Netflix series already. The Cline Twins had a few minutes on The Ellen Show before their audition on AGT.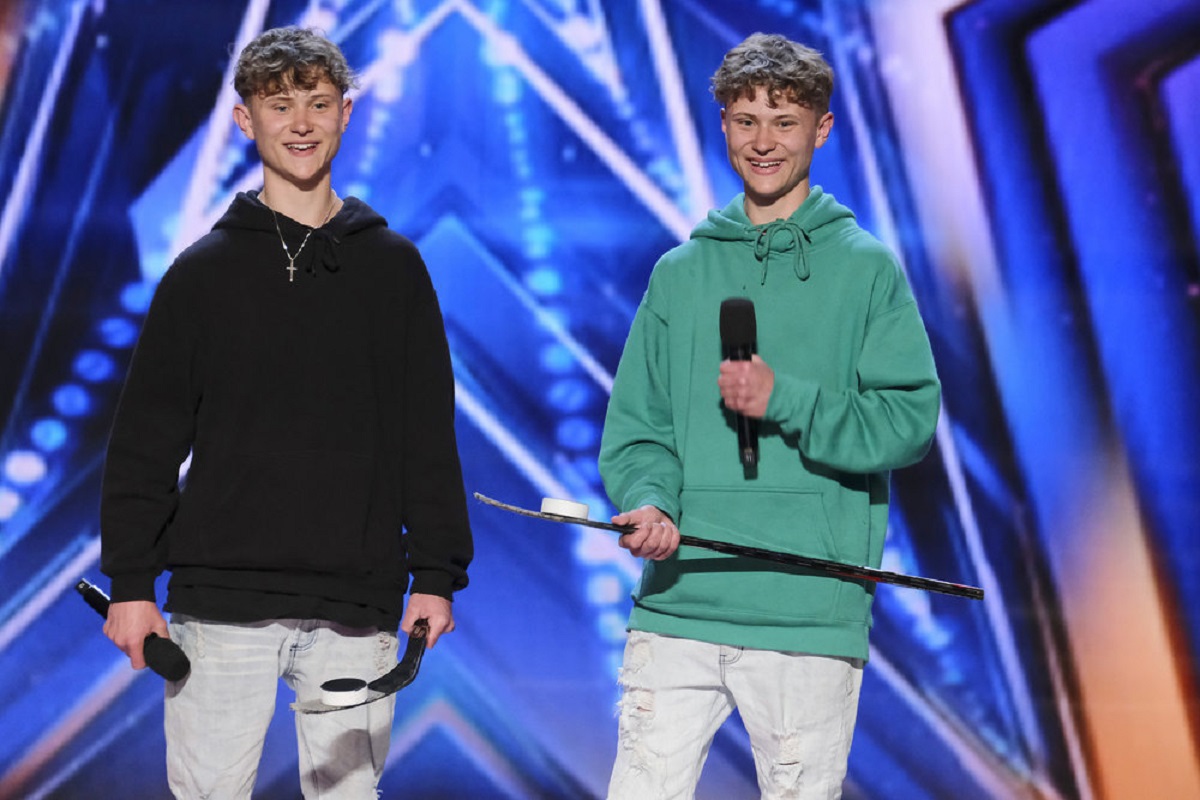 The Cline Twins appeared on 'The Ellen Degeneres Show' before 'AGT' Season 17
A recurring theme on The Ellen Degeneres Show is when Ellen invites audience members to come up to show off their hidden talents. On July 9, 2019, Ellen called the Cline Twins from the audience to perform. Connor and Carson Cline told the host they are from Waterloo, Ontario, Canada. They were 13 years old then; the Cline Twins are 16 years old on AGT Season 17.
The boys tossed a hockey puck up in the air and caught it multiple times while turning and flipping it under their legs. They performed to Vanilla Ice's "Ice, Ice Baby."
RELATED: 'AGT': Fans Predict Season 17 Winner Comes From Auditions Episode 4 and Here's Why They Could Be Right
"That was amazing," Ellen exclaimed after the twins finished their act. "That was really impressive."
The Cline Twins joined the show on the same day, Lyla Tater performed animal impressions, and Asia Ray swallowed swords. Lastly, Arnetta Lawrence carries items for her friends in her shirt. Ellen gave each talent act that day a 65-inch TCL Roku TV. Although it's not evident which of the talents sent the YouTube video viral, with over 11 million views, Showbiz Cheat Sheet believes it was the hockey tricks. However, we could use a friend like Lawrence on our next night out on the town.
'AGT' Season 17 Cline Twins have over 60,000 followers on TikTok
The Ellen Degeneres Show isn't the only way the Cline Twins gained popularity before auditioning for AGT Season 17. As of June 21, 2022, the Cline Twins have over 60,000 followers on TikTok. The pair gained that large amount of followers in under one year. They shared their first TikTok video on the platform on Aug. 17, 2021.
Before joining TikTok, the Cline Twins began sharing their hockey stick skills on Instagram in 2015.
RELATED: 'AGT' Season 17: Fans Slam JoJo Siwa's Girl Group, XOMG POP! — 'They Are Already Famous'
The Cline Twins also have a merchandise line featuring a hoodie, "Be Different. Be Determined."
'AGT' Rubik's cube pro Ethan Jan has over 410,000 followers on TikTok
Another act auditioning in AGT Season 17 Episode 4 is Ethan Jan, who specializes in solving Rubik's cubes in record time. He also appeared in the Fox series, Game of Talents Season 1 Episode 7.
Jan holds the Guinness World Record for solving a Rubik's cube upside down in under nine seconds. He solved it in 8.91 seconds while hanging upside down and shared the video with his followers.
Watch the Cline Twins, Ethan Jan, and their incredible talents in America's Got Talent Season 17 Episode 4 on NBC.
RELATED: 'America's Got Talent' Season 17: Here's Where You've Seen Funkanometry Before the Auditions