'America's Got Talent': Lily Meola Has Already Teamed Up With Legends Like Willie Nelson and More
America's Got Talent Season 17 found its next Golden Buzzer winner — Lily Meola, a singer-songwriter from Hawaii. Meola wowed the judges with a beautiful original song called "Daydream." And while many viewers heard the singer's voice for the first time at her audition, fans of Willie Nelson might have thought she sounded familiar. That's because, long before she tried her luck on AGT, Meola and Nelson teamed up for a duet.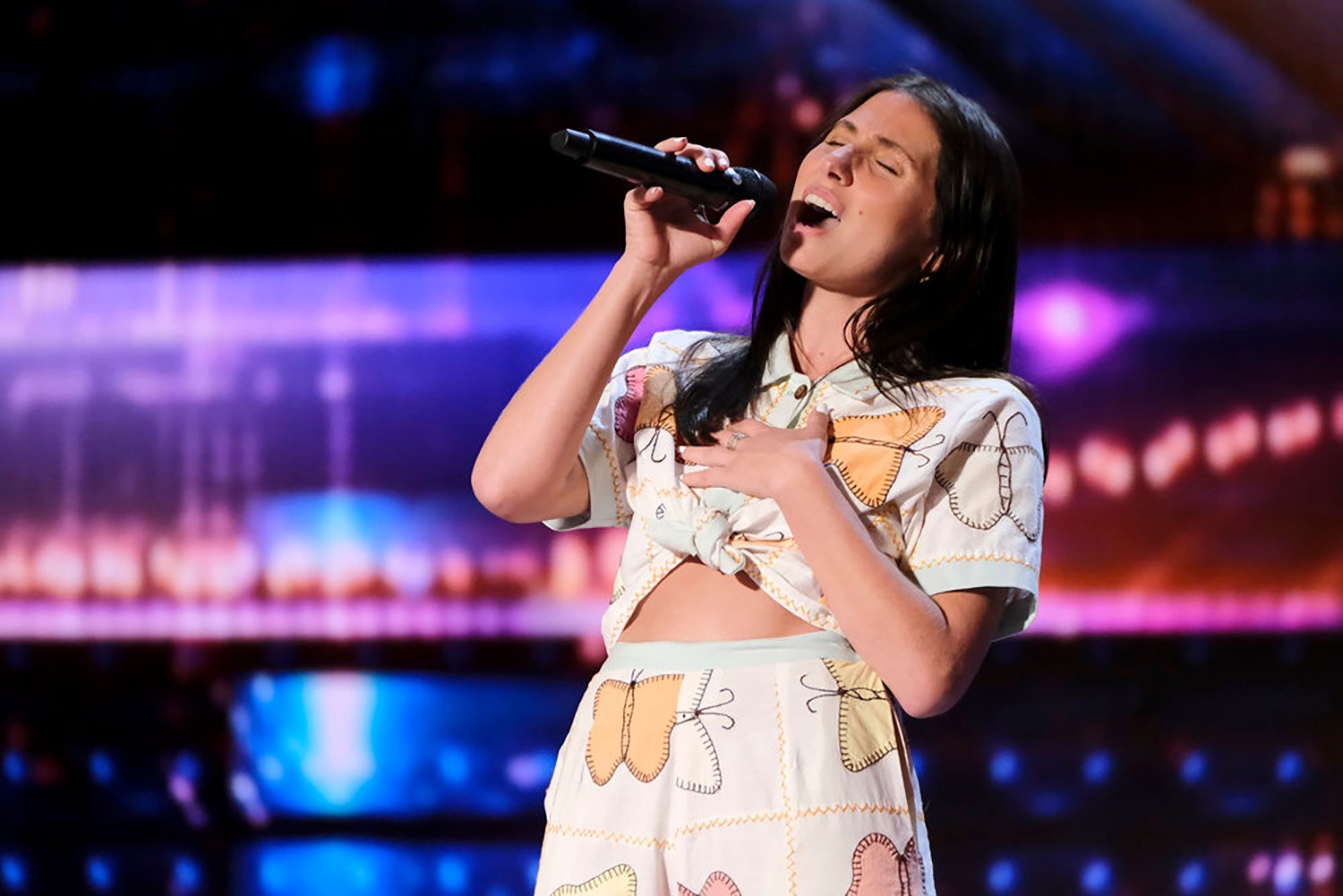 Lily Meola earned Heidi Klum's Golden Buzzer with an original song on 'America's Got Talent'
Meola walked onto the AGT stage wearing a butterfly-patterned outfit, which held special meaning for her. She told the judges that she wrote "Daydream" a few years ago when "things were really beautiful" in her life — she had a record label and a publishing deal and "butterflies [she] was hatching."
However, her life "flipped upside down" when Meola's mother received a cancer diagnosis. She lost her deals as she became a full-time caretaker for her mother, who has since died. Meola became emotional as she talked about losing her mom but said she wanted to push through the audition and make her proud.
After Meola's touching performance, judge Heidi Klum told the singer she was "speechless." Klum told Meola she "fell in love" with her voice right away. And though Klum didn't intend to push her Golden Buzzer for a singer this season, she couldn't resist giving Meola the honor.
"After hearing Lily's story about her mom passing and her struggle with it, my heart was already melted," Klum told People. "And then she sang, and my gut told me, 'She is yours.'"
Lily Meola recorded a duet with Willie Nelson in 2013
As Meola revealed to Wasserman Music, she fell in love with music in her childhood. She grew up performing in front of others and landed a weekly gig at a cafe by the time she entered middle school. Her family had been close friends with Annie D'Angelo, who sometimes went with her husband, Willie Nelson, to see Meola perform. When Meola was 20 years old, Nelson saw her perform Patsy Cline's "Crazy," and he was so impressed that he asked her to record with him.
"After the show, Willie handed me a napkin with a few song titles written on it and said, 'Would you like to record any of these?'" Meola recalled. "He asked me if I wanted to be on his duet album. I was like, 'Hell, yes.'"
Meola went on to record "Will You Remember Mine" with Nelson. The song appeared on Nelson's 2013 album, To All The Girls … Additionally, she has performed alongside Nelson every year at his Farm Aid concert and toured with him.
"Willie is the most genuinely nice human on the planet, and he works harder than anyone I know," Meola said.
Willie Nelson wasn't the only famous musician in Meola's life. She went on to collaborate with other artists, including Steven Tyler, Sammy Hagar, and more. She also received songwriting tips from Jackson Browne.
In addition to her collaborations with other artists, Meola has done solo work. She released "Daydream" as part of a five-song EP earlier this year.
Lily Meola said she's excited to share more original music on 'America's Got Talent'
With her Golden Buzzer win, Meola is moving on to America's Got Talent Season 17's live shows. She told People that she wants to "stick to originals" for her future performances.
"The show is a talent show, and I love to sing. Singing's what I've been doing my whole life and writing is a little bit newer to me," she said. "But [being a] singer-songwriter is my talent so I'm gonna stick to the originals. I know that can be hard for some people to hear, just 'cause it's fresh. It might be a disadvantage, it might be an advantage, we'll see!"
Fans can see Lily Meola perform in the live shows on America's Got Talent, which airs on Tuesdays at 8 p.m. ET on NBC.
RELATED: Willie Nelson: 10 Tips to Live Life 'The Willie Way'