'America's Got Talent': Madison Taylor Baez Sang and Acted in a Netflix Series Before Her Audition for Season 17
In America's Got Talent Season 17, Madison "Maddie" Taylor Baez shocked the judges from the audience. Before the NBC show, host Terry Crews stuck the 11-year-old singer in the crowd to see if the judges might notice her. Simon Cowell, Howie Mandel, Heidi Klum, and Sofia Vergara brought her up on stage straight from the audience. Then, Howie Mandel pressed the golden buzzer, sending her straight to the live show round. Below, see a video of Madison Taylor Baez singing in a Netflix series before her AGT Season 17 reality TV competition audition.
Madison Taylor Baez was on Netflix before auditioning for 'America's Got Talent' Season 17
In America's Got Talent Season 17 Episode 2, Howie Mandel sent Madison Taylor Baez straight to the live show. Maddie is an 11-year-old singer and actor. She starred in Netflix's Selena: The Series as Young Selena Quintanilla.
Baez plays eight-year-old Selena singing with her father, Abraham, in their kitchen in the Netflix clip. He plays the guitar while she sings "Feelings."
RELATED: 'AGT' Season 17: Simon Cowell Shared His True Feelings on Twitter About That Daniel Emmet Deepfake
In a behind-the-scenes clip, executive producer and director Hiromi Kamata coaches Baez to sing "without feeling."
"You're such an amazing singer that even though you're trying to sing without emotion, you sing with emotion because that's how good you are," the director tells Baez.
Selena: The Series is currently streaming on Netflix for viewers who want to see more of Baez singing before the live rounds of America's Got Talent Season 17.
Madison Taylor Baez plays six instruments
In an interview when she was 9-years-old, Baez told the story of how she began seeing. At two years old, she began singing at home and took her dad's iTunes account. Her father was diagnosed with stage four colon cancer when she was a toddler. Baez sang to her dad in the hospital. He encouraged her to keep singing, and that's how Madison Taylor Baez became the "anthem girl." The rising Latinx star sang the National Anthem at various major league sporting events. She also appeared in the Fox game show, Game of Talents in 2021.
RELATED: 'America's Got Talent': Daniel Emmet Returns For Season 17, But There's A Strange Twist
"I actually play six instruments," she told E! News. "I play the electric guitar, the piano, the ukulele, and the violin."
She didn't tell the outlet the other two instruments, but Madison Taylor Baez will hopefully reveal those in another episode of America's Got Talent Season 17.
Madison Baez is starring in a vampire series on Showtime, 'Let The Right One In'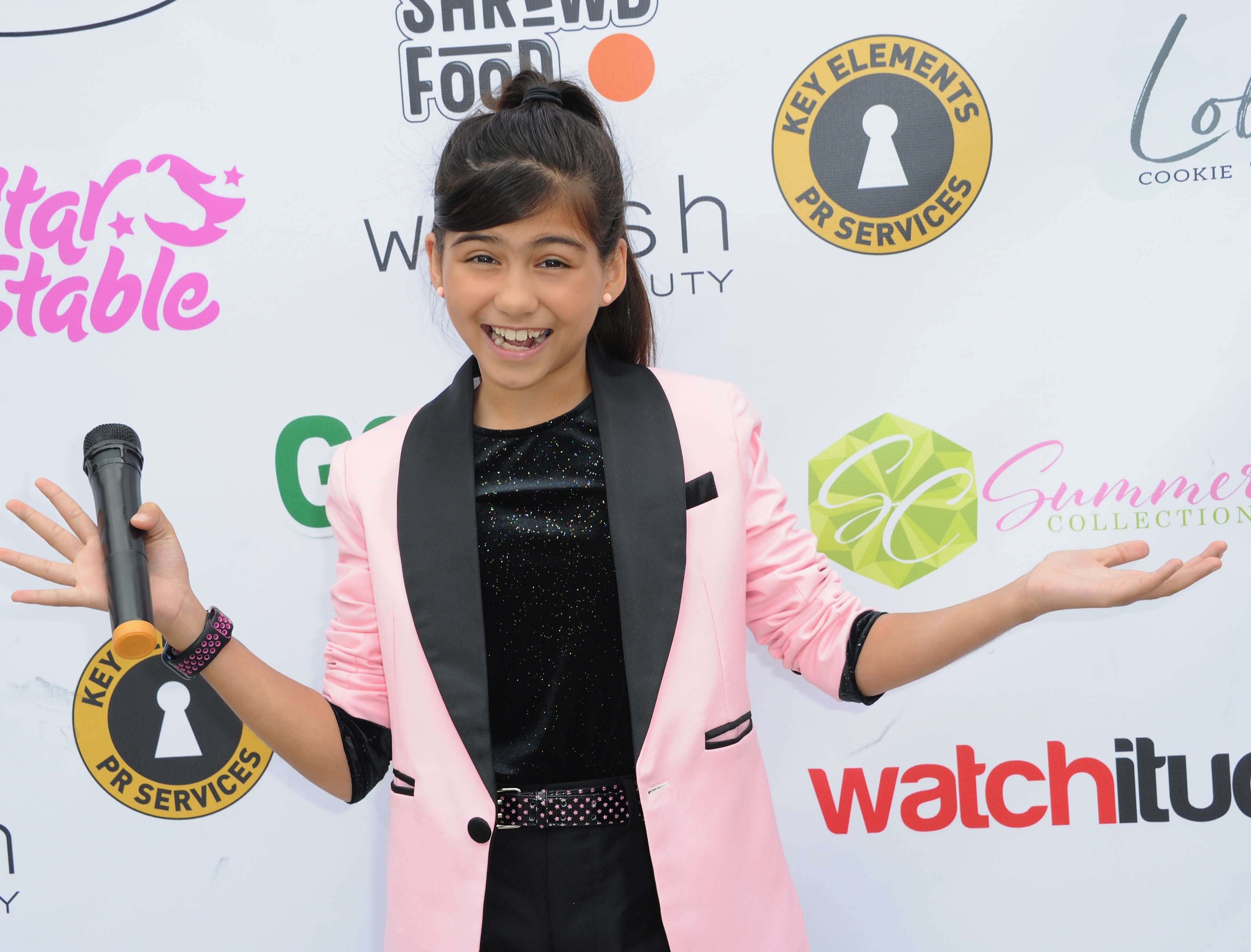 According to her Instagram, Madison Taylor Baez is also starring in a new vampire Showtime series, Let The Right One In. She gave some insight about the show on Twitter.
"I am excited to announce that my pilot for the showtime series Let The Right One In has been picked up and is going to series with 10 episodes in season 1," Baez tweeted. "I am starring as Vampire Eleanor Kane along with Academy Award Nominated Actor Demian Bichir who plays my father."
The series centers around Mark (Bichir) and Eleanor, who was transformed into a vampire at 12. If Madison Taylor Baez doesn't make it far on America's Got Talent, she still has plenty of exposure in the works. 
RELATED: 'America's Got Talent' Season 17: Here's Where You've Seen Funkanometry Before the Auditions