'America's Got Talent' Season 17: 5 Things to Know About the MPLUSPLUS (M++) Dance Crew
In America's Got Talent Season 17 Episode 5 'Auditions,' MPLUSPLUS blows away the judges and audience with their incredible dance and light choreography. The Tokyo dance crew is a highly anticipated act. They will likely go far in NBC's AGT Season 17 competition. Find five things below you need to know about MPLUSPLUS as you watch the reality TV competition. 
'AGT' Season 17: Who is MPLUSPLUS?
The AGT Season 17 contestants in the MPLUSPLUS dance crew specialize in "innovating dance conventions with technology." Their performances incorporate lighting devices and techniques that transform as the dancer moves. In some instances, the lights change colors with beats or movements.
RELATED: 'AGT' Season 17 Episode 5: Everything to Know About Opera Singer Impressionist Merissa Beddows
According to the M++ website, they are "the one and only technology dance crew that blends in-house developed technology with dance." The creative way they combine "state-of-the-art technology" with dance choreography sets them apart from other dance companies.
The meaning behind the name, (M++), in 'AGT' Season 17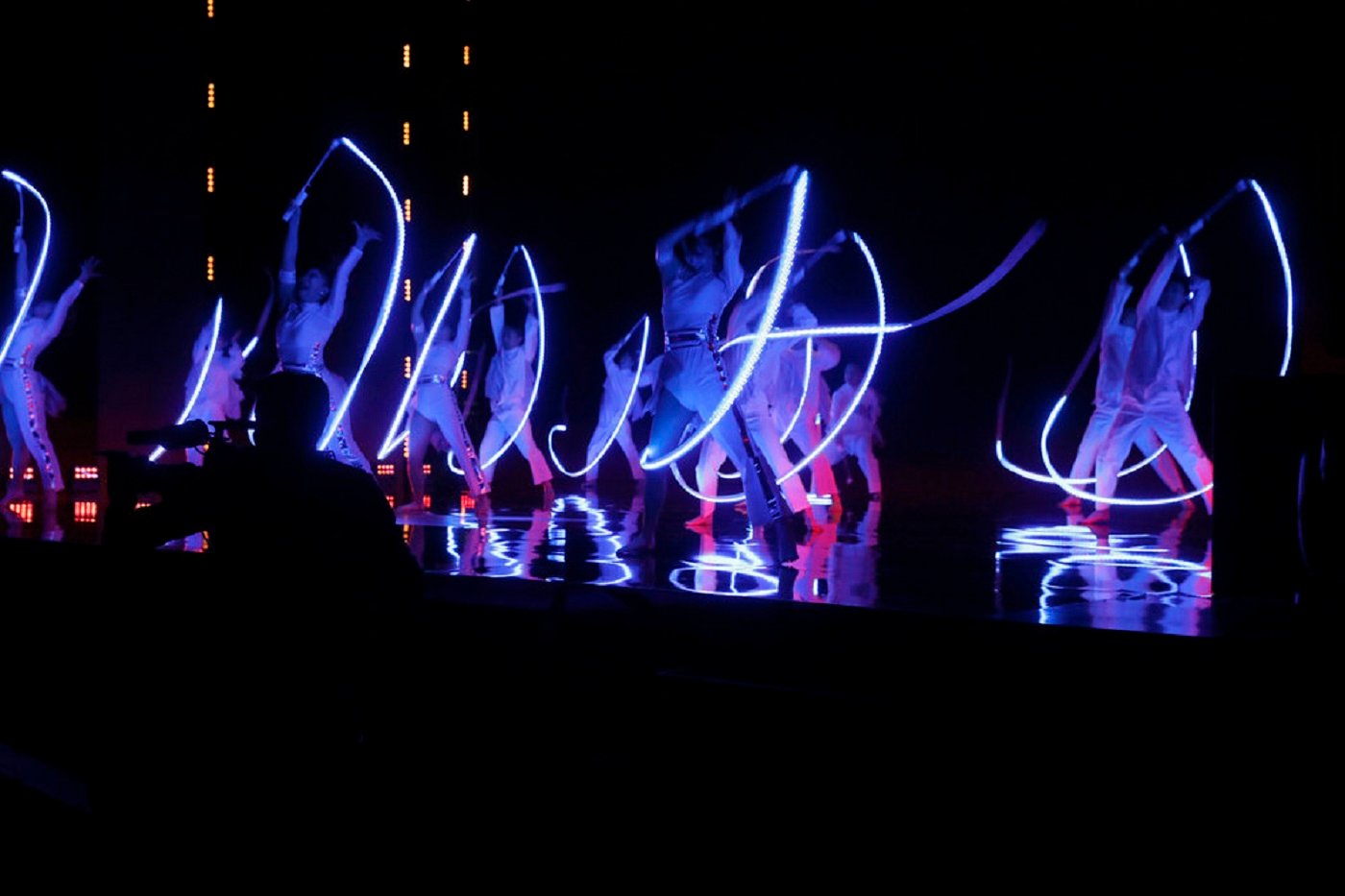 The AGT Season 17 dance crew did not lightly create their name, MPLUSPLUS (M++). They specifically chose the letter "M" to stand for "make." Then, they chose the programming symbol "++," which means "innovation." The dance crew creates and innovates to wow audiences all over the world. The company logo also has a specific meaning. 
"The left side resembles the circuit symbol of electrical resistance, while the right side resembles the circuit symbol of direct current," the M++ website explains. "The meaning behind our logo represents our thought and intentions of 'resisting present-day culture and surpassing common sense,' as well as 'constantly innovating culture.'"
Tokyo lighting choreographer Minoru Fujimoto founded MPLUSPLUS
Minoru Fujimoto founded the company MPLUSPLUS after creating technology he could wear as a dancer. He has an engineering Ph.D. from Kobe University.
"He founded MPLUSPLUS Co., Ltd., a collective of Technology & Creators, to create a new genre of performance based on his own experience and on the perspective of the performer," the Minoru Fujimoto website reads. "His participation in the Tokyo 2020 Paralympic Games opening ceremony as a 'Lighting Choreographer' is still fresh in the world's memories."
MPLUSPLUS dance crew created the original LED vision flag
In addition to America's Got Talent Season 17 LED ribbons that MPLUSPLUS performed with, they have various other LED props. The LED vision flag contains 4600 LEDs mounted on both sides of the flag. The image flows through the flag as it waves and expresses various patterns, words, and pictures. In addition to LED vision flags and ribbons, MPLUSPLUS performs with LED suitcases, LED poles, LED umbrellas, and an LED vision box/book.
M++ did not win another 'Got Talent' competition like other 'AGT' Season 17 performers
Many AGT Season 17 performers have already won a Global Got Talent competition. However, this is the first time that MPLUSPLUS has taken the stage in a Got Talent reality TV show. For instance, Sofia Vergara's golden buzzer winner, The Mayyas, already won Arabs Got Talent. Pole dancer Kristy Sellars already won Australia's Got Talent in 2019.
Watch MPLUSPLUS dance crew on NBC on America's Got Talent Season 17 on Jun 28, 2022, at 8 p.m. ET.
RELATED: 'AGT' Season 17: Magician Nicolas Ribs Already Made It to the Semifinals In Another 'Got Talent' Series in 2019