'AGT' Season 17 Episode 5 Auditions: What We Know About the Contestants
NBC's America's Got Talent Season 17 returns with episode 5 of auditions on Feb. 28, 2022. Magician Nicolas Ribs shocks judges Howie Mendel, Sophia Vergara, Heidi Klum, and Simon Cowell. Meanwhile, Opera singer Merissa Beddows blows away host Terry Crews with her incredible impressions. Take a look at the list of singers, comedians, acrobats, and more who audition in AGT Season 17 Episode 5.
'America's Got Talent' Season 17 Episode 5: MPLUSPLUS Dance Crew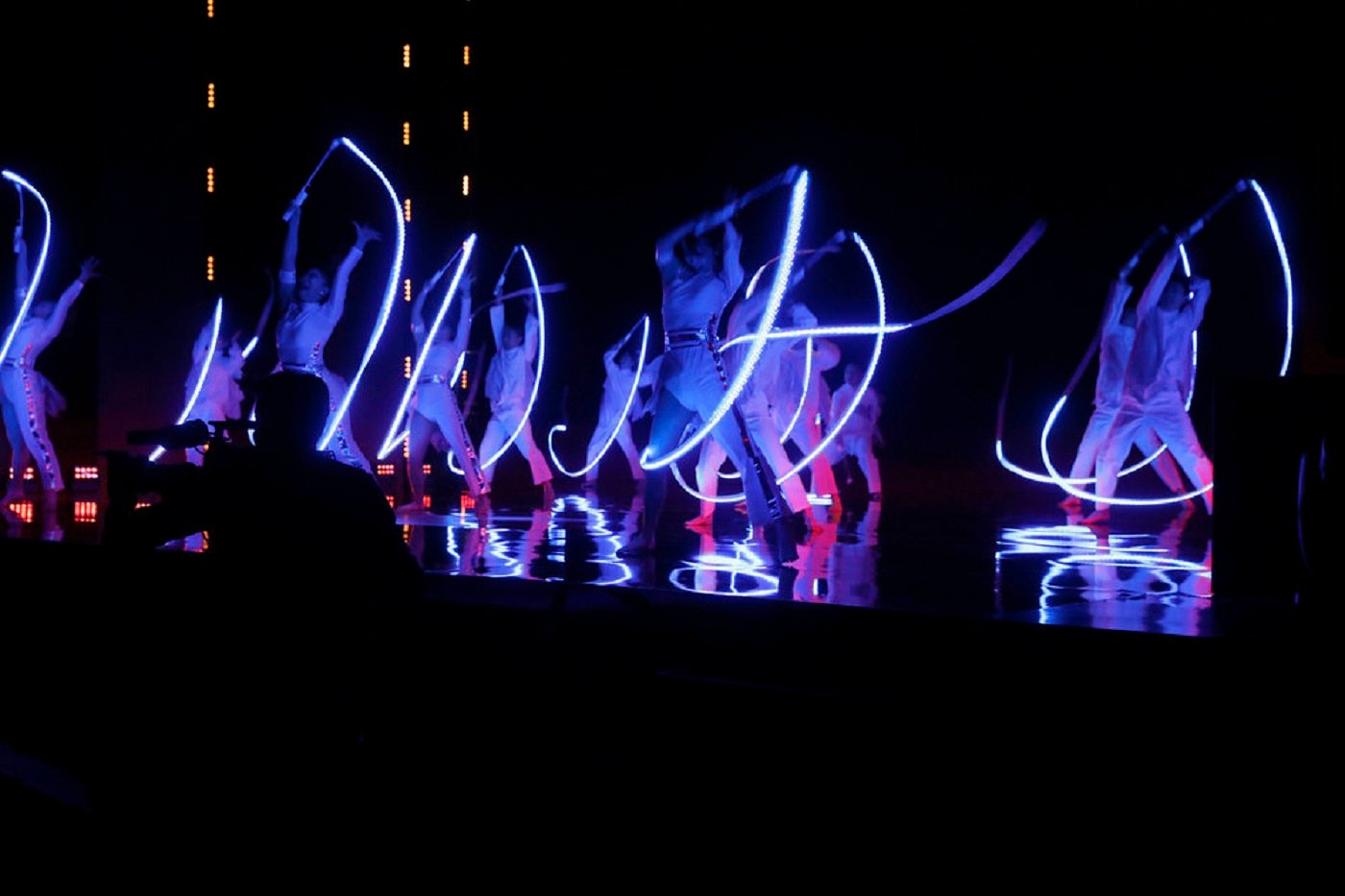 MPLUSPLUS blows away the judges and audience with their incredible dance choreography combined with light technology. The Tokyo dance crew is a highly anticipated act. The AGT Season 17 contestants in the MPLUSPLUS dance crew specialize in "innovating dance conventions with technology." Their performances incorporate lighting devices and techniques that transform as the dancer moves. In some instances, the lights change colors with beats or movements. In addition to the America's Got Talent Season 17 LED ribbons that MPLUSPLUS performs with, they have various other LED props viewers can explore on their website.
'AGT' Season 17 Episode 5: Acrobat Chiko
Before his debut in AGT Season 17, acrobat Chiko stunned judges in Spain's Got Talent Season 7. In his semifinal performance, on Nov. 26, 2021, Chiko performed acrobatics eight meters above the stage. The show dubbed it the "most dangerous" performance ever.
The AGT Season 17 performer Chiko comes from the Compañía D'Art Show, which comprises "professional show artists with more than 15 years of professional experience." The D'Art Facebook page showcases various events that the artists perform at in Spain
'America's Got Talent' Season 17 Episode 5: Magician Nicolas Ribs
Magician Nicolas Ribs made it to the semifinals round in France's Got Talent Season 14 in 2019 before auditioning for AGT Season 17. In his audition, he used only cards, which he made disappear and reappear throughout the performance.
RELATED: An 'AGT' Producer Found Kieran Rhodes and Asked Him to Audition for Season 17
In addition to appearing in La France Incroyable Talent 2019, Nicolas Ribs also appeared in the French TV show Diversion before auditioning for AGT Season 17. Diversion is a French magic show, which began in 2017. According to Ribs' Instagram account, he appeared in season 4 with host Arthur.
Merissa Beddows shocks the judges in 'AGT' Season 17 Episode 5 auditions
Although the AGT Season 17 producers did not find Merissa Beddows at another reality TV competition like Pole Dancer Kristy Sellars, the opera singer is quite a sensation on TikTok. She has over 746,000 followers and 13.4 million likes. She lists herself as a Soprano, impersonator, comedian, and POVs. Other famous singers Beddows impersonates on her TikTok account include Britney Spears, Evanescence, and Billie Eilish.
RELATED: 'AGT' Season 17: 4 Auditions in Episode 4 Were Reused Acts From Other 'Got Talent Global' Shows
Marcus Terell is not new to 'America's Got Talent'
Before returning to the AGT Season 17 stage in 2022, Marcus Terrel auditioned with the Serenades in 2009. Judges Piers Morgan, Sharon Osbourne, and David Hasselhof felt his three backup singers held him back. For the quarterfinals, Terrel found new singers and wowed the judges. However, the group did not receive enough votes to move on to the semifinals.
In 2004, Marcus Terrel auditioned for American Idol Season 3 under Marcus Butts. He made it to Hollywood Week but did not make it to the top 32. The singer, songwriter, and performer is also already part of a Las Vegas Residency show: Naked Boys Singing.
'America's Got Talent Season 17 Episode 5 singers
AGT Season 17 Episode 5 has no shortage of talented singers. Twin daughters Abbie and Ellie Smith are a sibling singing duo. Their father, Todd Smith, is the lead singer of the Christian band Selah. The twin's mother is a Christian author, Angie Smith. She detailed the shocking way the girls both stepped on stage in a 2019 Instagram post.
Acoustic singer Connor Johnson comes from performing on the streets of Hawaii, according to this YouTube video. Meanwhile, touring musician Lily Meola comes from Maui. She's a verified musician on Instagram, and her claim to fame is a duet she performed with Willie Nelson when she was 20.
Comedians: Jordan Conley, the bicycle guy, and the pants guy
It wouldn't be an audition episode of AGT Season 17 without a few comedians. Jordan Conley is a Disney lover and comedian from California. According to his IMDb, he also is an aspiring actor who played a Physical Therapy patient in the comedy Jonny Loquasto: Physical. Therapy.
He also appears in the Disney Channel Original movie, Under Wraps 2, which is currently in post-production.
Jordan Conley is a serious comedian; however, we're not sure if AGT takes these other two seriously. Keegan the Bicycle Comedian's jokes revolve around bike puns, while Mr. Pant's jokes center on (you guessed it) pants. William Roelants from Vancouver, Canada, also incorporates comedy into his blues and country music.
Watch all of the acts audition on NBC on America's Got Talent Season 17 on Jun 28, 2022, at 8 p.m. ET.
RELATED: 'AGT' Season 17: Fans Call Out Judges For Not Giving Kristen Cruz 'I See Red' the Golden Buzzer