'America's Got Talent' Season 17: Here's Where You've Seen Funkanometry Before the Auditions
In America's Got Talent Season 17 Episode 2, Funkanometry auditions, but this isn't the first time the dancing duo competed in a reality TV competition on NBC. Carlow Rush and Jacksun Fryer of Funkanometry competed in World of Dance Season 3 and 4. Get a quick recap about Funkanometry and how far they made it in WOD, ahead of their AGT Season 17 debut.
Funkanometry competed in 'World of Dance' Season 3 before 'America's Got Talent'
In 2019, Funkanometry competed in World of Dance Season 3 with judges Jennifer Lopez, Ne-Yo, and Derek Hough. They danced to "Shake Your Pants" by Cameo and advanced to The Duels round. As a Junior, under 18 act, they faced off against Dancetown Divas and won, advancing to The Cut round. However, they did not progress further. Funkanometry finished fifth in their division, but World of Dance does not allow audience voting, like America's Got Talent, although Derek Hough would prefer it. Only the top three acts advanced.
RELATED: 'AGT' Season 17: Fans Slam JoJo Siwa's Girl Group, XOMG POP! — 'They Are Already Famous'
Rush and Fryer also competed in World of Dance Season 4, but they joined the group Gigabots to compete as a Juniors popping team. The group did not advance past the qualifiers round in season 4.
'America's Got Talent': Who is in Funkanometry and how old are they?
America's Got Talent Contestants Carlow Rush and Jacksun Fryer make up the hip hop and popping duo Funkanometry from Vancouver Island, Canada. According to their Funkanometry website, the pair met through "dance battles, competitions, and classes."
"We both have similar styles, goofy personalities and we LOVE to entertain so we cooked up Funkanometry," their website reads. "Putting that FUNKI energy out there and getting it back from our audiences is the best feeling ever."
As of 2022, Carlow Rush of Funkanometry is 20, while his partner Jacksun Fryer is 19.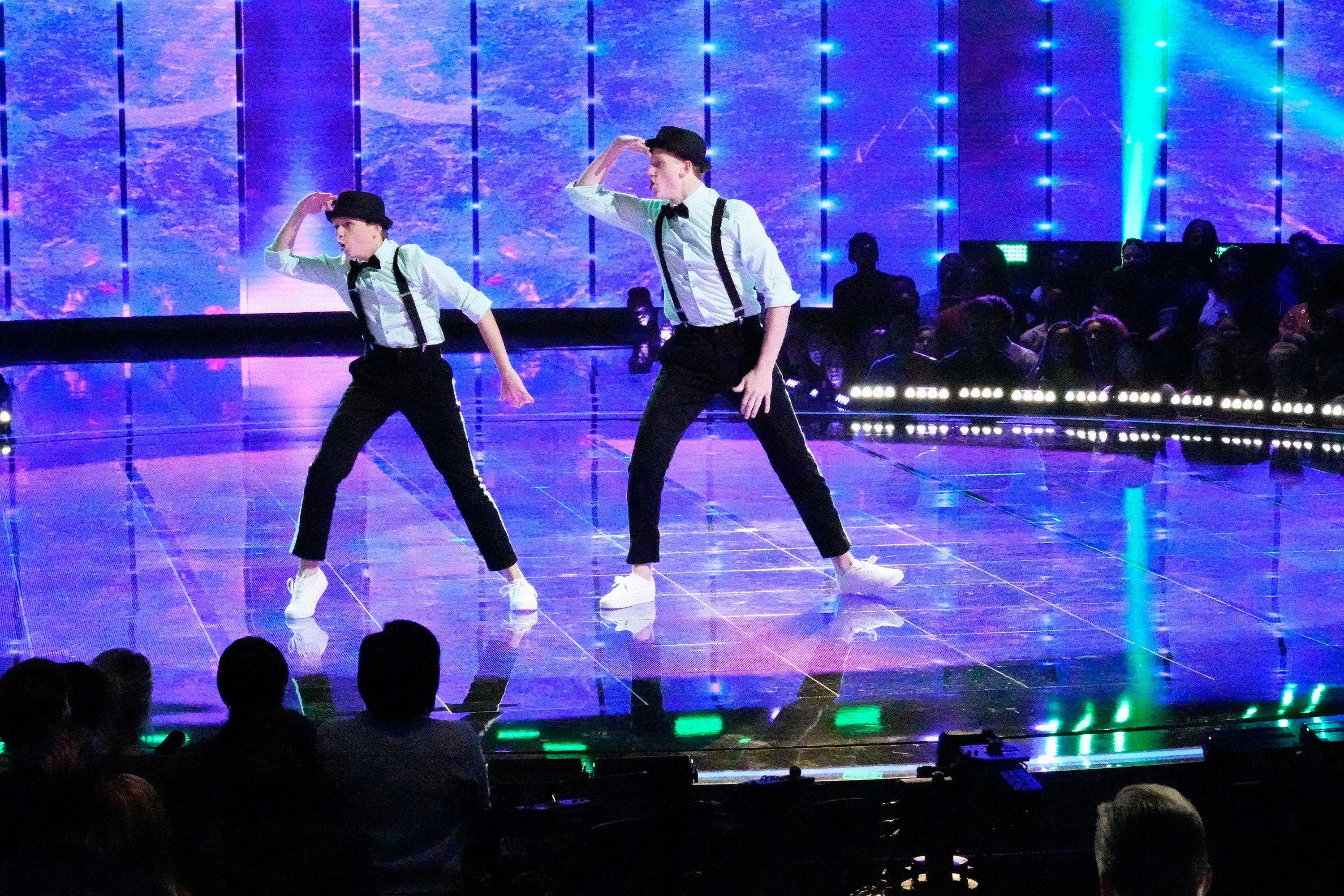 Funkanometry went viral with a surprise wedding performance
In addition to their reality competitions Funkanometry has an active social media presence where they share videos with fans. One particular dance went viral in July 2021 when they performed a surprise performance at Paul and Cassidy's wedding.
RELATED: 'AGT': Where Is Season 16 Winner Dustin Tavella Now?
While reading his vows to his bride, Paul told Cassidy that he knows three things. She loves when he's silly, he's wanted to marry her for "far too long," and she loves when he shops local. That's when Funkanometry came out and began dancing to "I Think I Want to Marry You," by Bruno Mars. After a few seconds, the groom joins Rush and Fryer in a choreographed dance. The bride is shocked and "has so many questions." Paul thanks Funkanometry for coming and explains to his wife that he's been busy with "a lot of rehearsal time."
In an interview with the Vancouver Sun, Rush explained that they had no idea the video would go viral. They thought it was something fun to do.
"That one is probably our most-talked-about video and not like any of our normal ones," Rush told the outlet. "We weren't expecting it to go off or even posting it. He hit us up through our website and we figured we'd never done something like that so why not? Then he said he wanted to be in it too, which was also different. But we did a few hours of practice and there it is. He was a really cool guy."
Funkanometry auditions for the America's Got Talent judges on season 17 episode 2 on June 7, 2022 on NBC.
RELATED: How to watch 'America's Got Talent' Season 17 and Everything You Need to Know