'America's Got Talent': The Inspirational Story Behind Voices of Our City Choir
The America's Got Talent Season 15 premiere featured an exceptional act that stirred deep emotion within the judges and fans. Voices of Our City Choir did more than merely sing. They proved that there is value in lifting each other up. Here's the scoop on Voices of Our City Choir, where they are from, and how they began.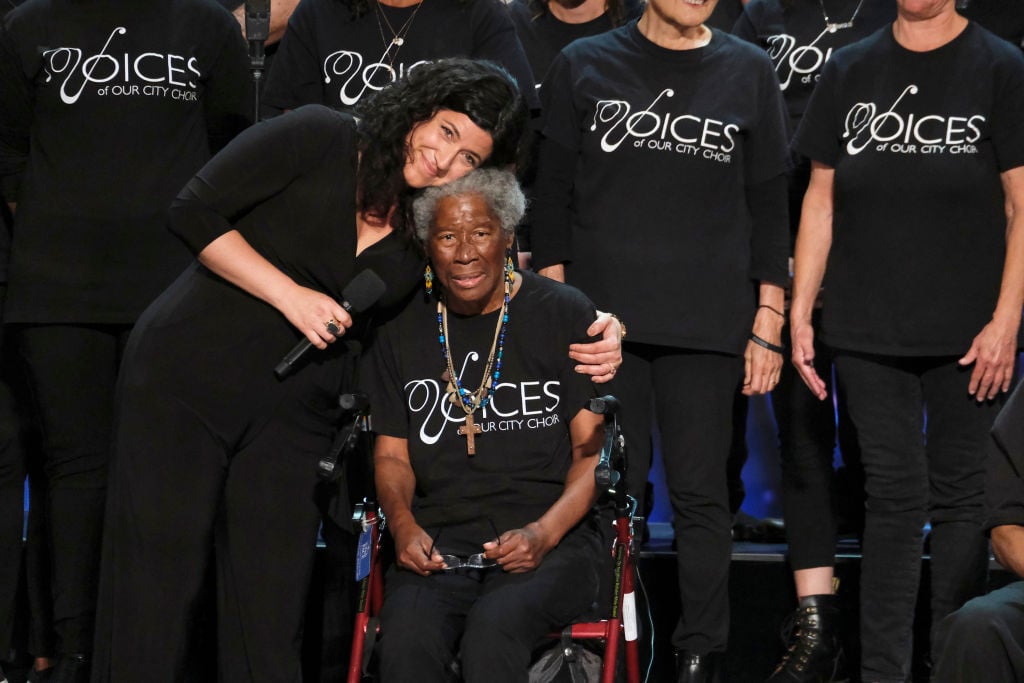 Voices of Our City Choir has a resilient spirit
Voices of Our City Choir is a San Diego-based ensemble composed of a diverse group of individuals, each of whom is experiencing homelessness. In backstage interviews with America's Got Talent, several of the singers opened up about their personal journeys and the universal challenges faced by the community.
"Homelessness doesn't just fit one skin color…one age bracket," said Patricia, an elder member of the choir who has experienced homelessness since the age of 18. She pondered, "I've had a lot of bad experiences out there, beat up, robbed. But who is going to listen to me?"
The organization is about more than music
The choir director, Steph Johnson, explained to America's Got Talent that she came across people who were willing to fight for their lives. She decided that she wanted to help. So, Johnson started the choir in 2016, and since then, the group has grown to 225 members, according to their website.
From the joyous voices to the smiling faces, the transformative power of music is evident. But Voices of Our City Choir offers even more to the singers they serve. An in-depth look into the organization reveals that it has made a significant impact very quickly.
In addition to the robust music program, Voices of Our City Choir has resources dedicated to psychological support, shelter, and veteran services. Since its inception, Voices of Our City Choir has helped over 60 members secure housing. Stepping on the worldwide stage of America's Got Talent became another opportunity to broaden their reach and serve those in need.
The choir won over the 'America's Got Talent' judges
RELATED: Terry Crews Reveals His Favorite Wayans, His Least Favorite 'Star Wars', and More in a Vanity Fair Lie Detector Test
Voices of Our City Choir gave a powerful performance of an original song on America's Got Talent. "Listen to the sounds of the sidewalk," they belted out, earning a standing ovation from the live audience. The rich backstory, meaningful lyrics, and performance quality resonated deeply with the judges. "It moved me," Heidi Klum confessed.
"I think we need more people like you that are really taking matters in their own hands," gushed Sofía Vergara, "It was fantastic."
"Who you are, and why you're doing it, and what you're doing does blow me and the entire audience away," said Howie Mandel.
"There is strength in numbers," noted Simon Cowell. He continued, "What we have here is a collection of really talented people, and we need that raw talent, to begin with. And that's what we've got."
Voices of Our City Choir earned the Golden Buzzer
RELATED: 1 'America's Got Talent' Contestant Became a Monster Movie Star After Being Eliminated
Before the judges could get to the business of voting, America's Got Talent host Terry Crews stepped in with a passionate gesture of support. "It's time to make something happen right now for everybody on this stage!" he declared.
"What they did today has moved me to this point right now," Crews said before slamming his hand on the Golden Buzzer and securing a spot in the live shows for the choir. Gold confetti rained down on the stage, tears of joy flowed freely, and the theater erupted in enthusiastic applause.
"I love you guys," beamed Crews as he embraced several members of Voices of Our City Choir, "You deserve it."
Will Voices of Our City Choir best the competition and score the grand prize? Whatever the outcome, they have certainly won the hearts of the American public. Fans can follow the journey of America's Got Talent Season 15 Tuesdays at 8 p.m. on NBC.
RELATED: Heidi Klum Kisses a Pig 'For Luck' During 'America's Got Talent' Season 15 Auditions