'America's Got Talent': Zeno Sputafuoco Wasn't the First Act to Pull a Cart With a Hook in Their Nose
America's Got Talent Season 17 is only a few episodes in, but there has already been a wide variety of acts — from musical performances to a trained chicken showcase. However, the most bizarre act so far came from Zeno Sputafuoco, a daredevil performer who shoves sharp objects up his nose. Zeno certainly has a niche talent, but he's not the first person to pull nose stunts on the AGT stage. Here's more on Zeno's act and others who came before him.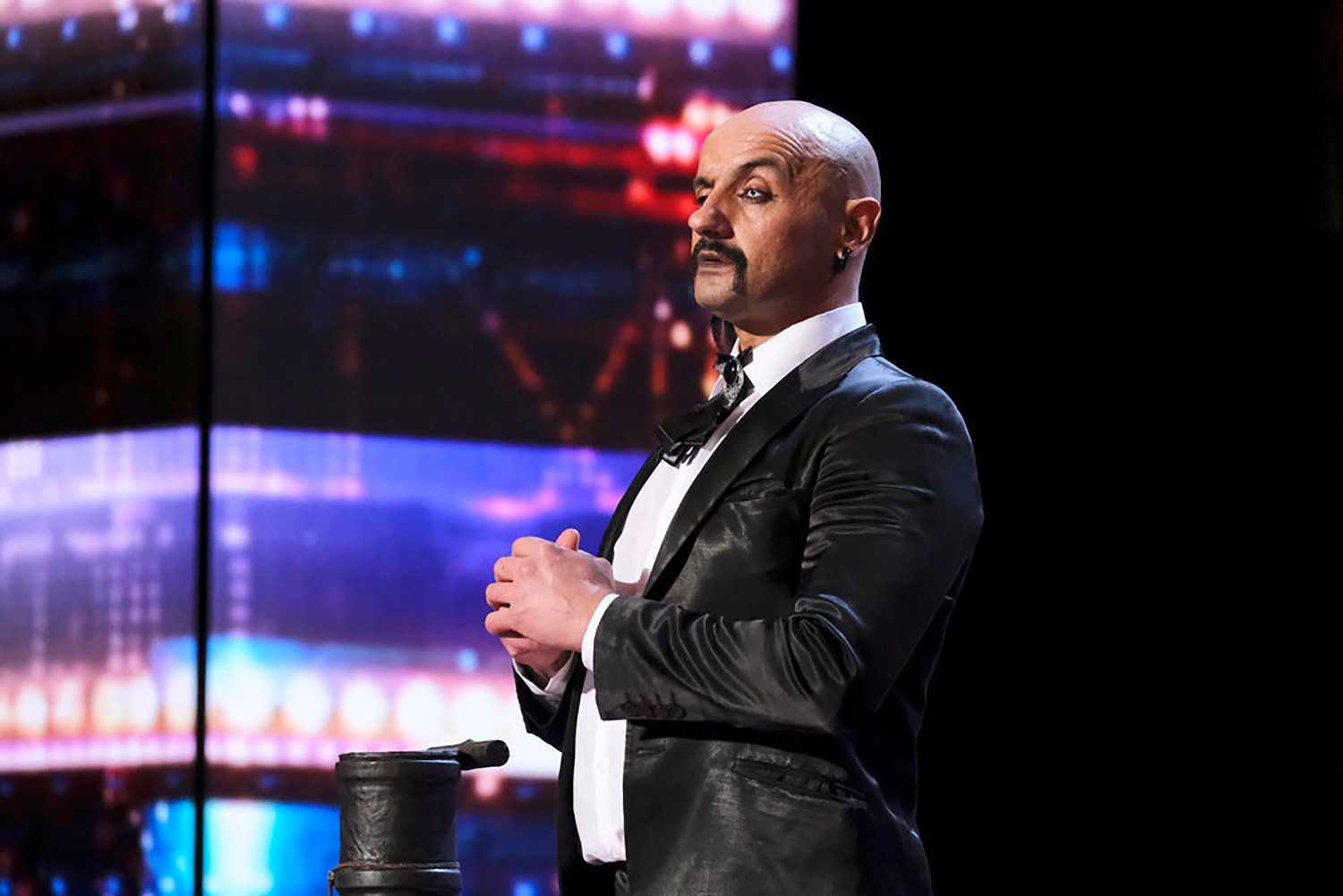 Zeno Sputafuoco scared the judges with his 'America's Got Talent' audition
Zeno's audition appeared on America's Got Talent Season 17 Episode 2. He strolled onto the stage barefoot and didn't say a word as he looked at the crowd with an arched brow. The audience and the judges looked unsettled. After staring ahead for a minute or so, Zeno pulled a large, metal spiral out of a tube. And to the audience's horror, he began twisting the spiral up his nose and down through his mouth.
For his next trick, Zeno called on (rather, silently pointed at) judge Sofia Vergara to join him on stage. He had Sofia sit down on a cart and then pointed at Heidi Klum. Heidi joined Sofia on the cart; both judges were confused about what would happen next. Finally, Zeno put a large hook into his nose and attached it to a chain on the cart before pulling it across the stage hands-free.
Although the audience and judges seemed horrified, it was the kind of performance where they couldn't look away. That's why all four judges, including Simon Cowell and Howie Mandel, gave Zeno a yes.
"I love disgusting originality," Simon said.
Zeno didn't say anything while he was on stage, so his background remains a mystery. However, according to Zeno's Instagram, he's done these types of performances for years. He even previously appeared on Italia's Got Talent and Got Talent España.
Brad Byers pulled a cart with a hook in his nose in 2013
Zeno's disturbing act might have looked familiar to longtime America's Got Talent watchers. In 2013, sideshow performer Brad Byers did the same trick for his season 8 audition. He twisted a hook into his nose and then attached it to a chain before pulling two people, including host Nick Cannon, across the stage.
Some of Brad's other performances on AGT included sword swallowing, touching his tongue with a blowtorch, and laying on a bed of nails while an ATV ran over him. Before season 8, Brad tried his luck in season 4, but he was eliminated after a few rounds in both seasons.
RELATED: 'America's Got Talent' Season 17: 1 Audience Member Detailed Watching the Madison Taylor Baez Audition Transpire Live
Ryan Stock shoved a meat hook up his nose in 2016
A few years later, another memorable daredevil took to the AGT stage: Ryan Stock. In season 11, Ryan and his partner, Amberlynn, auditioned together. He started by shoving a pair of scissors into his nose, even opening them a few times. Then, Ryan placed a steel meat hook into his nose as Amberlynn hung a weight from it. Finally, Ryan hopped onto a platform and attached the hook to a rope suspended from the ceiling.
Ryan and Amberlynn made it to the season 11 quarterfinals. However, they had an accident in their final performance. Amberlynn attempted to shoot a flaming arrow at a target, which was attached to a sharp rod in Ryan's throat. The arrow went in the wrong direction and hit Ryan in the neck. Thankfully, he wasn't burned or pierced, but the judges ordered him to get checked out by an EMT.
According to Stock, the accident came down to an error with the equipment, not Amberlynn's aim.
"We had been practicing for this for the past three months at about 10 times a day, and it worked," Stock told Billboard of the incident. "It was the first time we ever did it live for an audience, and we had an equipment malfunction."
America's Got Talent fans can see Zeno Sputafuoco perform during season 17, which airs on Tuesday nights at 8 p.m. ET on NBC.
RELATED: 'AGT' Season 17: Simon Cowell Shared His True Feelings on Twitter About That Daniel Emmet Deepfake